Dozen injured in 5-car crash in Exposition Park
LOS ANGELES - Twelve people were injured, including several seriously, after a massive car crash in the Exposition Park neighborhood Saturday night.
It happened around 9:45 p.m. Saturday near the intersection of W. Martin Luther King Jr. Boulevard and Vermont Avenue, just outside the Los Angeles Memorial Coliseum. According to the Los Angeles Police Department, officers were trying to stop a reckless driver, when that driver collided into another car.
Los Angeles Fire Department Spokesperson Margaret Stewart said 12 people were injured in the crash. Of the seven brought to the hospital, five of them were brought in "at least serious" condition, Stewart said. The other two had non-life-threatening injuries. The rest refused transport to the hospital.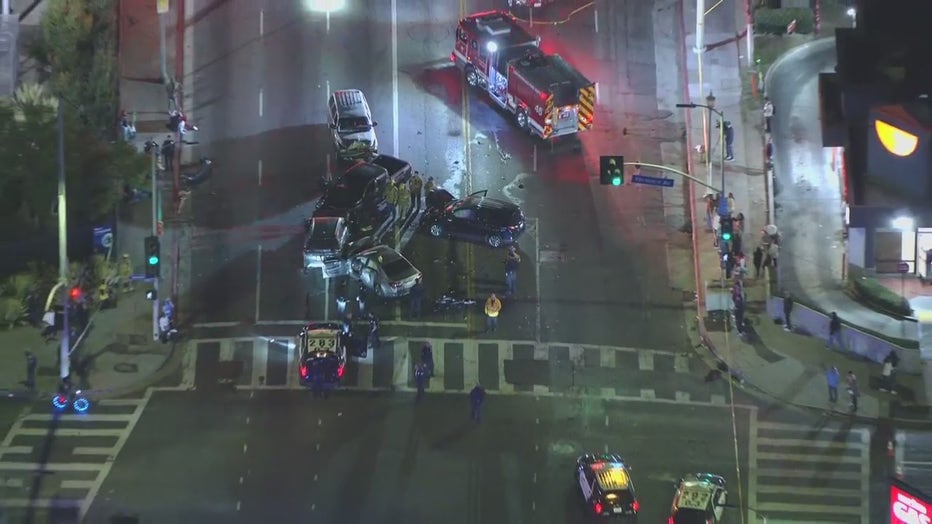 SUGGESTED: Car hit by Blue Line train in South Los Angeles, 1 injured
Images from SkyFOX showed at least five vehicles involved in the crash. Three facing one direction, two in the other, sprawled across both directions of traffic.
No other information on the crash was immediately available.