1,500 Disney collectibles will go up for auction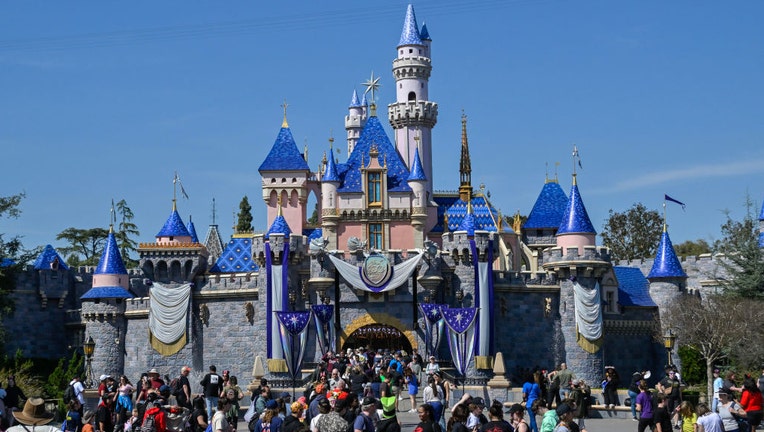 article
An auction house will sell roughly one-quarter of "Toy Scout" Joel Magee's massive collection of Disney items later in the month. 
Van Eaton Galleries said Tuesday over 1,500 pieces of Disneyland memorabilia hitting the auction block will open to bids July 17. The pieces come from the 6,000-item collection of Magee, who has been collecting since he was a teenager, according to the auction house.
"This is the first and most important auction of his collection in the coming year and is by far the most impressive and historically significant one-of-a-kind pieces," Van Eaton Galleries co-founder Mike Van Eaton said in the statement.
Ride vehicles from several attractions will become available to purchase as part of the auction that ends July 19.
'STAR WARS' TOY COLLECTION SELLS FOR NEARLY $350K IN SHOCKING AUCTION
Van Eaton Galleries said a "Midget Autopia" car belonging to Magee could go for a price in the range of $50,000 to $100,000. 
A vehicle from Space Mountain and another elephant-shaped one from the "Dumbo" ride will also go up for auction, according to Van Eaton Galleries. The former is expected to bring in $10,000 to $20,000. The auction house pegged the latter's sale price would come in between $100,000 and $200,000.
Someone could pay in the $30,000 to $60,000 range to buy a "Doom Buggy" from the Haunted Mansion attraction, Van Eaton Galleries said.
STEVE JOBS' OLD BIRKENSTOCK SANDALS FETCH OVER $218,000 AT AUCTION
The collection has some other potentially big-ticket items like restored Tiki Birds from the Enchanted Tiki Room, projected to go for $80,000 to $100,000, and a trio of Audio Animatronic Hitchhiking Ghosts, projected to fetch $100,000 to $200,000, according to the auction house. An original Global Van Lines moving truck, meanwhile, had an estimated value of $100,000 to $200,000.
Van Eaton Galleries noted the catalog features the "world's largest collection of Disneyland posters all together for the first time."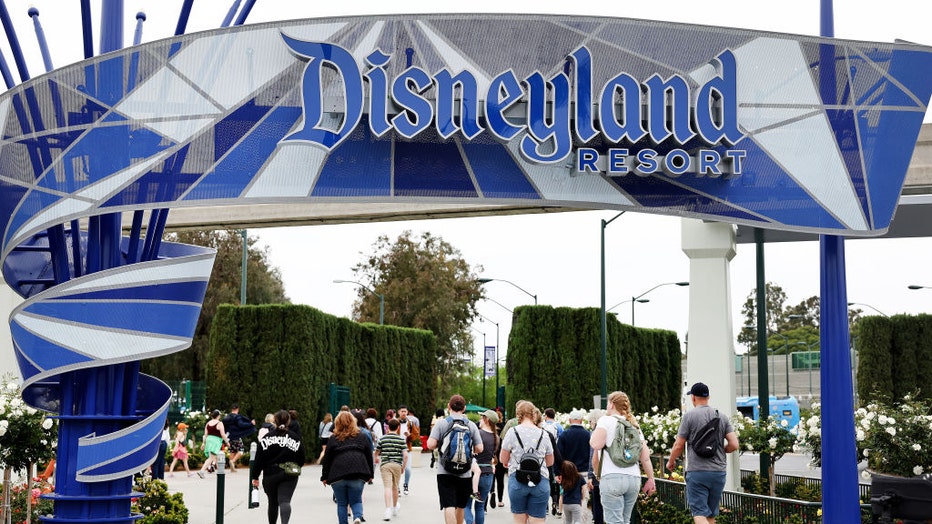 People walk toward an entrance to Disneyland on April 24, 2023 in Anaheim, California. (Mario Tama/Getty Images)
"I have spent most of my life searching the world for the most extraordinary Disney items that trace the history of such a magical place," Magee said in a statement. "It's been a passion of mine forever, and now it's time to share that passion with fans and collectors around the globe. 
"I look forward to seeing all the happy faces at the exhibition and hope that the lucky bidders who become the new custodians of pieces in this collection enjoy them and learn from them like I have over the past few decades."
The auction is preceded by a roughly 2½-week public exhibition of the items that started June 28 in Burbank, California.
The Walt Disney Co. has been operating Disneyland in Anaheim, California, almost 68 years, and the theme park first opened its doors to the public in July 1955.
MICHAEL JORDAN'S FAMOUS 'FLU GAME' SNEAKERS PROJECTED TO FETCH OVER $3M AT AUCTION
In fiscal 2022, domestic Disney parks and experiences brought in about $20.13 billion of the Disney Parks, Experiences and Product segment's $28.705 billion total revenue.