Dia de los Muertos celebrations set for Hollywood, East Los Angeles cemeteries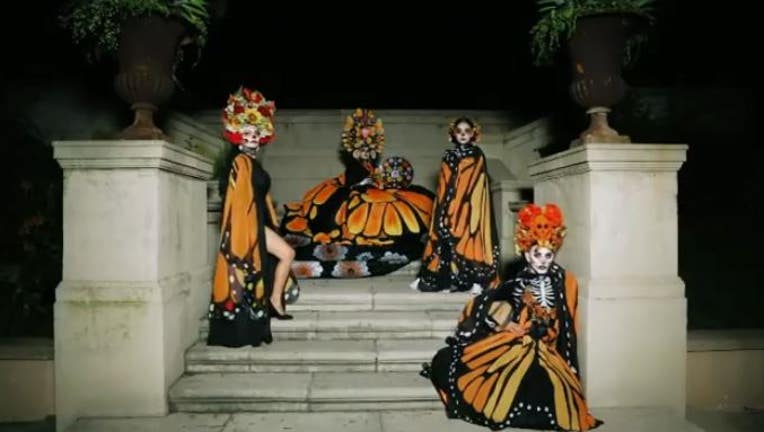 LOS ANGELES - Celebrations of Dia de los Muertos, which honors and celebrates the life of the deceased through songs, prayer and altars, will be held Saturday at Hollywood Forever cemetery and Calvary Cemetery in East Los Angeles.
The 20th annual celebration at Hollywood Forever will run from noon until midnight. 
The themes of the celebration are the monarch butterfly and its winter home, the Mexican state of Michoacan, one of the two cultural heartlands in Mexico where the ancient traditions of Dia de los Muertos have been celebrated the longest and most vibrantly.
A donation of $1 for each ticket sold will be made to ECOLIFE Conservation, an Escondido-based charitable organization which describes its mission as protecting wildlife, natural resources "and the people who depend on them.''
The celebration features a traditional procession with Aztec blessings and regional musical-dance group dedications; more than 100 altars honoring ancestors and loved ones; hundreds of Aztec ritual dancers in full costume; five stages featuring music and theatrical performances; an art exhibition; a costume contest with a $1,000 first prize; a children's area with arts & crafts, puppet shows; arts and crafts vendors; and food vendors from throughout Los Angeles.
The altars will be judged with the winner in each category, theme of event, traditional altar and contemporary altar, receiving $5,000.
Admission is $30 with a $6.91 fee for each ticket purchased online. A limited number of tickets remained available Saturday morning. Information is available by calling 323-469-1181.
The celebration at Calvary Cemetery will be held from 11 a.m.-5 p.m. Archbishop Jose H. Gomez will celebrate Mass at noon, then lead a procession around the cemetery's mausoleum, accompanied by Mariachi Zacatecano, and bless a community altar and more than 70 altars built by families and church groups.
There will be an altar in memory of the children who died crossing the U.S.-Mexico border, another dedicated to children who were victims of shootings and bullying, and one celebrating the life and works of Saint Oscar Romero, the archbishop of San Salvador who was assassinated while celebrating Mass in a hospital chapel in 1980.
The public is invited to participate in the community altar by bringing pictures of their deceased loved ones for placement on the altar. The
altar will include more than 2,000 marigolds, symbolizing sunshine and light. There will also be face painting and folkloric and Aztec dancers.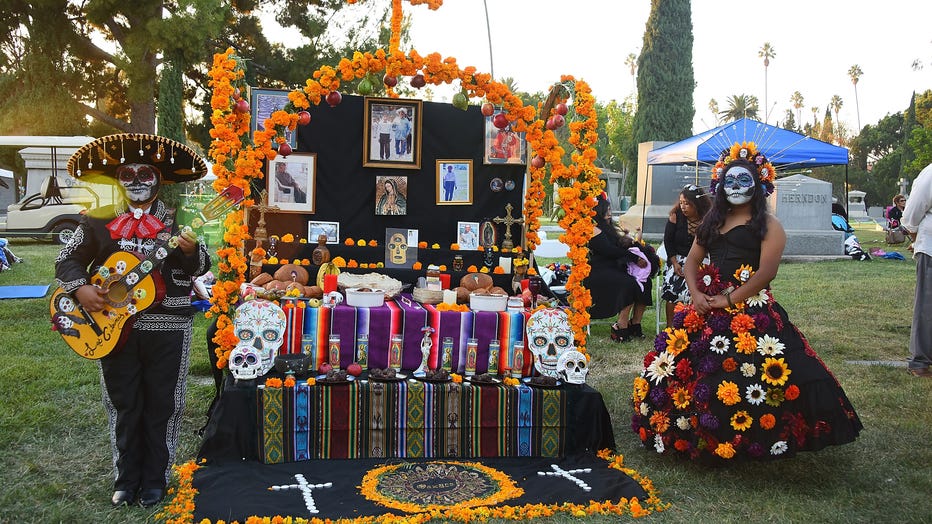 (Photo by Araya Diaz/Getty Images)
Admission is free. More information is available online.
The Los Angeles Kings will hold Dia de Los Muertos Night at tonight's game at Staples Center against the Chicago Blackhawks. The Kings are inviting fans over the age of 18 to submit photos of relatives and friends to create a digital mosaic.
Special Dia de Los Muertos Night pucks will be used during player warmups and be available for sale at the Kings Care Booth at Section 103.