Court docs: Beyond Wonderland shooting suspect claimed he was hallucinating on drugs
GRANT COUNTY, Wash. - The man charged with killing two people and injuring three others at the Gorge Amphitheatre last week claimed he was hallucinating on mushrooms and believed "the world was ending," according to court documents obtained by FOX 13 News.
An active duty soldier stationed at Joint Base Lewis-McChord (JBLM), 26-year-old James Kelly, is charged with two counts of first-degree murder and three counts of first-degree assault – one of those a domestic violence charge.
A detective with Washington State Patrol interviewed Kelly while he was being treated at Sacred Heart Hospital in Spokane. According to court documents, Kelly explained he went to the Beyond Wonderland music festival with his girlfriend, and on the evening of June 17, he took a dose of mushrooms and went to the venue.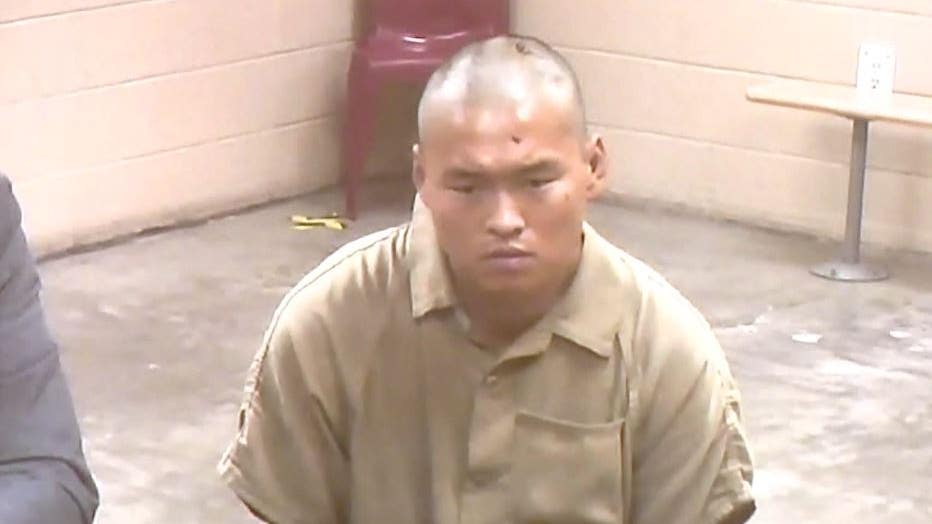 While at the venue, Kelly told investigators he began to hallucinate from the mushrooms and suffered a "bad trip," hallucinating that "the world was ending" and he needed to get back to the campground with his girlfriend.
His girlfriend told police he said several times, "This is the end."
He said he walked back to his pickup, grabbed his handgun from the center console, loaded it, and began randomly shooting people.
Court documents say he shot and killed 26-year-old Josilyn Ruiz and 29-year-old Brandy Escamilla, then shot 31-year-old Andrew Cuadra or "August Morningstar" who came to investigate the sounds of gunshots.
RELATED: Seattle couple identified as victims killed in Beyond Wonderland music festival shooting; Shooter ID'd
Kelly's girlfriend followed him as he walked through the campground, but managed to call 911 and tell police "her man had a gun" before Kelly took her phone and discarded it, court docs say.
They walked northeast to the outer fence of the campground, where a Polaris Ranger utility vehicle was driving by with security staff, responding to reports of gunshots. Court documents say Kelly shot at the car, striking the eyeglasses of 61-year-old security officer Lori Williams. The impact shattered her glasses and injured her face.
At this point, the Grant County Sheriff's Office flew a drone over Kelly and his girlfriend, which Kelly shot at several times, striking it once.
According to court documents, Kelly's girlfriend laid down on the ground several times, and Kelly either sat on her or next to her. Court documents say at one point, she walked away from him, then turned around with her hands up.
Kelly then shot her in the foot, then again in the leg, according to court documents, causing life-threatening injuries and permanent damage.
PREVIOUS COVERAGE: Beyond Wonderland shooting: What we know so far
Get breaking news alerts in the FREE FOX 13 Seattle app. Download for Apple iOS or Android. And sign up for BREAKING NEWS emails delivered straight to your inbox.
After this, court documents say Kelly was contacted by law enforcement, and then shot by a police officer and taken into custody. Detectives note he has remained in law enforcement custody since.
The Gorge Amphitheatre issued the following statement on Twitter: 
Lt. Col. Mike Burns, the director of communications for the US Army Special Operations Command, issued this statement on behalf of JBLM: 
"First, the U.S. Army Special Operations Command extends our condolences to the victims and families of those affected by this act of violence. The command is aware of the allegations against Spc. James Kelly. We take all allegations seriously and are fully cooperating with the appropriate authorities. Spc. James Kelly is a Joint Fire Support Specialist (13F) assigned to the 75th Ranger Regiment at Joint Base Lewis-McChord. Kelly joined the Army in 2021. The investigation is ongoing, we refer further questions to the appropriate civilian authorities."