Clay Helton retains job as USC head football coach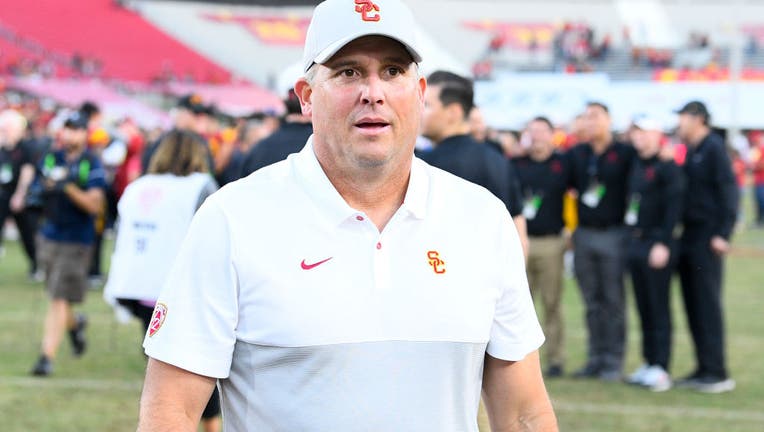 LOS ANGELES - Putting to rest speculation about the future of USC's football program, university Athletic Director Mike Bohn announced on Wednesday that Clay Helton will remain the team's head coach.   
In a Twitter post, Bohn wrote that Helton's "commitment to our student-athletes and to leading with integrity is vital to restoring ourchampionship program, which is the goal for all of our teams."   
"Heading into 2020, Coach Helton and I will work together to take ahard look at all aspects of the football enterprise and will make the tough decisions necessary to compete at a championship level," Bohn wrote.   
Helton has seemingly been on the coaching hot seat for the past two years, but he had the consistent support of previous Athletic Director Lynn Swann. When Swann resigned in September, the pressure grew.   
When Bohn was hired last month, he was immediately questioned about Helton's future, but Bohn remained non-committal at the time, saying it would be"premature" for him to make any immediate decisions about any particular coaches.   
The Trojans finished this season with an 8-4 record in an injury-plagued campaign. The team's performance, however, has prompted calls from many fans for Helton's ouster.
Helton issued a statement Wednesday saying he appreciates the support of Bohn and new university President Carol Folt. 
"It is abundantly clear that we now have the support, resources and tools to build a championship team," he said.
"We know the expectations ofour fans are high, as they should be. Those are the same expectations I havefor myself and that our staff and team have as well. Our future is bright. We have a young team on the verge of doing something special. We have seen what this team can do, having the season we have had despite going through adversity and injuries.  
"We are headed to a great bowl and we plan to finish the season strong. And we are putting the final touches on an outstanding recruiting class. I believe in our team and our fan base. I know we will all come together to succeed. I am excited about the future of our team and our university."