CicLAvia Makes San Fernando Valley Debut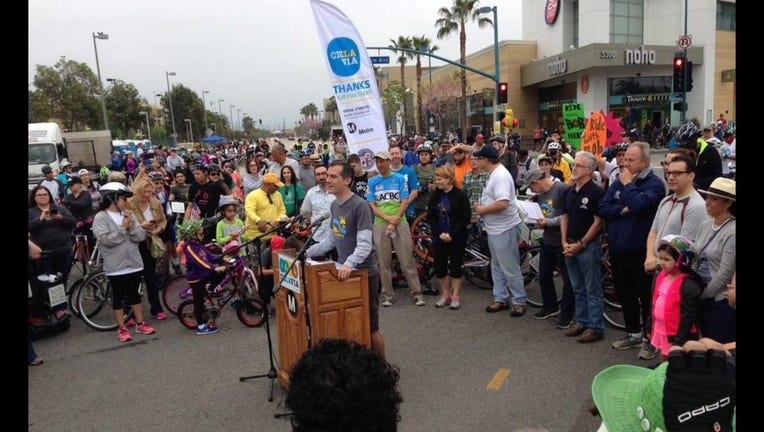 article
The event's expansion to the Valley -- following festivals in downtown Los Angeles, West Los Angeles and several other parts of the city -- began with an 8:45 a.m. ceremony attended by Mayor Eric Garcetti and several Los Angeles City Council members.
The Valley route is six miles long and stretches along Lankershim and Ventura boulevards in North Hollywood and Studio City. There will be a hub at Coldwater Canyon Avenue on the east end of the route, another at Laurel Canyon Boulevard -- where the Studio City Farmers Market is held -- and two at the North Hollywood and Universal/Studio City Metro Red Line stations.
Attractions along the route included the North Hollywood Arts District, Universal City, the Campo de Cahuenga adobe house, the Studio City Farmers Market and the Sportsmen's Lodge.
Several off-ramps on the Ventura (134) and Ventura (101) freeways were closed during the event, according to Caltrans. They included the Vineland Boulevard off-ramps on the north and southbound sides of the 101, the Campo de Cahuenga off-ramp on the northbound side of the 101, and the left turn lane of the Lankershim Boulevard off-ramp of the westbound side of the 134.
CicLAvia was inspired by Ciclovia in Bogota, Colombia, a similar event aimed at getting people out of their cars and using alternative forms of transportation.