Canadian Prime Minister Justin Trudeau, wife of 18 years announce separation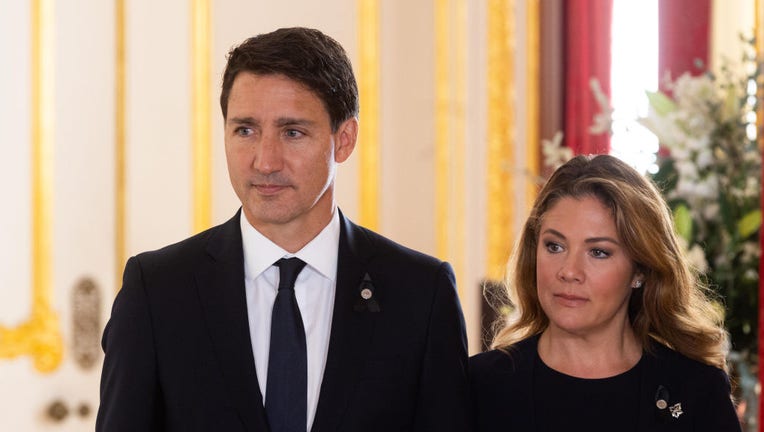 article
Canadian Prime Minister Justin Trudeau on Wednesday announced that he and his wife Sophie are separating after 18 years of marriage. 
Trudeau made the announcement in an Instagram post. 
"Sophie and I would like to share the fact that after many meaningful and difficult conversations, we have made the decision to separate," Trudeau wrote. 
"As always, we remain a close family with deep love and respect for each other and for everything we have built and will continue to build," he continued.
TRUDEAU OUSTS 7 MINISTERS IN MASSIVE CABINET SHAKEUP
"For the well-being of our children, we ask that you respect our and their privacy. Thank you." 
Sophie Grégoire, a former television reporter in Quebec, married Trudeau in 2005. They have three children together.
In an interview with Maclean's magazine in 2005, Trudeau shared that he and Grégoire-Trudeau met as adults two years prior, when they co-hosted the Mercedes-Benz Grand Prix ball. Before, Grégoire had been a childhood friend of Trudeau's youngest brother, Michel — who died in an avalanche in 1998 at the age of 23 — and had spent time at the Trudeau family's home. 
"We laughed, we joked and there was a definite chemistry between us," Trudeau said of his newlywed wife at the time.
JUSTIN TRUDEAU BLAMES 'AMERICAN RIGHT-WING' FOR MUSLIMS OPPOSING LGBTQ CURRICULUM: 'LEAVE OUR KIDS ALONE!'
The couple became engaged in October 2004 and married on May 28, 2005, at a ceremony at Montreal's Sainte-Madeleine d'Outremont Church. 
Trudeau has spoken glowingly of his wife in public in the years since. In April, the prime minister posted a pair of selfies with his wife on social media on her birthday. 
"From this, to this, and everything in between, there's no one I'd rather have by my side," he wrote.
He also praised her on Mother's Day in May, calling Sophie and his mother "two of the strongest, bravest, and greatest people we know." 
TRUDEAU'S FOREIGN INTERFERENCE INVESTIGATOR RESIGNS AFTER MEDIA LEAKS OF CHINA'S MEDDLING IN CANADA ELECTIONS
"The kids and I love you both so very much. Happy Mother's Day," Trudeau wrote. 
The prime minister's office said in a statement that Trudeau, 51, and Sophie, 48, have signed a legal agreement making their separation official. 
"They have worked to ensure that all legal and ethical steps with regards to their decision to separate have been taken, and will continue to do so moving forward," it said.
CLICK HERE TO GET THE FOX NEWS APP
"They remain a close family and Sophie and the Prime Minister are focused on raising their kids in a safe, loving and collaborative environment," the statement said. "The family will be together on vacation, beginning next week."
Reuters contributed to this report. Read more of this story from FOX News.