Diplo, Chris Rock escape Burning Man floods as thousands remain stranded in Nevada
LOS ANGELES - DJ Diplo and comedian Chris Rock were among some of the lucky few to escape Burning Man as thousands of festival attendees remain trapped in Nevada's Black Rock City due to severe flooding.
Diplo, whose real name is Thomas Wesley Pentz, shared on social media their daring escape was all thanks to a fan with a pickup truck. 
"A fan offered Chris Rock and I a ride out of Burning Man in the back of a pickup," he captioned the video.
"I legit walked the side of the road for hours with my thumb out cuz I have a show in dc tonight and didnt want to let yall down," he wrote, joking that all Rock, 58, "could think about was a f—king cold brew."
"Shoutout to this guy for making the smart purchase of a truck not knowing it was for this exact moment."
SUGGESTED: Burning Man festival: Death under investigation as flooding strands thousands
The group then hitched a ride with "hippies with a van in the next town" and "negotiat[ed] a deal to give [them] a two-hour ride to the airport," Diplo said.
The Grammy winner shared pictures of him and the group onboard a plane after the journey.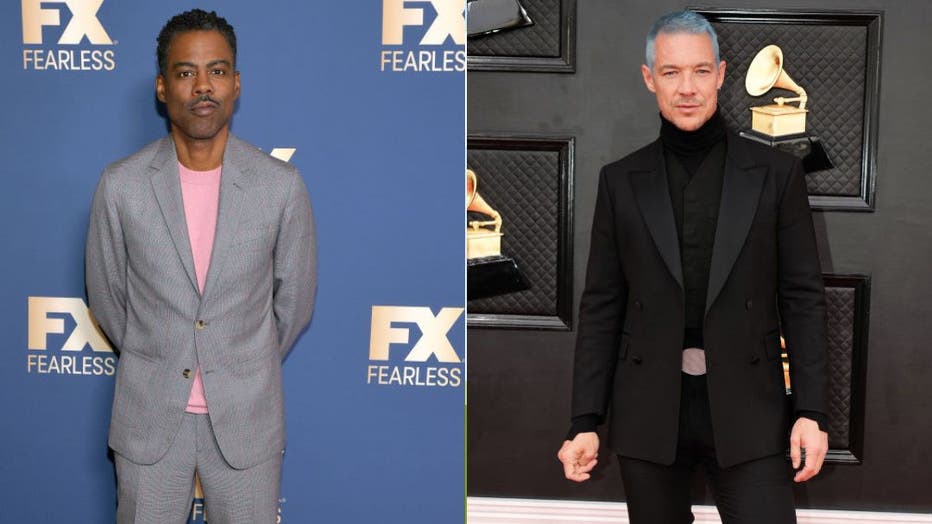 Chris Rock (left) and Diplo (right) / Getty Images
"They didn't believe we would walk six miles in the mud. No one believed we would get to DC for the show tonight," he captioned a selfie. "But God did."
Later that night, Diplo gave his followers an update after his performance. 
"For those of you who think I wasn't at DC, I just got done DJing," he said. "Mud still on my face. I'm in a f–king Four Seasons. Why would I be at Burning Man still, you idiots?"
SUGGESTED: Burning Man festival soaked by monsoon downpours, leaves tens of thousands stranded in muddy mess
Rock also shared pictures on social media, writing that people have been unable to travel in and out of the area to fill generators or deliver supplies.
Tens of thousands of people gathered for the Burning Man festival remained stranded in the Nevada desert on Sunday after storms that swept through the area, as authorities investigated a possible death and worked to open exit paths by the end of the Labor Day weekend.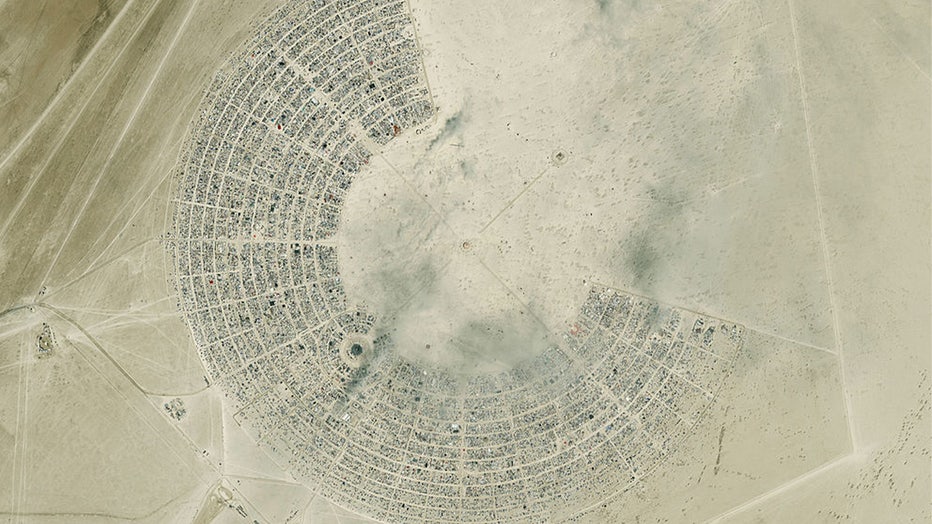 FILE - This is a DigitalGlobe via Getty Images satellite image "overview" of the Burning Man Festival in Black Rock City Nevada in 2013. (DigitalGlobe via Getty Images via Getty Images)
Organizers closed vehicular access to the counterculture festival and attendees trudged through mud, many barefoot or wearing plastic bags on their feet. The revelers were urged to shelter in place and conserve food, water and other supplies.
The counterculture gathering in the Black Rock Desert about 110 miles north of Reno typically attracts nearly 80,000 artists, musicians and activists who spend tens of millions of dollars in Nevada. Combining wilderness camping with avant-garde performances at a Mardi Gras-like celebration, the event typically goes for a week and emphasizes self-sufficiency — meaning most people bring in their own food, water and other supplies.
The Associated Press contributed to this report.