Buena Park man deters porch pirates with decoy packages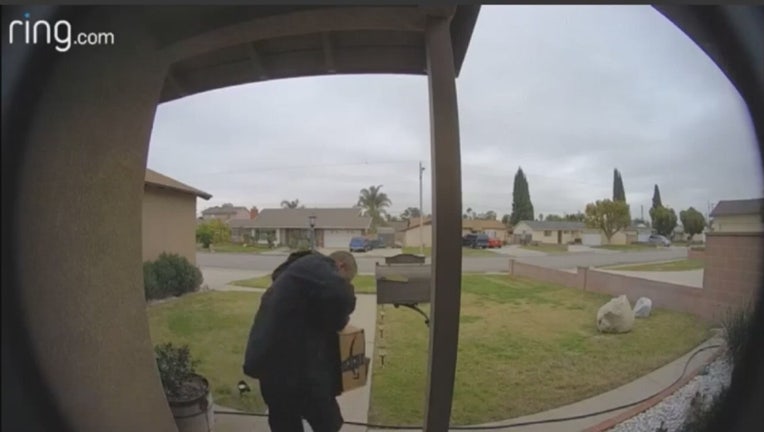 BUENA PARK, Calif. - Porch pirates come out of the woodwork this time of year. But one man in Buena Park came up with a plan to fight back.
According to the website SafeWise.com, 30 percent of stolen packages in the country are taken in California.
Los Angeles ranks high on the list of cities where this takes place.
One man in Buena Park is trying to help police arrest the thieves by setting them up and catching them in the act on his home security camera.
Del got tired of people stealing delivered packages off of his front porch so he set up package decoys in their place.
When thieves walk up to his home and reach for the boxes, junk falls out and startles them.
"It's not to be necessarily confrontational with them, but to get them on video," he said.
His security cameras recorded one prank after another.
In the videos people were seen driving up, walking up and riding up to the front door stealing furniture and reaching for packages.
"Usually what you'll see is they just may think they have the packaging in hand there's a little difficulty," he continued.
"And some of them, they don't like what they're getting in the package. And then instantly when they realize it's a set up that's when they're usually seen on camera."
The neighborhood attracts heavy pedestrian traffic, mostly from homeless people.
The street is near the Santa Ana river bed and near main, busy streets.
Police have started patrolling the area and making copies of the videos.
"If I can get their face on camera and be able to provide that to law enforcement so they can utilize that as a tool to be able to do some type of stop or enforcement to try to at least."
Del was glad the package decoys kept thieves from returning.
But he asked city officials to  close the wall that allowed public to walk through.
Otherwise, he feared near theft attempts continue to happen.
"Obviously I'm a little burned up about it because people work hard for what they buy and what they have delivered to their homes."
Experts suggest people have their packages delivered to their workplaces or pick them up at the post office or other stores.
Many companies also have the signature requirement option that only allows carriers to deliver packages with your signature.