Biden's student loan forgiveness program struck down by Texas federal judge
President Joe Biden's student loan forgiveness plan was denied by a federal judge in Texas Thursday evening. 
The plan, announced in August, would cancel $10,000 in student loan debt for those making less than $125,000 or households with less than $250,000 in income. Pell Grant recipients, who typically demonstrate more financial need, will get an additional $10,000 in debt forgiven. 
The Congressional Budget Office has said the program will cost about $400 billion over the next three decades. James Campbell, an attorney for the Nebraska attorney general's office, told Autrey at an Oct. 12 hearing that the administration is acting outside its authorities in a way that will cost states millions of dollars.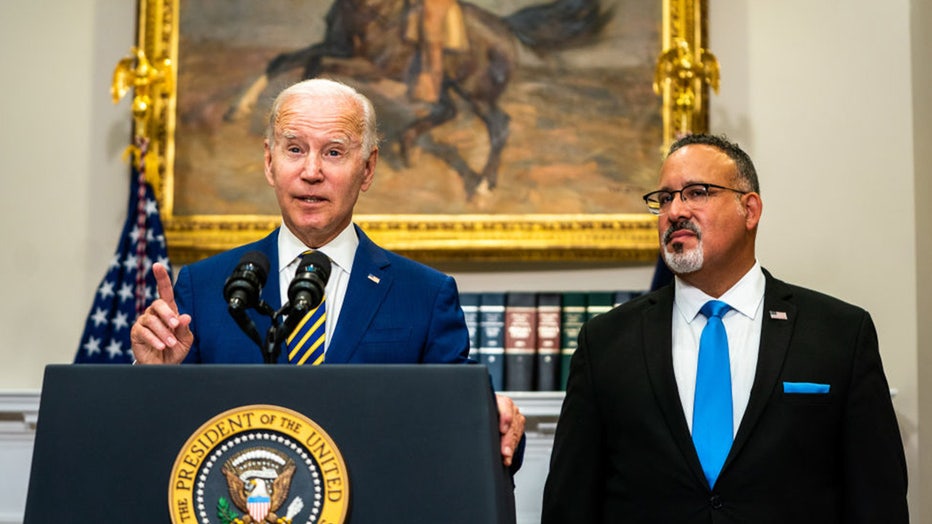 FILE - President Joe Biden delivers remarks regarding student loan debt forgiveness in the Roosevelt Room of the White House on Wednesday, August 24, 2022. Education Secretary Miguel Cardona joined. (Demetrius Freeman/The Washington Post via Getty Images)
The cancellation applies to federal student loans used to attend undergraduate and graduate school, along with Parent Plus loans. Current college students qualify if their loans were disbursed before July 1. The plan makes 43 million borrowers eligible for some debt forgiveness, with 20 million who could get their debt erased entirely, according to the administration. 
RELATED: Biden talks student loan relief at New Mexico community college 
"Whether the Program constitutes good public policy is not the role of this Court to determine. Still, no one can plausibly deny that it is either one of the largest delegations of legislative power to the executive branch, or one of the largest exercises of legislative power without congressional authority in the history of the United States," United States District Judge Mark Pittman wrote Thursday. 
Pittman, an appointee of former President Donald Trump based in Fort Worth, said the program usurped Congress' power to make laws.
"In this country, we are not ruled by an all-powerful executive with a pen and a phone. Instead, we are ruled by a Constitution that provides for three distinct and independent branches of government…The Court is not blind to the current political division in our country. But it is fundamental to the survival of our Republic that the separation of powers as outlined in our Constitution be preserved. And having interpreted the HEROES Act, the Court holds that it does not provide 'clear congressional authorization' for the Program proposed by the Secretary," Elaine Parker, President of Job Creators Network Foundation, which brought the lawsuit, reacted to the ruling on Thursday. 
RELATED: Federal appeals court temporarily blocks student loan forgiveness plan 
"The court has correctly ruled in favor of our motion and deemed the Biden student loan program illegal. The judge criticized the Biden Administration program, calling it 'one of the largest exercises of legislative power without congressional authority in the history of the United States.' This ruling protects the rule of law which requires all Americans to have their voices heard by their federal government," Parker said. 
"This attempted illegal student loan bailout would have done nothing to address the root cause of unaffordable tuition: greedy and bloated colleges that raise tuition far more than inflation year after year while sitting on $700 billion in endowments. We hope that the court's decision today will lay the groundwork for real solutions to the student loan crisis." 
The Associated Press and FOX Business contributed to this report. This story was reported from Los Angeles.