Bebe Rexha hospitalized after being struck by cell phone during concert, suspect arrested
A man has been arrested after singer Bebe Rexha was hit with a cell phone during her concert last night at The Rooftop at Pier 17 in New York City.
In video filmed from the audience, Rexha was seen on stage when an object, later confirmed to be a cell phone, flew out of the crowd and hit her in the head.
Rexha stumbled and then doubled over onto the stage, where crew arrived and escorted her backstage.
A separate video showed Rexha holding her hand over her eye and forehead and waving to fans as she exited the stage while the crowd chanted her name in encouragement.
The 33-year-old singer shared a photo of her injuries on social media Monday morning, where a cut can be seen just below her eyebrow, as well as bruising. She also showed herself with a bandage on the cut, giving a thumbs up to the camera. 
In the caption, Rexha simply wrote, "I'm good," a play on her song of the same name.
Representatives for Rexha did not immediately return Fox News Digital's request for comment about the incident.
A spokesperson for the NYPD confirmed to Fox News Digital that Rexha was "removed by EMS to an area hospital in stable condition after the incident." 
The statement also confirmed that New Jersey resident Nicolas Malvagna, 27, was arrested for assault.
The NYPD spokesperson said, "On Sunday, June 18, 2023 at approximately 2200 hours, police were notified of an assault that occurred at the concert space of Pier 17 located at 89 South Street, within the confines of the 1st Precinct." 
"A preliminary investigation on scene determined that a 27-year-old male intentionally threw a cell phone at a 33-year-old female performer on stage, striking her about the face. The individual was taken into custody on scene and removed to the 1st Precinct for arrest processing."
Fans expressed their anger on behalf of the "I'm Good" singer on Twitter.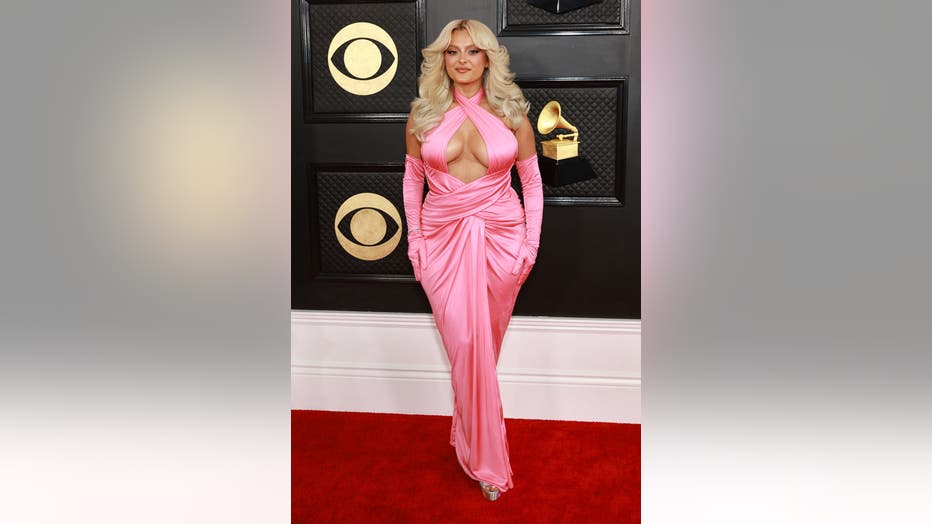 Bebe Rexha attends the 65th GRAMMY Awards on February 05, 2023 in Los Angeles, California. (Photo by Matt Winkelmeyer/Getty Images for The Recording Academy)
"Absolutely great show ruined by a fan throwing their phone at @BebeRexha, hopefully she is ok after that," said one fan.
"Bebe Rexha is quite literally the sweetest and most supportive soul on the planet, what is wrong with you demons…?" demanded another.
"Saw what happened to Bebe Rexha and I'm disgusted like that was so unnecessary! These people get on stage to entertain us they are human DON'T THROW THINGS AT THEM!" said a third.