2 killed, 3 injured in boat fire off Long Beach
LONG BEACH, Calif. - At least two people were killed, and three others were injured in a boat fire in the waters off Long Beach Saturday afternoon.
Fire officials were called out to the area of 200 N. Marina Dr. just after 5:15 p.m. Saturday for reports of a fire near a fuel dock in Alamitos Bay. According ot the department, a 35-food pleasure boat caught fire. 
Long Beach Fire Capt. Jake Heflin said two people were declared dead, and three others were brought to the hospital in critical condition. All the victims were identified as being in their 60s. The two who were killed were women, the survivors included two men and a woman.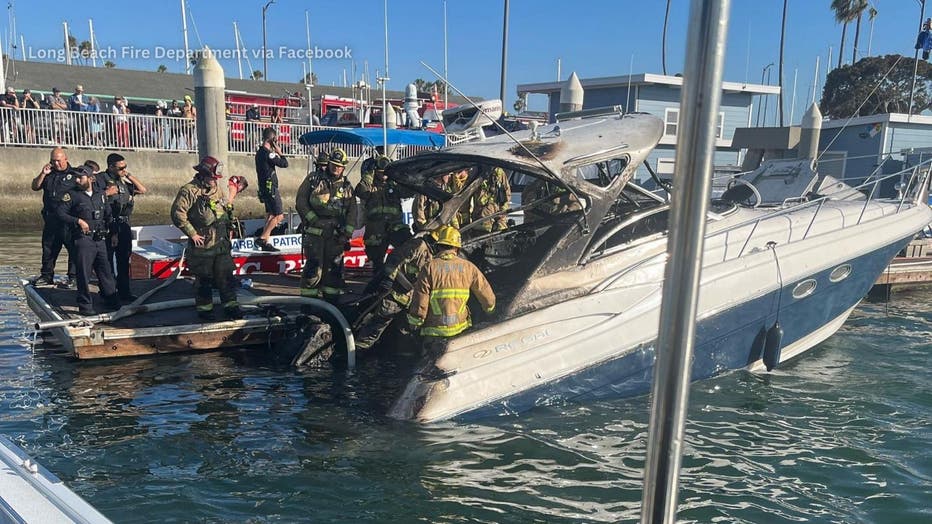 Courtesy of Long Beach Fire Department via Facebook.
Cindy Lehmann told FOX 11 that she heard a boom as the boat caught fire, then walked over to see what was happening.
"We saw this boat that was at the fuel dock, and all of a sudden it just exploded into flames," she said, adding that onlookers were telling those on the boat to jump off the boat and into the water.
SUGGESTED: Man arrested for attempted murder in Long Beach 
Officials have not yet determined what caused the fire, but Heflin said that there wer several reports that the boat was fueling when it caught fire, but that the department was still investigating. Heflin said that the boart was being moved to an isolation dock to minimize the threat of oil or other things in the water. 
No other information was immediately available.