Asian-American middle school student alleges discrimination due to race amid coronavirus outbreak
LOS ANGELES - An Asian-American middle school student says that he was discriminated against because of his race amid the coronavirus outbreak, adding that he was retaliated against at his public school.
"This was the first time that I've ever felt I was being treated differently for being Asian," said Dylan Muriano. 
Dylan Muriano, 13, is an 8th-grader at Walter Reed Middle School in North Hollywood. The complaint, filed by his mother, Leyna Nguyen, alleges that Dylan was singled out by a teacher over coronavirus concerns due to his Asian ethnicity.
"The fact that my teacher wouldn't even give me an apology tells me he doesn't care how he made me feel and that he did treat me differently because I'm Asian," he said. 
According to Dylan, on Feb. 5, he was drinking water when it went down the wrong pipe, causing him to cough. Over his objection, his teacher sent him to the nurse. The nurse found that he was fine and he was returned to his class.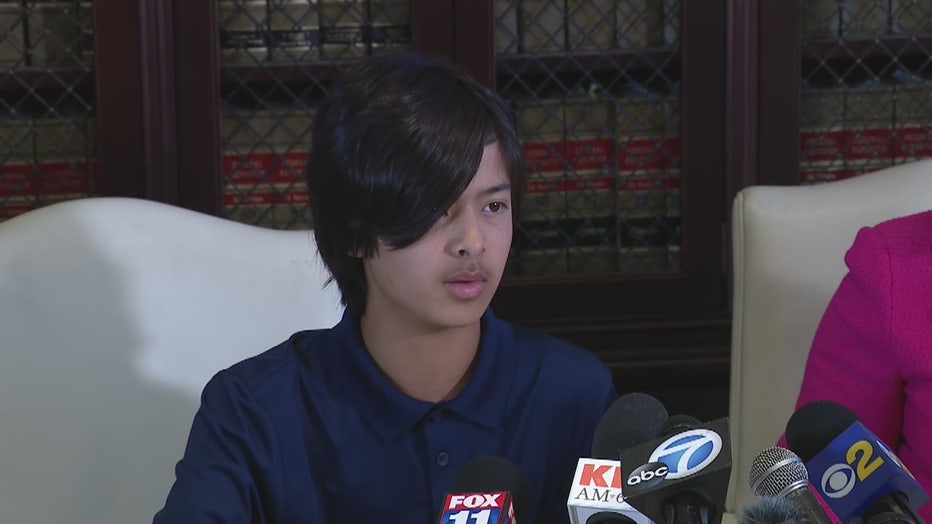 Dylan said that students of other races in his class who coughed were not sent to the nurse. He later asked the teacher if he was sent to the nurse because he was Asian, since, at the time, coronavirus coverage in the news was revolving around individuals in China or those who traveled to and from China.
The teacher did not confirm nor deny that the decision to send Dylan to the nurse was because he was Asian-American, Nguyen claimed.
"All we wanted was an apology so we could move on, but the teacher refused to do so," said Nguyen. 
Attorney Gloria Allred, who is representing the family, said that when Dylan returned to class, he was taunted by other students about coronavirus. Dylan said the taunting eventually ended. 
"As I was leaving class, just small things like 'oh you've got the coronavirus,' or 'don't come near me,' just stuff like that," said Dylan. 
The next day, the teacher allegedly accused him of being disruptive and sent him to the principal's office. Nguyen said that this was the first time her son had been sent to the principal's office, adding that he was sent there six additional times following the incident. 
Nguyen claimed that her son received ongoing retaliation from the teacher in the wake of her son's discrimination complaint, including being ignored when asking for help in the classroom and being relocated to sit in the back corner of the class.
She told reporters Friday that she later contacted school officials about the incident, hoping for an apology from the teacher and that he stop targeting her son. 
Mobile users, click here to watch full press conference
On Feb. 26, Nguyen said that she met with a senior school administrator, who told her that school officials met with witnesses who confirmed almost every account. She claims to have been told that the school concluded that the teacher had retaliated against Dylan since the incident. 
The teacher is still teaching the honor's science class, according to Nguyen, but Dylan has been moved to a different class that is not an honor's course.
"My son did nothing wrong here, but the solution is to remove him from the class because school administrators, in their own words, said they can't control the teacher," said Nguyen. 
Allred said they are not seeking monetary damages, and are just asking for an investigation. 
"The remedy we are seeking is District-wide faculty and staff training about and prevention of, racial and national origin discrimination arising from the Coronavirus outbreak," said Allred. 
Allred said the Office for Civil Rights responded to her by email saying they received the complaint. Allred does not know how long it will take them to decide if they will an open an investigation. 
FOX 11's Koco McAboy contributed to this report.