Actress, mother Holly Robinson-Peete opens up about autism and police following death of George Floyd
LOS ANGELES - Actress, TV personality and Autism Activist Holly Robinson-Peete wears a lot of hats these days, but her most important role is being a mom to her four children. All of them are grown, but she's still having important conversations with them about interacting with police. This is especially true for her oldest, RJ, who is autistic.
She does not want her kids to fear the police, but she has to be honest when she explains the reality of what could happen. After seeing what happened to George Floyd and many other African Americans who have died while at the hands of police, Robinson-Peete says that it was just another reminder of the change that she would like to see within law enforcement.  
RELATED: Continuing coverage on the death of George Floyd
"I've explained to my friends that I wouldn't call it defunding, I would just say reallocating. I would say more training more de-escalation training and just sort of move the puzzle pieces around so that these kinds of incidents don't happen as often as they do," she said. 
Robinson-Peete says this is a conversation she's been having for years. When she and her oldest learned of what happened to George Floyd, it was his reaction that broke her heart. She says, he asked, "Mom I thought you said if I complied that I wouldn't die...that nothing bad would happen."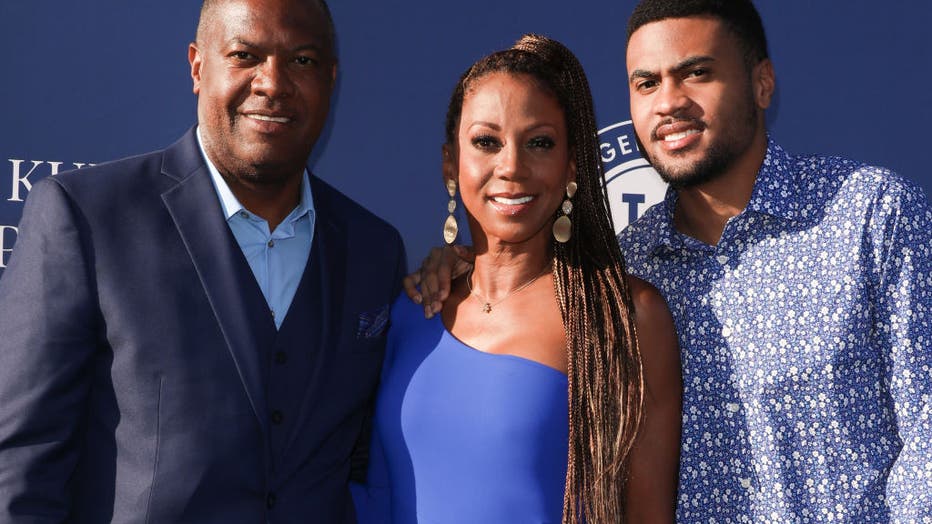 LOS ANGELES, CALIFORNIA - JUNE 12: (L-R) Rodney Peete, Holly Robinson Peete, and RJ Peete attend the 5th Annual Blue Diamond Foundation at Dodger Stadium on June 12, 2019 in Los Angeles, California. (Photo by Paul Archuleta/FilmMagic)
"It literally broke my heart.... it absolutely broke my heart," she revealed. 
Another case that hit her close to home was the death of Elijah McClain who identified as an introvert. 
RELATED: Colorado reexamines Elijah McClain's death in police custody
Robinson-Peete says from the time her kids were toddlers, she's repeatedly drilled them about how they should behave during any interaction with police. Recent events have her thinking about her greatest fear and several issues all over again.
That's one reason she reposted one of her blogs from 2017. It was featured in the Huffington Post, titled  "Autism & the Police."
Click here to read Robinson-Peete's article featured in the Huffington Post. 
"When I wrote that article about autism and the police, I was so panicked because RJ is a pure soul…but you know he has things that he does …kids with autism tend to STIM, which stands for self-stimulate and they move, they tick, they're different & they're quirky," she explained. 
Three years later after writing the article, her son was 22-years-old and loved his job at Dodger Stadium. 
Her son is thriving, however, Holly says there is still a lot of work to be done to bridge the gap between the autistic community and the police. Holly and her husband, former NFL quarterback Rodney Pete, have made it their mission to continue those efforts through the HollyRod Foundation.
"We want to see accountability and support and we what to see police do their part… more of these roundtables where we discuss with communities and parents… I know there have to be a lot of police officers with kids who have autism," she added. 
She hopes that one day she will be able to lobby for "RJ's Law." Similar to the organ donor designation, the law would provide some sort of indication on a California driver's license that they are dealing with a person with autism.
Click here to support the annual autism campaign for HollyRod Foundation with Stella And Dot.