A Teen's Fund To Keep Albino Sisters in L.A.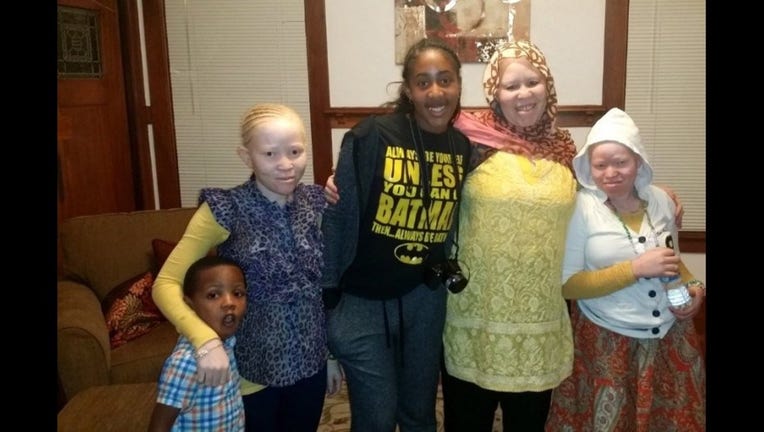 article
The love continues to flow in Los Angeles for two albino sisters from Tanzania. A GoFundMe page is up and running. The idea came from a 14-year old girl, about the same age as Bibiana and Tindi Mashamba. Bibiana is here for care after a horrific attack back home.
She was targeted because she is albino. A leg and two fingers were amputated. This is not new news. In small villages there's a false cultural belief that the limbs of albinos possess power and are sought after for witchcrafts.

RELATED: Albino Teen Receives Treatment in L.A. After Attack Tied to Voodoo
Malena Ruth and the African Millenium Foundation brought Bibiana to the Orthopaedic Institute for Children to be fitted with a high-tech prosthesis. The girls arrived in April.
A teen from L.A. also wanted to help. Naria Slann set up the GoFundMe page. It has raised just 17-hundred dollars. She'd like to raise $75 thousand dollars to allow the girls to attend boarding school. She wrote:
Hi and thanks for stopping by my page! My name is Naria and I'm 14 years old. I think that I am a simple kid. I enjoy hanging out with friends, playing volleyball, reading and watching television. My life is pretty easy. My biggest fear use to be math class but, that all changed when I met Bibiana and Tindi. Through them, I learned that there are kids who have live in a REAL fear daily.
Through generous contributions, the African Millennium Foundation brought Bibiana and Tindi to Los Angeles were Bibiana will be given a new prosthetic leg. Now, I have found out that my friends will have to return to Tanzania in about 3 months. They will be back to living in fear, back to walking the streets with body guards, and back to a sheltered life. I don't want my friends to go back to having to live like this, so I've started a campaign called "A Sister's Village". I need to raise $75,000 to help put Bibiana and Tindi into a boarding school in America. Here they will be able to live, not just survive or even risk being murdered by devil worshipers or witch doctors in Tanzania.
Bibiana has a dream of becoming a lawyer or a judge so that these hunters can be brought to justice and prosecuted, and Tindi wants to be a singer or a fashion designer. It takes a village to make a change! And my sisters need your help! As an ambassador of the African Millennium Foundation I'm asking that you join me in making Bibiana and Tindi's dream a reality and bring awareness to a world of unknown.
For now, Bibiana will stay here while her therapy continues. In Tanzania, Bibiana's story also made news. The girls were taken in by a powerful woman who is albino. She is a the first albino to serve as a member of Tanzania's parliament. She was first appointed by the president and then won an election. The Honourable Alshaymaa Kwegyir arrived with the girls, but returned to Tanzania for work.
LINKS:
African Millenium Foundation: www.1amf.org
Orthopaedic Institute for Children: www.ortho-institute.org
Copyright 2015 FOX 11 Los Angeles : Download our mobile app for breaking news alerts or to watch FOX 11 News | Follow us on Facebook , Twitter and YouTube .