A starter film guide to the 35th Santa Barbara International Film Festival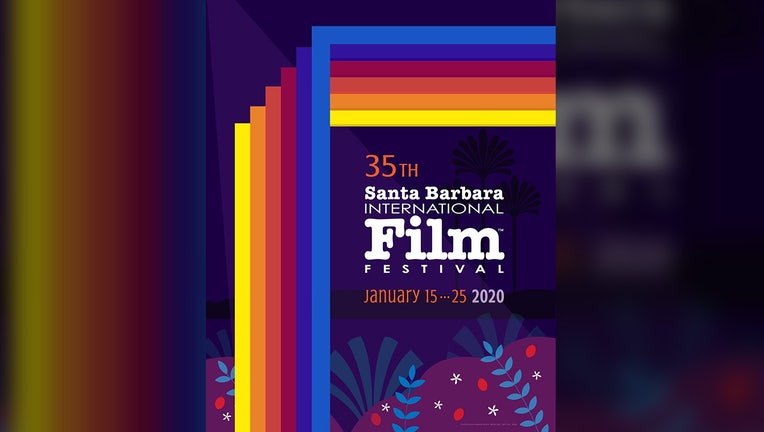 article
SANTA BARBARA, Calif. - From the comedic to the dramatic, over 47 world premieres and 71 U.S. Premieres will be screened at the 35th Santa Barbara International Film Festival.
For more information on the film festival, events, and film lineup and times, visit https://sbiff.org
With a plethora of movies, where do you start? Here's a list of short and feature length films that will get you started on your way:
1. TRIBES - In this powerful and thought-provoking dark satire, the themes of identity and discrimination unfold during a train ride between two stations as an African American, an Arab-American and a white man try to rob a train. However, no one wants to rob their own race. Clip: https://vimeo.com/381705906
2. FAITH BA$ED - This film is about two friends (Barnett and Thomason) who come to the realization that every bad Christian movie still makes lots and lots of money, so they set out on a mission to make one of their own. It also stars Jason Alexander (Seinfeld), Lance Reddick (The Wire), Margaret Cho, and David Koechner, among others. Vincent Masciale (Fear, Inc, Funny or Die) directs. Barnett wrote the script. Producers are Barnett, Masciale, Thomason, Tim Kerigan, and Giles Daoust. Catherine Dumonceaux, Matthew Emerson, and Reddick are executive producers. Teaser: https://youtu.be/55i7osbahIc
3. ATTORNEYS AT LOVE - Two young lovers are given a glimpse of their future relationship and must decide if they want to continue together in life. Starring Peter Krause, Kenneth Choi, narrated by Angela Bassett.
4. LA RESTAURACION - Tato, a 51-year-old, reckless man-child, has lost everything. He lives with the longtime household staff, a nurse and his eccentric, dying mother Rosa, who puts him down every time she gets a chance, with the hope of keeping him inside their decrepit family mansion. Desperate for financial independence, Tato decides to sell his mother's house without her consent. To make Rosa think she is still living in her old bedroom, Tato places her in a remote, crudely similar space covered in plastic with a boom box blaring construction noise and a pot bubbling with their neighbor's stew outside to create the illusion that the house is being restored for its historic value. But it is perhaps the failure of this illusion that will provoke in Tato the beginning of his own restoration.
5. THE SONGPOET - Eric Andersen was at the vanguard of the Greenwich Village folk music scene of the 1960s and positioned to be a rising star of that movement. But in a five year period, he found himself a victim of improbable circumstances that changed his trajectory. This documentary film dives deep into conflicts of career, ego, relationships and the unrelenting pursuit of one's purpose as it explores what it takes to keep moving forward. Trailer: https://vimeo.com/68694512
6. MOCHITSUKI - A short that tells the story of tradition, love, and celebration through one family's annual gathering to make Mochi. Trailer: https://vimeo.com/382224727
7. THE ORATORIO - Narrated by Martin Scorsese, The Oratorio highlights a single performance in 1826 that forever changed America's cultural landscape with the introduction of Italian opera to the New World. Taking place in Scorsese's childhood church, this watershed event was lost to history for almost 200 years, but recently rediscovered and re-staged. With an amazing cast of historical figures including Lorenzo Da Ponte, the poor grocer who once wrote the librettos for Mozart's great operas, The Oratorio is a story not just of opera but of a neighborhood, church, and city transformed and improved by waves of immigrant migrations. Trailer: https://vimeo.com/352992092
8. JAMES VS HIS FUTURE SELF - The movie follows an uptight time-traveler, who is visited by his nihilistic future self. He's told that he must give up his dream of being the world's first-time traveler, or else… However, when he won't go along with the plan, it becomes a wicked battle of man versus himself -- literally. Trailer: https://youtu.be/Vi8oOuwsvdo
9. WONDER - A poignant short film about an 11-year old boy from the hood questioning the traditional gender system. "Wonder" tracks the events that transpire when Sammy encounters a drag queen and secretly starts dreaming of trick-or-treating as Wonder Woman for Halloween. Confused and fearful of these unfamiliar feelings, Sammy begins to question his gender in relation to the world around him, and how this secret will affect his relationship with his blue-collar, single father, Frank. Trailer: https://youtu.be/S5T8kjFG8wc
10. AMBER LIGHT - An informative "love letter" on Scotch Whisky. The film takes a close look at where Scotch fits in culturally in the world, where it's been and the people leading the charge into the future." Interviewing everyone from distillers, farmers, crime writers, poets, historians, and the aristocracy alike, this isn't your grandma's documentary on Scotch, but rather a lush, intimate, but still illuminating film on one of the greatest spirits in the world. Trailer: https://youtu.be/fhJ16fo3hCc
11. PANDORA'S BOX - Exploring a critical human rights issue that spans the globe, ​"Pandora's Box: Lifting the Lid on Menstruation​ "​shines a spotlight on the shocking barriers faced by millions who menstruate, who lack the products, education, and respect they deserve. The 74-minute film reveals menstrual inequalities and powerfully showcases a diversity of voices fighting to effect change. Trailer: https://youtu.be/Uwmk3OgYR64
12. OVERLAND - An intimate yet epic journey into the ancient art of falconry. Lauren, a daredevil anthropologist, trains injured eagles to fly and hunt while scouring the world for falconry secrets. But a confused eagle whose tragic past seems beyond repair pushes her to the brink. Giovanni left Rome for a solitary life in the countryside with his wolves, horse and hawks. After a transcendent experience with an 800-year-old falconry book, he begins to question his life's purpose. In Dubai, Khalifa is training to be the world's best falcon racer. For millennia his nomadic ancestors hunted with falcons in the harsh Arabian desert. Now, with city-life encroaching, he must find a way to keep his fragile Bedouin culture from vanishing forever. Trailer: https://youtu.be/joZTG6y5nTU
13. SERGIO MENDEZ: IN THE KEY OF JOY -  A joyful cinematic celebration of this singular musical artist who remains as vital and relevant today as when he exploded on the scene with his group, Brasil '66. One of the most internationally successful Brazilian artists of all time, Mendes is a three-time Grammy Award winner and has recorded more than 35 albums, many of which went gold or platinum, including the critically acclaimed Timeless, produced by will.i.am. With Sergio telling much of his story in his own words, this film paints a rich, entertaining and revelatory portrait of an extraordinary artist. Bringing added emotion and intimacy to the story is the inclusion of 50 recordings from every phase of Sergio's career, as well as rare or never-before-seen film clips, home movies and photos from the Mendes family album. Trailer: https://youtu.be/xV6A0zl0VPo
14. MEDICATING NORMAL - Combining cinema verité and investigative journalism, Medicating Normal follows the journeys of five diverse Americans who were given prescription psychiatric drugs to help with anxiety, depression, sleeplessness, focus, and trauma. This is an untold story of the potentially disastrous consequences that can occur when profit-driven medicine intersects with human beings in distress. Trailer: https://player.vimeo.com/video/359684065
15. BLUE NOISE - An important short film presenting a unique narrative of sexual assault survival and ultimately empowerment. Blue Noise focuses on a successful university swimmer who finds the courage to speak out against her abusive coach. Trailer: https://vimeo.com/357130323
16. BASTARDS' ROAD - This film follows the internal struggles of Jon Hancock, a combat veteran who after years of struggling to transition back to civilian life decided to take an epic journey across the country on foot. Walking nearly 6,000 miles alone, Jon confronts the demons that had overtaken his life. Visiting his fellow 2/4 Marines - known as The Magnificent Bastards - and families of their fallen along the way, Jon finds a mission greater than his own redemption. Trailer: https://vimeo.com/bastardsroad/trailer
17. SHOW ME WHAT YOU GOT - This is the feature-film directorial debut of documentary cinematographer Svetlana Cvetko. It is a contemporary take on "Jules & Jim" done in a cinéma-vérité style adeptly captures this love affair with a deliciously modern Jules et Jim flair, combining tenderness, artistry, and three fresh and appealing leads. Trailer: https://youtu.be/qsolEcxGbsU
18. THE PRISON WITHIN - This film is a relevant and timely documentary exploring the destructive impact untreated trauma has on individuals and communities through the powerful stories of survivors of violent crimes and prisoners incarcerated for murder in San Quentin prison. The prisoners and survivors come together and participate in the Victim Offender Education Group (VOEG)—an innovative restorative justice program enabling prisoners to discover how the trauma they've experienced contributed to their criminality and to understand the impact their crimes have on their victims. Together, the prisoners and survivors confront and expose the pain and shame caused by the extreme trauma they've experienced throughout their lives. Trailer: https://vimeo.com/190048873
19. GUTTERBEE - Gutterbee is a character-driven comedy about sausages and friendship. Set in small-town America, it's a story about two hopeless dreamers who join forces in a quest to erect the ultimate German sausage restaurant. Gutterbee is also a social satire about the nexus of identity fear, where religion becomes an intellectual cul-de-sac, and racism, homophobia and intolerance reign supreme. Trailer: https://youtu.be/3s8MhPx5ji4
20. SHE'S IN PORTLAND - This film follows two men who seemingly admire each other's lives and feel trapped in their own. Wes, tied to his demanding corporate career and his responsibilities to his growing family, extends a work trip to drag his dispirited artist friend Luke up the California Coast to find Luke's "one that got away". Through their travels, the journey takes a deeper look into life choices, acceptance, and commitment.
21. SONG SPARROW - The freezing temperature of a smuggler's truck turns refugees' hopes for a better future into a struggle for survival. Trailer: https://youtu.be/hep4eclY_mM
22. KOPITIAM - An exploration of a Malaysian chef's life on the Lower East Side shows how relationships are cultivated by food. Trailer: https://youtu.be/p7kwFCG9fbg
23. OUTDEH: THE YOUTH OF JAMAICA - This is a documentary film that portrays the youth of Jamaica: a new generation in transition, determined to get out of old and set structures in society and culture – and with their fresh mindset and strength, to contribute to a new understanding of the island.By diving into the reality of the three protagonists Shama, Romar, and Bakersteez, the film offers us a deep insight into their daily struggle in their individual searches for a way out. Shama is the first professional surfer of the island. Bakersteez is just starting a worldwide career as a rapper creating and adding to a new Jamaican sound. Romar, born and raised in the ghetto of Tivoli Garden, touches us deeply while we share his dreams about taking his first step out of his rough surroundings.OUTDEH makes us aware of a new movement on the island of Jamaica and generates respect and compassion for young people who follow their visions with courage and commitment.
24. BORN IN A BALLROOM - Person and place are often one and the same. Born in a ballroom the night her parent's cabin caught fire, Eleanor Mailloux danced her way through life and had an impact on her small West Virginia village in grand ways. Through entrepreneurship, creativity, and sheer grit, she inspired her town to aspire to more. Eleanor founded the internationally recognized restaurant, The Hütte, which reflects her unique legacy to this day. Trailer: https://vimeo.com/351181278 
For more information on the film festival, events, and film lineup and times, visit https://sbiff.org