3 LAPD officers accused of falsifying records, misidentifying people as gang members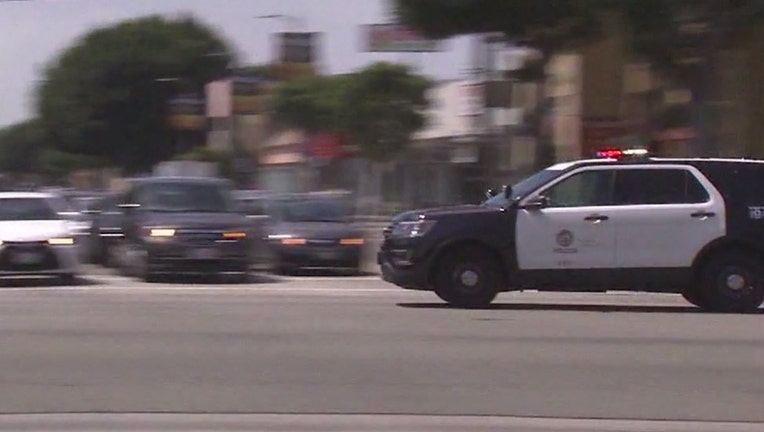 LOS ANGELES - Three Los Angeles Police Department officers have been charged in a 59-count complaint and are accused of falsifying information and misidentifying dozens of people as gang members or associates, LA County District Jackie Lacey announced Friday.
The case was filed Thursday against 37-year-old Braxton Shaw, 42-year-old Michael Coblentz, and 36-year-old Nicolas Martinez "for one count each of conspiracy to obstruct justice and multiple counts of filing a false police report and preparing false documentary evidence," the complaint reads.
The three defendants were once employed by LAPD's Metro Division at the same time. All three officers allegedly falsified field interview cards the officers used to conduct interviews while on duty.
Prosecutors said the cards filled out by Shaw, Coblentz, and Martinez contained false information and that they also wrongfully entered people into the state's gang database.
In addition, the three officers are accused of writing on the interview cards that the victims confessed to being gang members. However, footage from body-worn cameras revealed the officers never asked the victims about possible gang ties, prosecutors said.
Lacey said she has asked prosecutors to use the body-worn camera footage and the interview cards as evidence in the case "in an effort to ensure the accuracy of the information."  
Shaw allegedly falsified 43 interview cards, 7 for Coblentz, and 2 for Martinez.
Shaw faces up to 31 years and 8 months in county jail if convicted. Coblentz faces up to 7 years and 8 months and Martinez could serve up to 4 years and 4 months in jail. 
LAPD said 21 additional officers are under investigation in relation to how they completed field identification cards. Ten of those officers are currently on home assignment pending the investigation's outcome, eight are on administrative duties, five remain in the field, and one has since retired.
"Public trust is the bedrock of community policing and these allegations shake that foundation.  The actions of these few tarnish the badge we all wear.  The Department is committed to continuing this comprehensive investigation in our effort to restore the confidence of the people we protect and serve," LAPD Chief Moore said in a statement about the case. 
LAPD is investigating and attorneys from the Justice System Integrity Division will prosecute the case.