2 Riverside County men arrested on child pornography charges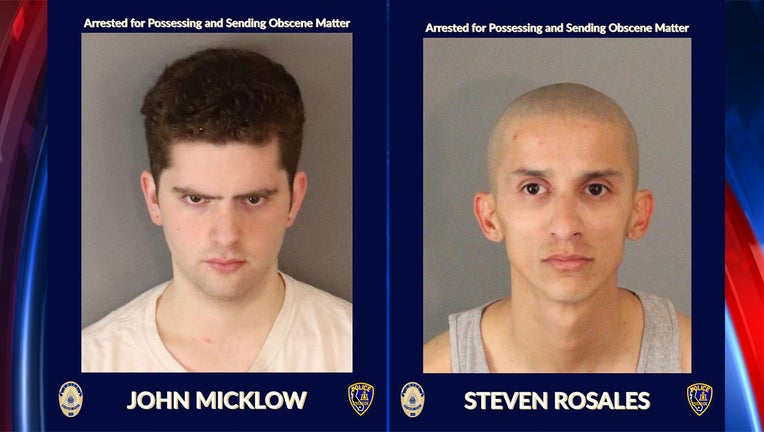 RIVERSIDE, Calif. (FOX 11) - Two Riverside County men have been arrested accused of possessing and distributing child pornography.
Steven Rosales, 29, of Perris was arrested on Jan. 11, 2019 after authorities served a search warrant at two locations connected to Rosales. Riverside police say Rosales was taken into custody at one of those locations.
Investigators discovered additional images of child pornography on devices owned and possessed by Rosales, police said. He was later booked into the Robert Presley Detention Center for possessing and sending obscene matter.
John Micklow, 21, of Riverside was arrested at his home on May 30, 2019 following a search of his home. Micklow was arrested and later booked into the Robert Presley Detention Center for possessing and sending obscene matter, police said.
The months-long investigation began when the Riverside Police Department's Sexual Assault-Child Abuse unit received cyber tips through the National Center for Missing and Exploited Children of two individuals that had used several social media platforms to share images and videos "depicting the sexual exploitation of very young children," Riverside police said.
Parents and children are often unaware of the potential dangers that can be encountered while online. Below are a few tips to consider provided by the Riverside Police Department:
-- Set up the computer in a common room, not your child's bedroom, so it is easier to see what is being viewed on the internet.
-- Make sure you have access to your child's electronic devices and make random checks of their email, mobile apps, texts, and internet history.
-- Utilize filter devices and/or parental control software at home to help manage and control what your children can access, as well as time management features that limit accessibility.
-- Teach your children to never post or trade personal photo and information, and NEVER agree to meet in person with anyone they met online.
-- Teach your children to always tell a parent or other trusted adult about any conversation or communication they felt was scary or hurtful.
You can view more tips on the Riverside Police Department's website or visit www.netsmartz.org for a great source of information regarding cyberbullying, social media, gaming, cellphones, and other topics relevant to our youth and their online safety.