100+ alleged predators arrested for sex crimes against children
LOS ANGELES - Authorities Wednesday announced that 139 people were arrested during a five-county, multi-agency operation that targeted internet crimes against children.
"Operation Online Guardian" was conducted earlier this month by the Los Angeles Regional Internet Crimes Against Children Task Force, which includes personnel from 102 agencies in Los Angeles, Orange, San Bernardino, Santa Barbara and Ventura counties, according to the Los Angeles Police Department.
"Child exploitation is one of the most horrendous crimes affecting our most vulnerable members of the community," Joseph McNally, first assistant U.S. attorney for the Central District of California, said at a Wednesday morning news conference at LAPD headquarters. "Through these crimes, predators target those who can't protect themselves."
LAPD Chief Michel Moore, which led the operation, was also among many law-enforcement officials at the news conference.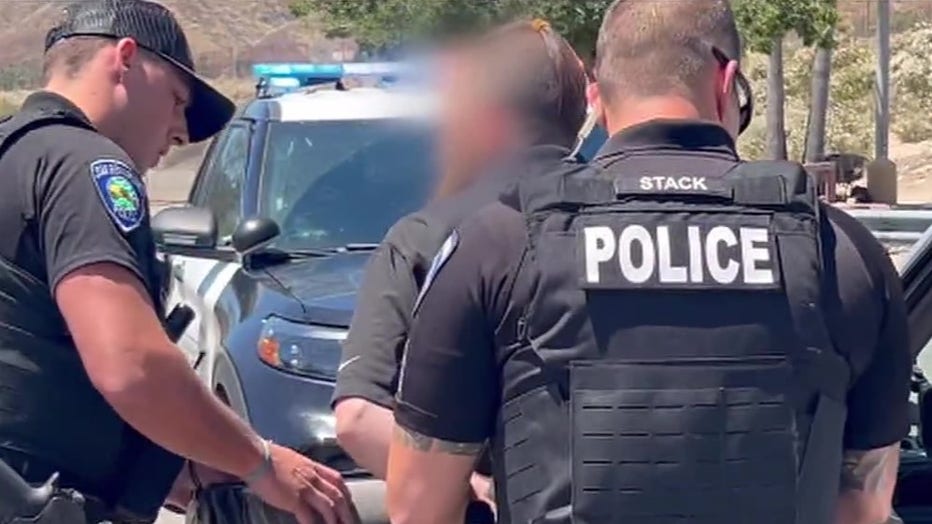 "These investigators will tell you that all one needs to do — as we do in the first step in going undercover and looking at these platforms — is to see the horrific volume of predators that are actively pursuing the opportunity to identify vulnerable victims and to abuse them, and to destroy their lives," Moore said.
In addition to personnel from the LAPD, the operation included police from Glendale, Long Beach, Laguna Beach, Burbank, Redondo Beach, Montclair and San Bernardino, along with sheriff's representatives from Los Angeles, Ventura and San Bernardino counties and officials with Homeland Security Investigations.
"The LAPD ICAC unit, as the lead agency, is the primary clearing house for all CyberTips, associated to the five southern California counties, received from the National Center for Missing and Exploited Children," the LAPD said.
SUGGESTED: 16 possible victims of LA serial sexual assault suspect come forward
"The CyberTips include reports from various Internet Service Providers and citizens reporting incidents that involve the possession, distribution and manufacturing of child sexual abuse material, and the online sexual exploitation of children," the LAPD added.
Authorities conducted Operation Online Guardian between July 10 and 21, the LAPD reported.
"The goal of operation was to identify and arrest predators who are using the internet to facilitate the sexual abuse of children and to rescue children from (the) predators," the LAPD said.
The operation was executed in two phases, police said.
"The first phase included proactive undercover investigations on a variety of social media platforms," police said. "The second phase included the service of multiple residential search warrants throughout the five counties, in addition to arrest warrants, which focused on child predators."
The 139 suspects were arrested on suspicion of various crimes that included:
Sodomy of a child under 10 years of age
Continuous sexual abuse of a child
Lewd acts with a child
Meeting a minor for lewd purposes/sex
Contact/attempt contact with minor for sex
Sending obscene matter to a child for sex
Penetration with a foreign object by force or fear
Sodomy
Possession of child sexual abuse material
Distribution of child sexual abuse material
Child annoying
Failure to register as a convicted sex offender
Violation of conditions of parole
Violation of conditions of probation
"During the operation, our dedicated investigators demonstrated their unwavering commitment and compassion as they embarked on a critical mission to protect the innocent," the LAPD said.
"Through their diligent efforts, vulnerable children were rescued from further abuse, and victims who had been silenced by the atrocious crimes of child sexual abuse found their voices restored," the LAPD said.
The Internet Crimes Against Children Program was developed by the U.S. Department of Justice's Office of Juvenile Justice and Delinquency Prevention. The mission of the program is to assist local, state and federal law-enforcement agencies with investigating internet-related crimes against youth.
The ICAC Task Force Program consists of 61 coordinated task forces and over 5,400 federal, state and local law enforcement members.
"Although Operation Online Guardian has concluded, the LA ICAC Task Force will remain vigilant and continue their mission to protect our children," the LAPD said.
"Despite the numerous resources that assist the LA ICAC Task Force in the battle against the sexual exploitation of children, there are victims who are unnoticed," the LAPD said. "Therefore, we are asking the community for their help in this fight."
Community members were urged to visit www.Missingkids.org/NetSmartz for educational internet safety tips and activities.
The community may also report potential child sexual abuse activity and have the harmful matter removed via the service "Take it Down," at https://takeitdown.ncmec.org/.