Storm moves into Southland, bringing rain, lightning, hail and cooler temps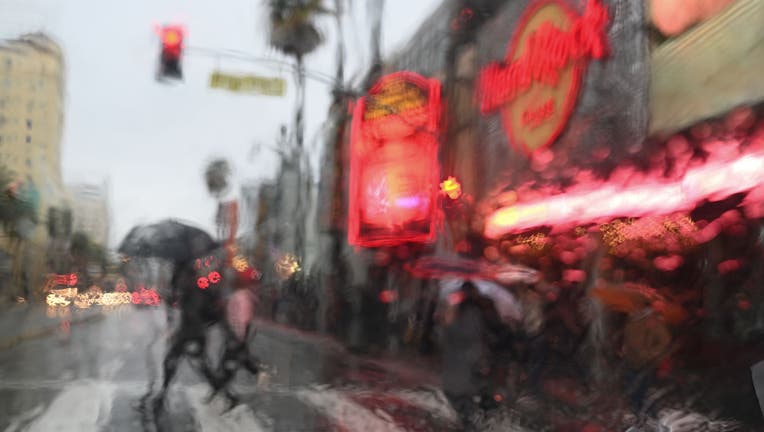 LOS ANGELES - Forecasters say a dramatic change is in store over the next few days across Southland, with the first rain of the season expected to douse the area as temperatures drop as much as 25 degrees.
The National Weather Service said that low pressure rotating right over southwest California Wednesday morning created brief heavy downpours, small hail and the occasional lightning.
Many people saw hail in Downtown Los Angeles, Fontana, and Whittier – a sight that's not common during November. 
NWS forecasters said they expect the brief, heavy downpours to continue into Wednesday, along with a slight chance of thunderstorms. Between a quarter-inch and three-quarters of an inch of rain are expected in L.A. County as a result of the weather event.
The rain forced the closure of Six Flags Magic Mountain in Santa Clarita. The park closed around noon Wednesday. Park officials say any tickets purchased for today will be valid to use on any other day this year. 
The storm will also trigger snowfall, with six inches expected in the San Gabriel Mountains above 5,500 feet, causing roads to become dangerously slick and threatening some flooding, which could prompt road closures, forecasters said. A winter weather advisory will be in effect from 7 a.m.Wednesday until 7 p.m. Thursday for the Los Angeles County mountains.
Although the risk of mudslides appeared to be relatively low, the Los Angeles City Department of Public Works noted that it has placed K-rail barriers in recent weeks.
According to the city, 47 barriers were installed late last month near Sunset Boulevard and Palisades Drive, near the October Palisades Fire. A total of 50 K-rails were recently installed along Sepulveda Boulevard in the vicinity of the recent Getty Fire.
The barriers are expected to remain in place for the next three years.  
City staff will monitor recent burn areas, and if any mudslides occur public works officials said they will be ready to respond with the Bureau of Engineering and Department of Transportation to clear streets as quickly as possible.  
The O.C. Sheriff's Station issued a voluntary evacuation warning for the Holy Fire burn area:
A high surf advisory is scheduled to be in force from 9 p.m. Tuesday until noon Thursday. The surf will build to between 4 and 7 feet Tuesday night,continuing through Thursday morning.  
"There is an increased risk for ocean drowning," warned an NWS statement. "Rip currents can pull swimmers and surfers out to sea. Large breaking waves can cause injury, wash people off beaches and rocks and capsize small boats near shore.
Monday brought above-average warmth to the area and mild conditions continued Tuesday, before a shift in the weather pattern as an incoming storm is expected to move in by Tuesday night. 
Forecasters said the region will see a roughly 25-degree drop in temperature by Wednesday.
Forecasters said the chance of showers will "develop after midnight Tuesday with the best chance occurring over L.A. County."
Heat records were set across Southern California thanks to a high-pressure system that drove up temperatures. Anaheim reached 96 degrees and Santa Ana reached 94, both breaking records of 92 degrees set in 2008.
Forecasters noted that Orange and San Diego counties are likely to receive most of the rain from the system.
FOX 11's Matt Johnson, Shelly Insheiwat and Kelli Johnson contributed to this report.