The Issue Is: Katie Hill, Gloria Allred, John Kobylt, and Brian Goldsmith
LOS ANGELES - This week, a pair of history-making headlines from the Golden State.
On the coronavirus front, California became the first state to surpass 600,000 positive cases. 
Then, in electoral politics, Senator Kamala Harris became the first California Democrat to ever be named to a Presidential ticket, as Joe Biden selected her to be his running mate.
To break down the latter, and much more, Elex Michaelson is joined on The Issue Is by attorney Gloria Allred, broadcaster John Kobylt, political strategist Brian Goldsmith, and former Congresswoman Katie Hill.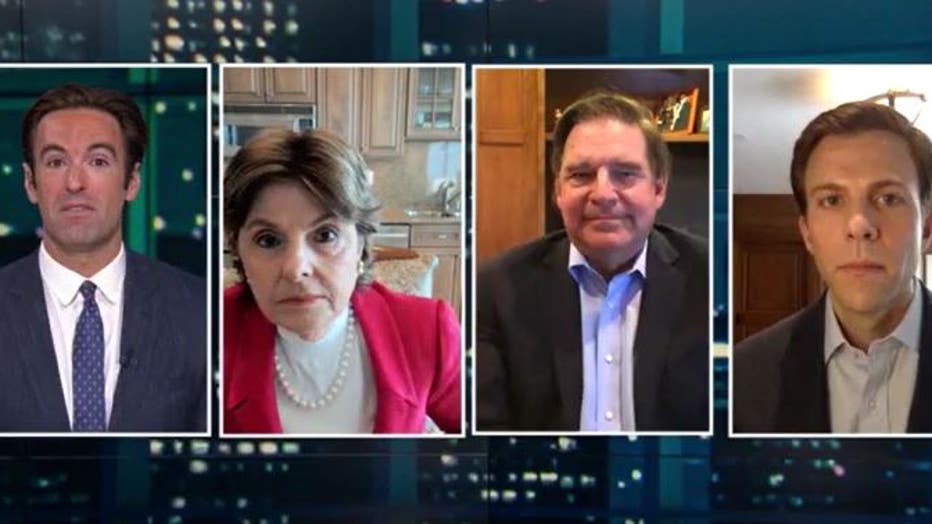 —————
The conversation kicked off with reaction to the Harris pick from our political panel.
"I'm so excited," Allred said. "Kamala Harris is now our favorite daughter from California. She is a great choice."
Allred considered Harris the perfect fit to run with Biden, pointing to the enthusiastic response from Democrats, who, in the first 48 hours following the announcement, donated roughly $48 million to the campaign.
Kobylt was less enthused about the Harris pick.
"It's funny, a few months ago she was considered the biggest bust in the primary season, after running one of the worst campaigns in recent Democratic history," Kobylt said. "She started out as one of the frontrunners, she ended up with over 95% of Democrats rejecting her, and everyone thought she botched her moment, so it's funny that everybody is doing a 180 on her."
Goldsmith pushed back on the failed campaign narrative, citing the likes of Al Gore and Joe Biden himself, as recent examples of candidates who were unsuccessful in their own Presidential bids, only to serve as "terrific" Vice Presidents.
On Harris, Goldsmith said the decision exemplified Biden's strength to think big, and also injected a great amount of diversity to the race, as Harris is not only Black, but also an HBCU graduate, the first Asian American on a major party ticket, and the first candidate with a Jewish husband.
While Democrats heaped praise on Harris upon her selection, with roughly 80 days until the election, Harris was not afforded any honeymoon from attacks, instead dodging instant criticism from Republicans, moderates, and progressives alike.
"She was the fourth most liberal Senator in the Senate," Kobylt said. "That comes out of the progressive tree of California, Portland, Seattle… all progressive mayors, progressive city councils, progressive politicians, some of whom are going national, and each of those cities is a disaster, I want no part of progressive politics."
Goldsmith pushed back.
"Look at The United States of America under Donald Trump," Goldsmith responded. "Forget Portland and Seattle, those are real challenges, but we're losing a thousand Americans a day, we have the worst record in the advanced world dealing with the coronavirus crisis, he has abandoned the effort completely to help people economically, we're about to have an eviction crisis the likes of which we haven't seen since the Great Depression, that's what they should be talking about."
With Harris now on the Democratic ticket, one form of speculation ends, and another begins.
First, after months of prognostication, the Harris selection means that the horse race that is the Veepstakes is now officially over, leaving also-rans like Ambassador Susan Rice, Governor Gretchen Whitmer, Senator Elizabeth Warren, and Representative Karen Bass to return to their normal lives.
Bass, a frequent guest of The Issue Is, spoke with Michaelson this week about the vetting experience, laughing off the flood of opposition research she was hit with in the final weeks of the unofficial campaign.
"I do think she was treated very unfairly by the process," Goldsmith said. "Her lack of experience  in national politics maybe led her not to respond as ferociously as others might have."
Goldsmith added that Bass is a "master legislator," and will likely have two new opportunities to show off her talent in the near future, possibly as a future Speaker of the House, or as a replacement for Kamala Harris in the Senate, should the Biden-Harris ticket win in November.
Kobylt responded that he thought Bass was not enough of a national name to secure the nomination. However, Kobylt hypothesized, the Harris pick had more significance than simply name recognition.
"One of the things no one is talking about, very much, is that Joe Biden is in cognitive decline, most of the country doesn't think he'll be President in a couple of years, so this Vice President is being looked at as THE President maybe in 2022 or so," Kobylt said.
"Criticize Biden on his record, on the issues, this is a shameful attack without any basis or evidence," Goldsmith shot back, saying that there were more examples of President Trump's mental state being in question.
"Look at the video of Joe Biden against Sarah Palin in 2008," Kobylt challenged. "Watch him speak, he can go on for two minutes, no notes, no teleprompter, very articulate, very detailed, compare that to what you see today."
Allred called the effort of right-wing media and President Trump to paint Biden as someone with mental decline as "ridiculous," saying it wouldn't work in the long run.
With speculation over the VP selection gone, the speculation game turns instead to the prospect of California Governor Gavin Newsom needing to fill Harris' current Senate seat, should she win in November.
Allred was optimistic about who Newsom might choose should the opportunity arise.
"I think we have what we may call an embarrassment of riches in this state, wonderful Democrats," she said.
While it won't be clear until November whether Newsom needs to fill a vacancy or not, what is clear is that Allred, Kobylt, and Goldsmith will be back on next week's special coverage of The Issue Is, offering expert analysis on our special DNC coverage, Monday through Thursday starting at 6:30 PM on FOX 11 and FOXLA.com.
—————
Next, Michaelson is joined by former Congresswoman Katie Hill (D-CA).
Last year, Hill, a rising star within the Democratic party who in 2018 had flipped CA's 25th district for the first time since 1993, resigned from Congress after finding herself embroiled in scandal.
Almost a year later, Hill tells her story in a new book, She Will Rise: Becoming a Warrior in the Battle for True Equality, an exploration of her experience in politics, as well as the plight, generally, of women who enter the political arena.
In the book, Hill describes her troubled marriage, and how it led her, just weeks before the 2018 midterm, to contemplate suicide.
"During that whole episode, when it was just a couple weeks before the election, that was when he first said he'd ruin me if I left," Hill said. "So I ended up going back to him and hoping that we could just finish this thing out, and then maybe once I left for DC, and was not around as much, it would be better."
Some six months into her tenure in Congress, Hill said she finally garnered the courage to leave her husband, at which point he allegedly began circulating the photos.
Those photos, many of which Hill claims she was unaware of, revealed an affair with a campaign staffer.
Upon reflection, Hill admitted that she displayed "poor judgement" when it came to the relationship, especially from a power-dynamic standpoint, saying that the intensity of the campaign, her marital trouble, and a host of other issues led to a "perfect storm" that she will forever regret.
"The bottom line is that there isn't a space for this kind of thing," Hill said, adding that the biggest victim of the experience was her staffer, an "innocent bystander," who will hopefully be able to get her life back.
Once the photos initially leaked, Hill was tasked with the decision of what steps to take next.
One of those steps was a phone call with Speaker Pelosi, Pelosi telling Hill that the caucus had her back and that Hill did not need to step down. Still, Hill ultimately decided stepping down was the right decision to make.
"I didn't want to put [House Democrats] in the position of either having to defend me or denounce me, and I didn't want my mistakes to really cast a shadow on all of them, so it felt like the right thing to do, and the only choice I really had at the time," she said.
Upon resignation, Hill told Michaelson she contemplated suicide a second time, noting that nearly half of victims of cyber-exploitation consider taking their own lives.
Ultimately, following the death of her brother, Hill decided she would have to live with the consequences of her actions, saying suicide was officially off the table, given that she couldn't put her parents through the trauma.
The discussion wrapped up with Hill's advice for women in the world of politics.
"No one's going to lead the fight on our behalf… women are going to be the ones who have to do this," Hill said. "We are, by our very nature, and by the experiences that we've gone through, as women, we are warriors in this fight, and it's time for us to stand up and to complete it."
—————
The Issue Is: with Elex Michaelson is California's only statewide political show. For showtimes and more information, go to TheIssueIsShow.com.