Women's World Cup: Nigeria stuns Australia in Group B match | July 27, 2023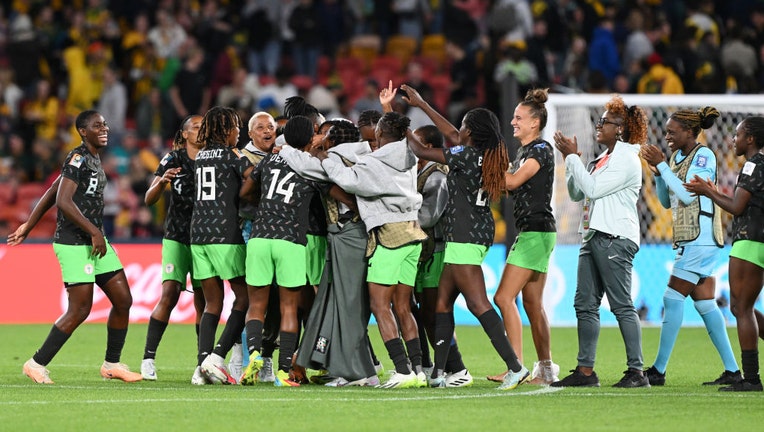 article
CHICAGO - The FIFA Women's World Cup only happens once every four years, and whether you're a soccer devotee or someone who just tunes in when the Cup comes around, you won't want to miss the action. Never fear: We've got you covered. 
Every day through the Final on August 20, FOX Digital will be breaking down the details on all the can't-miss matches, players to watch and other essential details. What's next: Australia's Matildas fight for a second win – sans their superstar. 
Watch the 2023 FIFA Women's World Cup only on FOX and FS1. 
Women's World Cup matches on July 27, 2023
July 27, day 8 of the 2023 FIFA Women's World Cup, features three matches, including one that started while it was still the 26th in the U.S. Time zones.
United States (1 win, 0 losses, 0 draws) vs. Netherlands (1-0-0)-Final score: U.S. 1 Netherlands 1
         Watch the replay of the U.S. vs. Netherlands here
Portugal (0-1-0) vs. Vietnam (0-1-0), 3:30 a.m. EST-Final score: Portugal 2 Vietnam 0
         Watch the replay of Portugal vs. Vietnam here 
Australia (1-0-0) vs. Nigeria (0-1-0), 6:00 a.m. EST-Final score: Nigeria 3 Australia 2
        Watch the replay of Australia vs. Nigeria here
Argentina (0-1-0) vs. South Africa (0-1-0) Final score: Argentina 2 South Africa 2 
         Watch the replay of Argentina vs. South Africa here
For details on the results of concluded matches, scroll down to the 'Soccer spoilers' section. 
Match spotlight: Australia vs. Nigeria
These two teams have a number of things in common. First, and most importantly, they've got two of the coolest team names in the tournament: the Matildas (Australia) and the Super Falcons (Nigeria). Second, each team has a lengthy history with the Women's World Cup, as Nigeria are one of only seven teams to have qualified for every tournament, while Australia missed out only once (in 1991). 
The common ground continues: They're both in group B, which is vying for the title of this tournament's "group of death" (meaning the group of teams most difficult to break out of on the way to the knockout stage). They're both hungry for a win – and for this match at least, both may take the pitch without their biggest star.
In the case of the co-hosts, it's confirmed: Australia will feel the lack of iconic player Sam Kerr, who was ruled out of the Matildas' first two fixtures with a calf injury. But they've got home country advantage, with what's sure to be a massive crowd cheering them on as they pursue a second victory, and while there's an argument to be made that Kerr is the best in the world, she's far from the only heavy-hitter on Australia's roster (more on one such standout below, in the "Players to watch" section). 
Nigeria, on the other hand, will be chasing their first win, after holding reigning Olympic champs Canada to a scoreless draw. But it's possible that they'll be doing so without record-breaking Barcelona standout Asisat Oshoala. Still, there are some exciting players on this side, notably goalkeeper Chiamaka Nnadozie, who kept the Canadians at bay throughout their exciting tournament opener. 
So even without a chance of a trademark Sam Kerr backflip, this is a can't-miss match – especially if the thrilling Oshoala is fit and gets the green light to play.
RELATED: 8 teams that could stop USWNT from three-peating at 2023 World Cup
Players to watch on July 27, 2023 
Nigeria: Asisat Oshoala, forward
The player FIFA calls "Africa's all-time female GOAT" is not one to sleep on: the versatile Barcelona superstar and Ballon d'Or nominee has championship wins in her past, determination to spare and a mighty skill set. She'd been named CAF African Women's Footballer of the Year a record five times, and FIFA notes that she's somehow averaged roughly a goal per game in her four-plus seasons in Barcelona. Coach Randy Waldrum put it this way to FIFA: "When you have Oshoala, you have a chance against any team." Fingers crossed that she's in fighting shape! 
Australia: Ellie Carpenter, right fullback
This Aussie standout is a seasoned veteran at the ripe old age of 23 – she started her pro career at age 15 and, FIFA notes, became "the youngest female footballing Olympian at 16." A reliable contributor to Olympique Lyonnais, Carpenter arrives at this Cup having recently recovered from an ACL injury; FIFA praises the energetic player for being "as adept defensively as she is offensively," and notes that she "was one of few full-backs – and Australians – in each of the last four editions of 'The 100 Best Female Footballers in the World' by The Guardian."
Vietnam: Huynh Nhu, forward
If Vietnam beats the odds and makes it out of the group stage in their debut Cup appearance, odds are it'll be thanks to their lightning-fast team captain. FIFA notes that the Lank Vilaverdense star "is her country's all-time record goalscorer – she has netted at a rate of almost a goal per game at international level – and last year became first female Vietnamese player to join a professional European club."
Portugal: Jessica Silva, forward
Benfica standout Silva is "Portuguese women's football's biggest star and the first female player from the country to win the UEFA Women's Champions League, a feat she achieved in 2020 with Olympique Lyonnais," per FIFA; she's also just plain fun to watch. Odds are that in Portugal's first-ever WWC appearance, she'll be as entertaining as ever. 
South Africa: Hildah Magaia, forward
The player called "Breadwinner" after racking up two goals to guarantee South Africa's first-ever WAFCON championship, Magaia also shot home a goal in Banyana Banyana's tournament opener against the formidable Swedish side. While Sweden eventually struck back, finishing the match 2-1, South Africa's strong showing speaks well of the team's future – especially where their fiery forward is concerned.
Netherlands: Lieke Martens, forward
Called "one of the most exciting attacking players of her generation" by FIFA, this former UEFA Player of the Year isn't her team's only source of firepower, but she's formidable – and not just as a goal-scorer. Now playing in her third WWC, FIFA praises the Paris Saint-Germain star's "exceptional ability to pass her way out of tight spaces," adding that her "pinpoint accuracy from long range and excellent reading of the game pulls opposition defenses out of shape, allowing the 30-year-old to create opportunities for her team-mates in the penalty area."
Argentina: Vanina Correa, goalkeeper
Called "an undisputed pioneer of Argentinian women's football" by FIFA, this Argentine vet has stopped a lot of goals in her two decades of play for the Argentine women's national team ("Las Albicelestes"). This is her third cup appearance; during the 2019 tournament in France, she kept the English to a single goal and led her team to a draw with the impressive Japanese side. There will be a lot of talk of legendary players making what could be their final Cup appearances throughout this tournament; when you hear talk of Rapinoe, Sinclair and Marta, know that Correa belongs in that conversation.
USA: Sophia Smith, left-winger/striker
This 23-year-old superstar is likely to become an even bigger name after her first Cup appearance – something made clear by her two goals in Team USA's opening match of the tournament. Smith led the Portland Thorns to a 2022 championship, and was named MVP of the National Women's Soccer League. FIFA calls her "one of the best and most complete forwards on the planet," while FOX Sports put it this way: "She is sensational with the ball at her feet and a superior finisher. This is her first World Cup, and she is primed for a breakout on the global stage."
Where is the 2023 Women's World Cup taking place?
The eyes (and cameras) of the world have turned toward host countries Australia and New Zealand. 
In what time zone is the Women's World Cup taking place?
Well, there's more than one time zone involved, as the battles for the Cup will take place in 10 stadiums in two countries. But suffice it to say that you're looking at times that are anywhere from 12 hours (for matches in Perth, Australia) to 16 hours (all New Zealand-based matches) ahead of EST. 
That means some matches – like Nigeria vs. Canada, the first match of day two (July 21) – will be played early in the day locally but air on what's technically the evening before in the U.S. (in this case, July 20). Who said there's no such thing as time travel?
RELATED: Who could be the breakout star for this young, talented USWNT squad?
Where can you stream the FIFA Women's World Cup?
We're living in the future, baby! All matches will be live-streamed on FOXSports.com and via the FOX Sports app, and full replays will also be available. So if you're not into watching soccer at 3 a.m., you're covered! 
How can I watch the FIFA Women's World Cup on live TV?
The FIFA Women's World Cup will air on FOX and FS1. The complete schedule awaits your perusal at FOXSports.com. In addition to all FIFA Women's World Cup matches, head to your preferred FOX platform for game highlights, replays, stats, player stories, analysis and more. 
How does the elimination round work in the Women's World Cup?
Good question! As with the men's World Cup, it's a wee bit complicated. The 32 qualifying teams have been split into eight groups, each assigned a letter (A-H). In the first round, the groups compete against each other: each "side" (team) will participate in three in-group matches. A win is worth three points, a draw worth one point and a loss is worth (you guessed it) zero points. 
At the end of the round, the top two teams (as determined by point total) in each group proceed to the knockout round. That's 16 teams total. 
RELATED: 2023 Women's World Cup betting primer: How to bet on soccer
When does Team USA play next?
After their showdown with the Netherlands, Alex Morgan, Lindsay Horan and company will square off against Portugal on August 1.
Soccer spoilers: today's results
Argentina vs. South Africa: Argentina and South Africa both entered the match winless in their World Cup history and both faced a potential elimination with a loss.  After trailing 2-0 late in the second half, Argentina scored two goals in just five minutes of action — its first goals of the World Cup — and miraculously came away with a point and kept its hopes of advancing alive. 
Australia vs. Nigeria: In the final few minutes of the first half, both teams put the ball in the net to produce a 1-1 tie heading into the break. Emily Van Egmond was the hero for Australia scoring in the 45th minute, but Uchenna Kanu delivered an equalizer just before stoppage time expired.
United States vs. Netherlands: The highly anticipated tilt between the United States and the Netherlands on Wednesday ended in a 1-1 draw at New Zealand's Wellington Regional Stadium.
The USWNT overcame a disjointed first half to seize control and net a 62nd-minute equalizer on a header from co-captain Lindsey Horan that reversed momentum during a second-half onslaught and ultimately earned the Americans a 1-1 draw.
The draw snapped a streak of 13 consecutive wins at the World Cup for the USWNT, but kept the Americans atop Group E with one match remaining against Portugal on Aug. 1.
Portugal vs. Vietnam: In this showdown of the debutants, Portugal kept the Golden Star Women Warriors scoreless and put up two goals of its own in the first half to snag its first World Cup win.
The first goal of the night came from a striding Telma Encarnacão, who connected off a pass from Lucia Alves to score the team's first-ever World Cup goal. Kika Nazareth tacked on a second making Portugal the first debutant team in this year's tournament to score multiple goals.
With the win, Portugal has eliminated Vietnam from advancing to the knockout round.
Watch this space!
Watch the 2023 FIFA Women's World Cup only on FOX and FS1.