Women's World Cup: Philippines upsets New Zealand, Switzerland vs. Norway ends in draw | July 25, 2023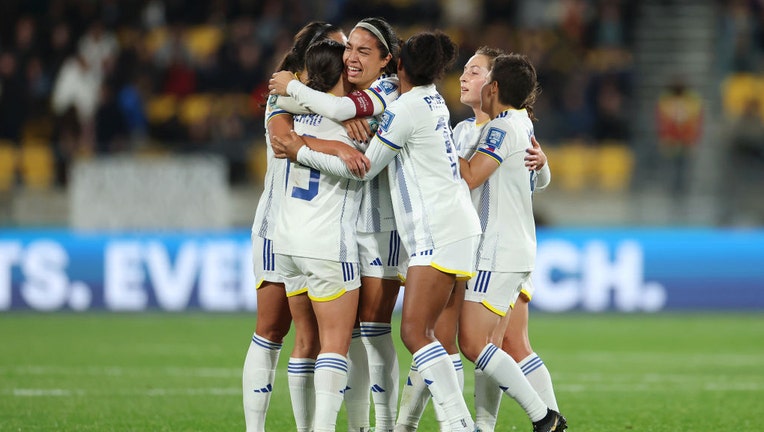 article
CHICAGO - The FIFA Women's World Cup only happens once every four years, and whether you're a soccer devotee or someone who just tunes in when the Cup comes around, you won't want to miss the action. Never fear: We've got you covered.
Every day through the Final on August 20, FOX Digital will be breaking down the details on all the can't-miss matches, players to watch and other essential details. What's next: Group A takes the spotlight as New Zealand and Switzerland both seek second wins, and the Philippines and Norway fight to rack up a W of their own. . 
Watch the 2023 FIFA Women's World Cup only on FOX and FS1.
Women's World Cup matches on July 25, 2023
The 25th features three matches, including one that started while it was still the 24th in the U.S. Time zones are weird!
Colombia vs. South Korea-Final score Colombia 2 South Korea 0
           Watch the replay of Columbia vs. South Korea here
New Zealand vs. Philippines-Final score Philippines 1 New Zealand 0
           Watch the replay of the Philippines vs. New Zealand here
Switzerland vs. Norway-Final score 0-0
           Watch the replay of Switzerland vs. Norway here 
For details on the results of concluded matches, scroll down to the 'Soccer spoilers' section. 
Match spotlight: Switzerland vs. Norway
It's the beginning of the second round of matches in the group stage – and fittingly enough, things kick off with the letter A, as all four of the group A teams square off against one another. Host country New Zealand takes on the Philippines earlier in the day, but the real can't-miss match is between onetime Cup champions Norway and the energetic Swiss team, who advanced to the semi finals in their only previous trip to the tournament (2015).
Switzerland has seen some success (including an impressive WWC qualifying run) recently, and their victory over the Philippines (2-0)  last week was the team's first under new coach Inka Grings, a German superstar in her playing days. 
Norway's had some struggles in recent years, but legendary player-turned-coach Helga Riise and her crew seem poised for a comeback. One of only four teams to win the WWC, the team will be hunting to reclaim the cup for the first time since their triumph in 1995. They fell to host country New Zealand in the tournament opener (1-0), but expect them to give the Swiss a heck of a fight.
RELATED: 8 teams that could stop USWNT from three-peating at 2023 World Cup
Players to watch on July 25, 2023
Norway: Ada Hegerberg, striker
Hegerberg, one of soccer's biggest stars, returns to the Norwegian side after sitting out the 2019 cup. FOX Sports calls her "a contender for the Golden Boot."
New Zealand: Olivia Chance, midfielder
This outstanding contributor, who plays for Scottish club Celtic, is deeply committed to her team: FIFA notes that Chance has traveled "further than any other player in the world to represent her national team, clocking up more than 145,000 km [rougly 90,000 miles] across 12 trips between August and March alone."
Philippines: Sarina Bolden, forward
FIFA calls this seasoned player a "cold-blooded goalscorer with razor-sharp instincts inside the box" with "impressive physical strength." She's also got something of a home-turf advantage: When not repping her home country, Bolden plays for Australia's Western Sydney Warriors.
Switzerland: Lia Walti, midfield
The Swiss captain had to fight her way to this WWC appearance, thanks to a serious injury in May. But the Arsenal star is fit and ready to propel her team to victory; FIFA notes that as the "link-up player between defense and attack, it will be up to Walti to thread passes through to her team-mates as well as stymying opposition attacks before they happen in the middle of the park."
Where is the 2023 Women's World Cup taking place?
The eyes (and cameras) of the world have turned toward host countries Australia and New Zealand. 
In what time zone is the Women's World Cup taking place?
Well, there's more than one time zone involved, as the battles for the Cup will take place in 10 stadiums in two countries. But suffice it to say that you're looking at times that are anywhere from 12 hours (for matches in Perth, Australia) to 16 hours (all New Zealand-based matches) ahead of EST. 
That means some matches – like Nigeria vs. Canada, the first match of day two (July 21) – will be played early in the day locally but air on what's technically the evening before in the U.S. (in this case, July 20). Who said there's no such thing as time travel?
RELATED: Who could be the breakout star for this young, talented USWNT squad?
Where can you stream the FIFA Women's World Cup?
We're living in the future, baby! All matches will be live-streamed on FOXSports.com and via the FOX Sports app, and full replays will also be available. So if you're not into watching soccer at 3 a.m., you're covered! 
How can I watch the FIFA Women's World Cup on live TV?
The FIFA Women's World Cup will air on FOX and FS1. The complete schedule awaits your perusal at FOXSports.com. In addition to all FIFA Women's World Cup matches, head to your preferred FOX platform for game highlights, replays, stats, player stories, analysis and more. 
How does the elimination round work in the Women's World Cup?
Good question! As with the men's World Cup, it's a wee bit complicated. The 32 qualifying teams have been split into eight groups, each assigned a letter (A-H). In the first round, the groups compete against each other: each "side" (team) will participate in three in-group matches. A win is worth three points, a draw worth one point and a loss is worth (you guessed it) zero points. 
At the end of the round, the top two teams (as determined by point total) in each group proceed to the knockout round. That's 16 teams total. 
RELATED: 2023 Women's World Cup betting primer: How to bet on soccer
When does Team USA play next?
After their July 21 showdown with Vietnam, Alex Morgan, Lindsay Horan and company will square off against the Netherlands on July 27.
Soccer spoilers: today's results
Colombia vs. South Korea: Colombia was first on the board with a successful penalty kick from Catalina Usme. Colombia added to its lead late in the first half as Linda Caicedo showed off some fancy footwork before scoring her first FIFA Women's World Cup goal. Colombia went up 2-0 after a powerful strike from Caicedo was nearly saved by South Korea, but ended up bouncing off the goalie's hands and into the net instead.
New Zealand vs. Philippines: The Philippines made history Monday night with an incredible 1-0 upset win over co-host New Zealand in the 2023 FIFA Women's World Cup. Sarina Bolden scored the only goal of the game, which came on a beautiful header, giving her country its first-ever World Cup goal and victory.

Switzerland vs. Norway: Right before the start of the match, Norway attacker and reigning Ballon d'Or winner Ada Hegerberg was injured during warm-ups and was unavailable for the game. Norway wasn't able to get much going on the offensive end, but they were able to hold Switzerland scoreless as well, as the match ended in a draw.
Watch the 2023 FIFA Women's World Cup only on FOX and FS1.