Steelers rush for four 4th-quarter TDs, beat Rams 24-17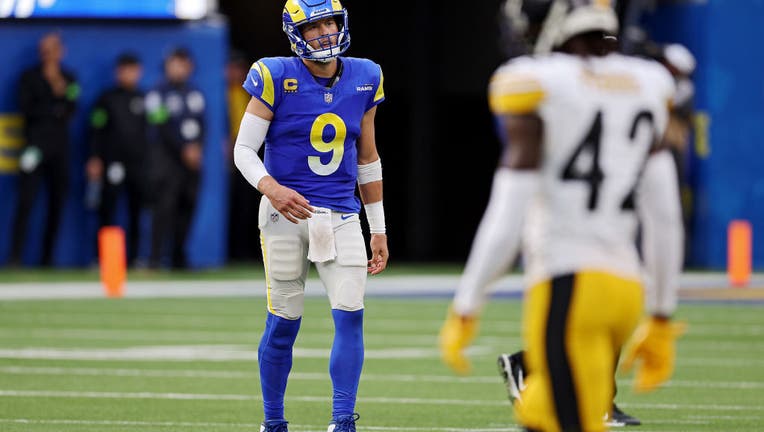 article
INGLEWOOD, Calif. - Jaylen Warren and Najee Harris rushed for touchdowns in the fourth quarter, and the Pittsburgh Steelers awoke from a quiet offensive day just in time for a 24-17 victory over the Los Angeles Rams on Sunday.
Kenny Pickett passed for 230 yards and ran for another score for the Steelers (4-2), who had just 110 yards in the first three quarters at SoFi Stadium. Pittsburgh's only early touchdown came after T.J. Watt intercepted Matthew Stafford's first pass of the second half and returned it inside the Los Angeles 10, setting up Pickett's TD sneak.
Much-maligned coordinator Matt Canada's offense finally found some holes in the Los Angeles (3-4) defense in the fourth quarter, racking up three long drives culminating in two TDs and the chance to run out the clock. George Pickens made four of his five receptions for 107 yards in the second half.
SUGGESTED: Rob Gronkowski replaces Jimmy Kimmel as host of SoFi Stadium's LA Bowl
Pickett got a generous spot on a sneak to convert a fourth-and-1 at the 2-minute warning, allowing Pittsburgh to secure the franchise's first win over the Rams in Los Angeles.
Coach Sean McVay couldn't challenge the questionable spot because the Rams were out of timeouts, and the play occurred just outside the 2-minute window that would have resulted in a booth review.
Stafford passed for 231 yards and hit Tutu Atwell for a 31-yard touchdown right before halftime for Los Angeles, which dropped to 1-3 at home.
Rookie sensation Puka Nacua had eight catches for 154 yards, but the Rams struggled for consistent drives after halftime, scoring no points on their final three drives and managing only 20 yards in the fourth quarter. Brett Maher also missed two long field-goal attempts and an extra point.
Darrell Henderson rushed for 61 yards and a touchdown in his season debut for Los Angeles, while Royce Freeman had 66 yards. Henderson was released after 3 1/2 seasons with the Rams last November, and the Super Bowl winner was out of the league this fall until LA re-signed him last week when its top two running backs went down with injuries late in a win over Arizona.
SUGGESTED: NFL explores ban on hip-drop tackle, considers 'tush push' rule change for safety"
Both offenses struggled for sustained possession in the first half until Los Angeles mounted an 88-yard drive shortly before halftime capped by the long TD catch by Atwell, who appeared to cut in front of a pass intended for Cooper Kupp from a scrambling Stafford.
Pittsburgh managed just 91 yards of offense in the first half and failed to convert a third down.
Watt didn't have a tackle in the first half, but the star pass-rusher slipped into coverage to open the second half and made his seventh career interception on a pass meant for Kupp, returning it a career-long 24 yards. Pickett scored three plays later.
Los Angeles responded adeptly with a 75-yard drive including an exceptional 32-yard, toe-tap catch by Nacua and a 1-yard TD run by Henderson.
Pittsburgh tied it with 13:49 to play when Diontae Johnson's 39-yard catch set up Warren's 13-yard scoring run.
Next week the Steelers will host the Jacksonville Jaguars, while the Rams hit the road to take on Dak Prescott and the Dallas Cowboys.