Michael Oher's adoption revelation faces pushback from Tuohy family members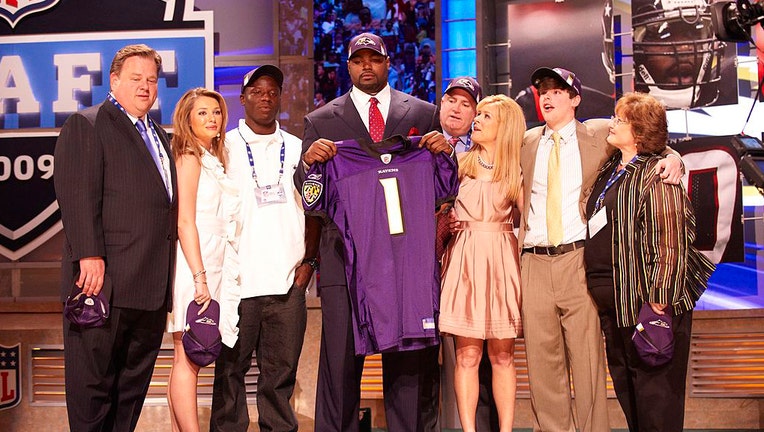 article
The biological son of Sean and Leigh Anne Tuohy, the Tennessee family that claimed to have adopted ex-NFL player Michael Oher, responded to a petition filed by Oher on Monday and suggested that the former first round draft pick may have known that he wasn't officially adopted before February 2023, as stated in court filings. 
Sean "SJ" Tuohy Jr. revealed during an interview with Barstool Sports on Monday that old text messages between Oher and the Tuohy family allegedly showed that Oher may have been aware of this at least as early as 2020. 
"If he says he learned that in February, I find that hard to believe," he said told the outlet. "I went back to my texts today to look at — I was curious today, randomly, to go back to look at our family group text and texts to see what things have been said." 
EX-NFL PLAYER MICHAEL OHER, INSPIRATION OF 'THE BLIND SIDE,' SAYS HE WAS NEVER ADOPTED BY FAMILY
"There were things back in 2020, 2021 that were like, 'If you guys give me this much, then I won't go public with things.' So I don't know if that's true. I think everyone learned in the past year about the conservatorship stuff because of Britney Spears, so maybe that's the case, but it doesn't add up."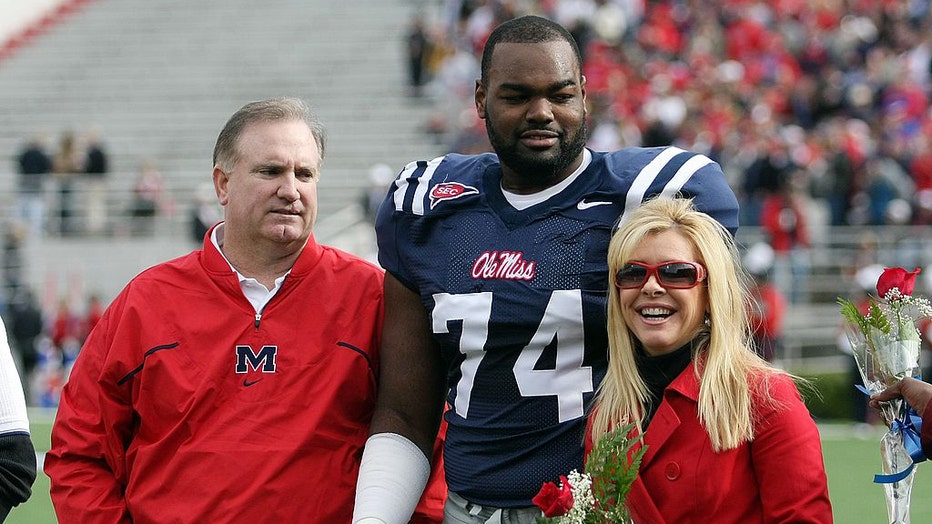 FILE-Michael Oher #74 of the Ole Miss Rebels stands with his family during senior ceremonies prior to a game against the Mississippi State Bulldogs at Vaught-Hemingway Stadium on November 28, 2008 in Oxford, Mississippi. (Matthew Sharpe/Getty Images)
Oher, who was drafted by the Baltimore Ravens in the first round of the 2009 NFL Draft, filed a petition in a Tennessee court on Monday to end the 2004 conservatorship, alleging that he learned in February 2023 that the family had never legally adopted him. 
"The lie of Michael's adoption is one upon which Co-Conservators Leigh Anne Tuohy and Sean Tuohy have enriched themselves at the expense of their Ward, the undersigned Michael Oher," the document read.
"Michael Oher discovered this lie to his chagrin and embarrassment in February of 2023, when he learned that the Conservatorship to which he consented on the basis that doing so would make him a member of the Tuohy family, in fact provided him no familial relationship with the Tuohy's."
RETIRED NFL STAR AND 'THE BLIND SIDE' INSPO MICHAEL OHER SHARES PLAYBOOK ON GOING FROM HOMELESS TO PRO ATHLETE
The petition detailed the struggles Oher experienced early in his childhood, which included the state's DHS taking custody of him in 1996 and his subsequent troubles at school. It also explained how Oher came to know the Tuohys, whose children went to school with Oher at Briarcrest Christian School.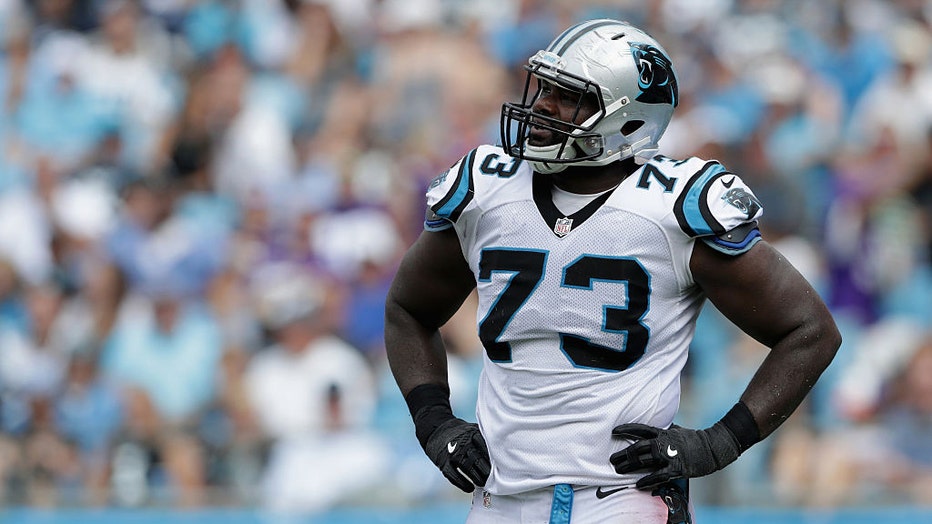 FILE-Michael Oher #73 of the Carolina Panthers watches a replay against the Minnesota Vikings in the 3rd quarter during their game at Bank of America Stadium on September 25, 2016 in Charlotte, North Carolina. (Photo by Streeter Lecka/Getty Images)
"At no time prior to this invitation [to live with the Tuohy's] during Michael's minority did the Tuohy's take any legal action to assume custody of Michael from DHS through appropriate channels, nor did they seek to become Michael's guardian while he was a minor," the legal filings read. 
"Despite this inaction, the Tuohy's did tell Michael they loved him and that they intended to legally adopt him. Michael believed them, was delighted to be part of a real and stable family, and trusted Mr. and Mrs. Tuohy completely."
In 2004, Oher entered the conservatorship, which he allegedly understood as a form of legal adoption.
"At no point did the Tuohy's inform Michael that they would have ultimate control of all his contracts, and as a result Michael did not understand that if the Conservatorship was granted, he was signing away his right to contract for himself. Michael was falsely advised by the Tuohy's that because he was over the age of eighteen, that the legal action to adopt Michael would have to be called a 'conservatorship' but it was, for all intents and purposes, an adoption." 
Oher also claimed that he did not financially benefit from the movie "The Blind Side" which was based on his story, but that the Tuohy family did. But "SJ" Tuohy said Monday that the family made little from the movie.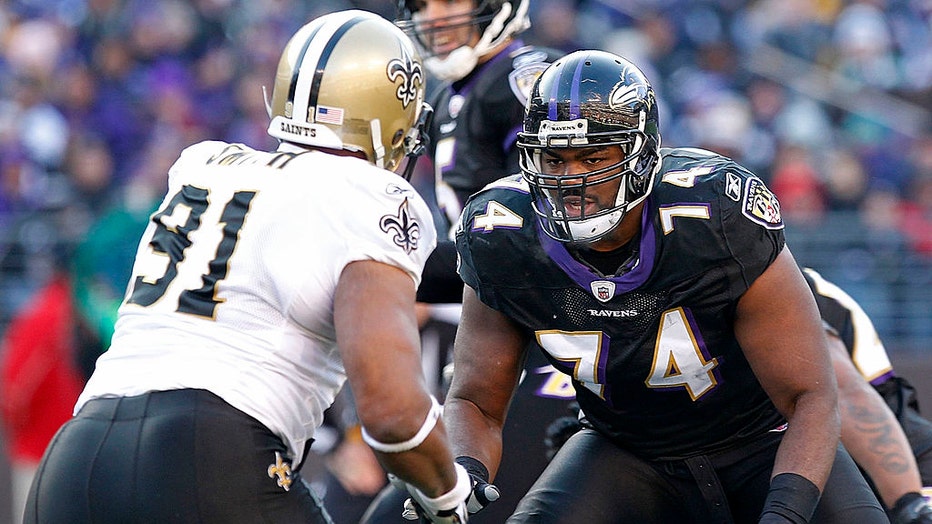 FILE-Offensive tackle Michael Oher #74 of the Baltimore Ravens blocks defensive end Will Smith #91 of the New Orleans Saints at M&T Bank Stadium on December 19, 2010 in Baltimore, Maryland. (Photo by Geoff Burke/Getty Images)
"I've made like $60, $70 grand over the course of the last four or five years," he said.
Sean Tuohy, the senior, also spoke out Monday, telling The Daily Memphian that he was "devastated" by the news.
"It's upsetting to think we would make money off any of our children. But we're going to love Michael at 37 just like we loved him at 16."
He told the outlet that at the time the family contacted lawyers "who had told us that we couldn't adopt over the age of 18."
"The only thing we could do was to have a conservatorship."
Tuohy said the family would end the conservatorship if that's what Oher wants, and added that the only money the family made from the movie was from Michael Lewis, the author of the book "The Blind Side."
He said that everyone "got an equal share, including Michael [Oher]."
Despite the legal proceedings, "SJ" Tuohy spoke highly of Oher and their relationship over the years, adding, "I hope he gets everything that's entitled to him legally."
Paulina Dedaj is a Sports Reporter for Fox News Digital.
Get the latest updates on this story at FOXNews.com