Win a chance at $5K playing FOX Bet Super 6 Heat-Nuggets NBA Finals Contest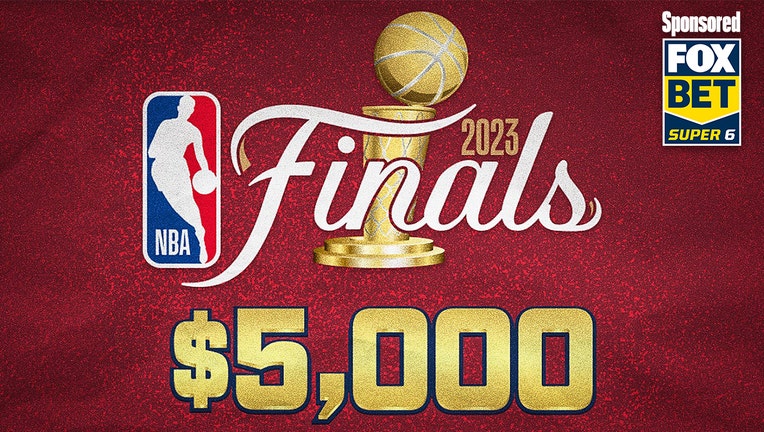 article
The Miami Heat and the Denver Nuggets are facing off in the NBA Finals starting Thursday. Insert Paul Rudd meme because who would've thought this would be the matchup? Certainly not any of us. Or at least, not many of us.
In Denver's defense, the Nuggets have played like a championship-caliber team for most of the season. They boasted the best record in the West, and superstar center Nikola "The Joker" Jokić finished second in MVP voting behind Joel Embiid. When the postseason rolled around, they ran through the conference relatively easily and notched a signature series sweep of the Los Angeles Lakers.
Miami's path to the Finals, however, wasn't as seamless. A look at the odds tells you that much. After All-Star weekend, the Heat's odds to win it all were an extremely long +4000. Their season dragged on, and they battled through two play-in tournament games just to secure a playoff berth. 
What the stealthy underdog Heat did next was nothing short of miraculous.
They defeated the Bucks in five in the quarterfinals and bounced the Knicks in six in the semis. After squandering a 3-0 lead over the Boston Celtics in the Eastern Conference Finals, they rallied back to win Game 7 as 7-point dogs and got the golden ticket to the NBA Finals. 
Miami accomplished all of this as a No. 8 seed. Historic. Thank you, NBA scriptwriters.
And because this showdown will be so epic, FOX Bet Super 6 is giving you a chance to cash in on the Finals fun.
FOX Bet Super 6 is a free-to-play contest where you can pick six different outcomes in the NBA Finals Contest featuring the Heat and the Nuggets to win $5,000. Just download the FOX Bet Super 6 app on your phone or mobile device, make your picks and submit your selections before the game tips off on Thursday.
Playing is always free, easy and it's fun. And we want you to know that people really do win!
Before you head to the app to make your picks for tonight's game, let's dive into our predictions below.
NBA Finals Game 1: Our predictions
Which team will have more turnovers and how many will they have combined?
0-15, 16, 17, 18, 19, 20, 21, 22, 23+
Remember, the Miami Heat are coming off a brutal seven-game series against Boston. From the physical toll to its emotional impact (ahem, Boston's Game 6 buzzer beater), that series was not for the faint at heart. That also goes for those of us who were just watching it from the sidelines. What a rollercoaster.
Here's another thing. Teams have a difficult time playing against and adjusting to the Nuggets when the games are in Mile High. The altitude in Denver can be challenging for even well-rested squads. Oh, and remember, the Nuggets have an X-factor in Aaron Gordon. The 2014 first-round draft pick has proven his defensive worth throughout these playoffs, effectively bringing pressure against the likes of Kevin Durant and even King LeBron James.
So mix in Miami's fatigue, the altitude and Gordon's defense, and you've got a spicy recipe for the Heat turning the ball over more times than they'd like.
Prediction: Heat, 21
Which team will have more rebounds and how many will they have?
0-35, 36-37, 38-39, 40-41, 42-44, 45-47, 48-50, 51-53, 54+
Denver easily gets the nod here. 
The Joker's 139 defensive rebounds this postseason are third behind Lakers big Anthony Davis and Celtics star Jayson Tatum. And we all know that A.D. and Tatum are sipping margaritas in Cancun, so when it comes to defensive boards, Nikola is the best player left.
What about offensive rebounds? Well, Jokić has the second-most offensive rebounds with 60. He also gets a little help from his friends, as teammates Michael Porter Jr.'s defensive boards rank eighth and Aaron Gordon's offensive boards come in at fifth. 
Prediction: Denver, 48-50
Which team will have more assists and how many will they have?
0-18, 19, 20, 21, 22, 23, 24, 25, 26+
Is there anything Jokić can't do? The answer is no, so we have to go with the Nuggets here, too, since his 10.3 assists per game during the playoffs rank first. Also worth noting is that, through 15 games this playoff season, the Nuggets are averaging 25.9 assists per game as a team.
Prediction: Nuggets, 26+
Which team will have more steals and how many will they have combined?
0-6, 7, 8, 9, 10, 11, 12, 13, 14+
It's all about Miami and Jimmy Butler in this category. Not only does Jimmy get buckets, the man gets steals. He's picking pockets an average of 2.1 times a night during this postseason, and the squad as a whole is averaging 7.4 each game. 
So count on Butler to steal the night and help his team win this category.
Prediction: Heat, 14+
Which player — Nikola Jokić or Jimmy Butler — will score more points and how many will they have?
0-21, 22-23, 24-25, 26-27, 28-29, 30-32, 33-35, 36-39, 40+
After witnessing Butler's playoff heroics, it's almost impossible to bet against him being the one to have more points between these two superstars. If you recall, it wasn't only against Boston that Butler carried the Heat on his back. His spectacular play was also key in lifting Miami over the Knicks and Bucks. 
However, we're going Joker again because who will stop him?
Even Jimmy Butler admitted this week that slowing Jokić down will take a five-guy effort from the Heat. And he's right. The big guy from Serbia averages 29.9 points per game in the playoffs and 69% from the field when the Nuggets play Miami. 
Let's not forget, though, that Jimmy's points per playoff game aren't too shabby. He's racking up 28.5 in each contest. But by the time Aaron Gordon puts his paws on Jimmy, buckets won't come as effortlessly as they did when the Heat ran through the East.
Prediction: Nikola Jokić, 26-27
Which team will win and by how many points?
1-2, 3, 4, 5, 6, 7, 8-10, 11-12, 13+
When it comes to complete teams, Denver is simply the best.
The Nuggets have one of the most dynamic duos in the league in Jokić and Jamal Murray, and they've got depth. Another plus for the Nuggets is their size. Denver's also loaded with better wing defenders, so the team gets the edge there, too.
The Nuggets are at home in the franchise's first trip to the NBA Finals and are being led by a two-time MVP in Nikola. They also have an impressive supporting cast with players like KCP and Bruce Brown. On the flip side, the Heat are coming into this matchup as 8.5-point underdogs and fatigued from their grueling series against the Celtics.
Once Miami adjusts, the games will be more competitive. But in Game 1, it's Mile High for us.
Prediction: Nuggets, 8-10
How to play
With this assist, you should be all set to make your picks for tonight's contest!
Download the FOX Bet Super 6 app and submit your selections for Thursday's NBA Finals Contest now. Then be sure to share your picks with us by tagging @FOXSuper6 and @EricaReneeD and using the #EricaSuper6 hashtag across all social media platforms.
Remember, you miss 100% of the shots you don't take. Good luck!
Download the FOX Bet Super 6 app for your chance to win thousands of dollars on the biggest sporting events each and every week! Just make your picks and you could win the grand prize. Download and play today!
No purchase necessary. Open to legal residents of the US, excluding WA. 18 and older. See terms and conditions at foxsuper6.com. Sponsored by TSG Interactive US Services Limited.