Gregg Berhalter claims he was blackmailed during World Cup; US Soccer investigating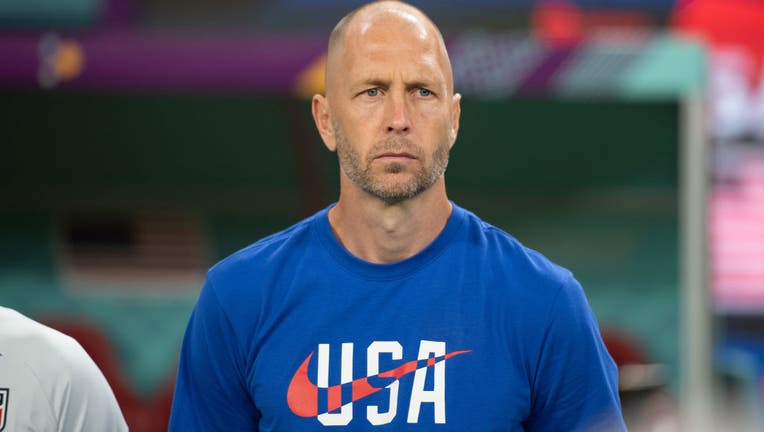 article
NEW YORK (AP) - The U.S. Soccer Federation revealed Tuesday it is investigating men's national team coach Gregg Berhalter for a 1991 confrontation in which he kicked the woman who later became his wife.
The federation said it learned of the allegation on Dec. 11 and hired the law firm Alston & Bird to investigate. The USSF said Berhalter and his wife Rosalind had "spoken openly" about the matter, and Berhalter admitted to the kick in a statement Tuesday.
"Through this process, U.S. Soccer has learned about potential inappropriate behavior towards multiple members of our staff by individuals outside of our organization," the USSF said, adding the investigation also includes those allegations.
The USSF said it will announce "in the coming days" who will coach the team for exhibitions against Serbia on Jan. 25 and Colombia three days later. These are the first matches for the Americans since they were eliminated by the Netherlands last month in the World Cup round of 16.
RELATED: World Cup 2026 odds: France opens as betting favorite, lines for USMNT
Berhalter's statement said: "During the World Cup, an individual contacted U.S. Soccer, saying that they had information about me that would 'take me down' — an apparent effort to leverage something very personal from long ago to bring about the end of my relationship with U.S. Soccer.
"In the fall of 1991, I met my soulmate," Berhalter went on. "We had been dating for four months when an incident happened between us that would shape the future of our relationship. One night, when out drinking at a local bar, Rosalind and I had a heated argument that continued outside. It became physical and I kicked her in the legs.
"There are zero excuses for my actions that night; it was a shameful moment and one that I regret to this day. At the time, I immediately apologized to Rosalind, but understandably she wanted nothing to do with me. I told my parents, family and friend what had happened because I wanted to take full responsibility for my behavior. Rosalind also informed her parents, family and friends.
"While the authorities were never involved in this matter, I voluntarily sought out counseling to help learn, grow and improve — one of the most valuable decisions that I ever made. To this day, that type of behavior has never been repeated," he said.
RELATED: Sunday's World Cup final was most-watched soccer match in U.S.
Berhalter, 51, was hired in December 2018 after the U.S. failed to qualify for that year's World Cup. He has led the team to 37 wins, 11 losses and 12 draws, and the Americans earned the third and final automatic World Cup berth from the North and Central American and Caribbean region.
Berhalter is the first American to play for and coach the U.S. at a World Cup. His contract ran through December.
"I am looking forward to continuing my conversations with U.S. Soccer about the future," he said.
USSF President Cindy Parlow Cone and sporting director Earnie Stewart have not discussed the coaching situation with media since the World Cup. The USSF said its "full technical review" of the program and the investigation were both ongoing and results of the investigation will be made public.
Berhalter was a defender from 1994 until 2011 for Zwolle, Sparta Rotterdam and Cambuur Leeuwarden in the Netherlands, Crystal Palace in England, Energie Cottbus and 1860 Munich in Germany and Major League Soccer's LA Galaxy. He coached Hammarby in Sweden and the Columbus Crew of MLS before taking the U.S. job.