Clippers, without Kawhi and Paul George, drop Game 3 and series lead to Suns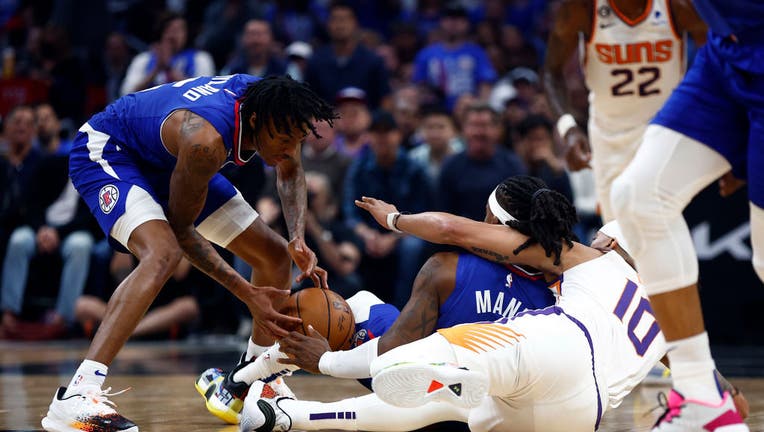 article
LOS ANGELES - The Clippers are now in trouble after dropping Game 3 – and the series lead – to the Phoenix Suns at home in Los Angeles.
Taking the court without Paul George and Kawhi Leonard, the Clippers lost to the Suns 129-124 Thursday night. LA now trails the best-of-7 series 2-1.
The Clippers are hoping to get even Saturday as they host the Suns Game 4. It is unknown whether Leonard will return to action this weekend. Leonard missed Game 3 due to a right knee sprain.
As for George, there is no official timetable on when he'll return to the court. He has missed all three games in the series due to a knee sprain.
RELATED: Clippers superstar Kawhi Leonard to miss Game 3 as playoff series moves to LA
SERIES SCHEDULE
Game 1: Clippers 115, Suns 110
Game 2: Suns 123, Clippers 109
Game 3: Suns 129, Clippers 124
Game 4: Suns at Clippers, April 22 12:30 p.m. PT
Game 5: Clippers at Suns, April 25
Game 6*: Suns at Clippers, April 27
Game 7*: Clippers at Suns, April 29
* = if necessary
HOW THEY GOT HERE
The Clippers locked in their 10th playoff berth in 12 seasons after finishing the 2022-2023 regular season with a 44-38 record, good enough to be the 5th seed in the Western Conference. 
The Suns, looking to return to the NBA Finals after winning the Western Conference title in 2021, got the series home-court nod and the 4th seed after finishing the regular season with a 45-37 record.