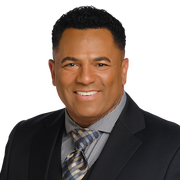 Geraud Moncuré
Sports Reporter
Geraud Moncuré is a sports anchor and reporter for FOX 11. He anchors FOX 11 Extra Innings on Saturdays. 
Geraud began his broadcasting career at KYMA in Yuma, Arizona and went on to become the weekend sports anchor at Mid-South Powerhouse, WMC in Memphis and then the Sports Director and main anchor at KJEO in Fresno, California. 
Subsequently, Geraud moved on to anchor at KTVT and KDFW in Dallas, Texas where he covered the Dallas Cowboys' 1996 Super Bowl victory. After Dallas, Geraud worked at KNBC and KCOP in Los Angeles where he covered the Lakers three-peat championships. He went on to work as the Sports Director at WPHL in Philadelphia and after a brief stint out of the business, took on a similar role at KHSL in Chico, California, before working at KNTV in San Francisco where he covered the Golden State Warriors 2015 NBA Championship and San Francisco Giants 2014 World Series win.  
Geraud was happy to return home to Los Angeles when he joined FOX 11 in June 2021, covering his hometown Lakers, Dodgers, Rams and LA Kings, while raising his family with his wife. 
He covered the Rams 2022 Super Bowl victory with exclusive interviews on the SoFi Stadium turf after the historic victory.