Xbox Fanfest showcases new games, gaming for all
LOS ANGELES - LA Live's Novo Theater was the center of the Xbox universe today, as the gaming company announced its new lineup of games and brought together hundreds of its passionate gamers for a Fanfest.
Among them were Chris Samples and his girlfriend Deanna Moore from Canada. While both have been playing video games since they were kids they met each other four years ago. Their common bond?  Xbox games. 
"…She liked to play Diablo 3 and yeah we started to play together," Sample said.
They were both so excited they were the first to arrive when the doors opened Sunday.
For Xbox Game Studios CEO Phil Spencer, who started playing Pong when he was five years old, relationships like Sample and Moore's are "pretty great."
"For many people this is their community, where they feel most safe, most connected, and form myself growing up it was what I did," Spencer said.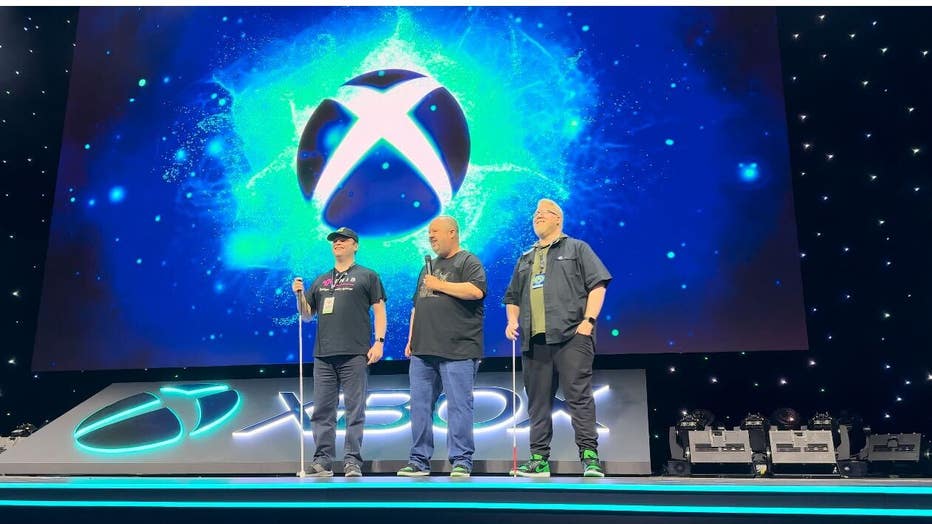 Sightless Kombat (left) and Steve Saylor (right) being introduced on stage at Xbox Fanfest
The Xbox Fanfest was an event covered by media from all over the world. FOX 11 was the only Los Angeles TV station at the event, to see Xbox introduce games like Forza Motorsport, Clockwork Revolution, Fable and Starfield. The venue was filled with various booths set up to show off some of the new games. The gamers were enthusiastic about new games like Starfield and Fable, and others they called impressive.
Also impressive, two well-known gamers in the community were introduced to the crowd. Both Steve Saylor and "Sightless Kombat" are blind, and said they play Xbox games by listening to them. Saylor, also from Canada, explained that he plays "mostly by audio cues, all through adio cues, screen readers or whatever they are able to add in for audio to help me play."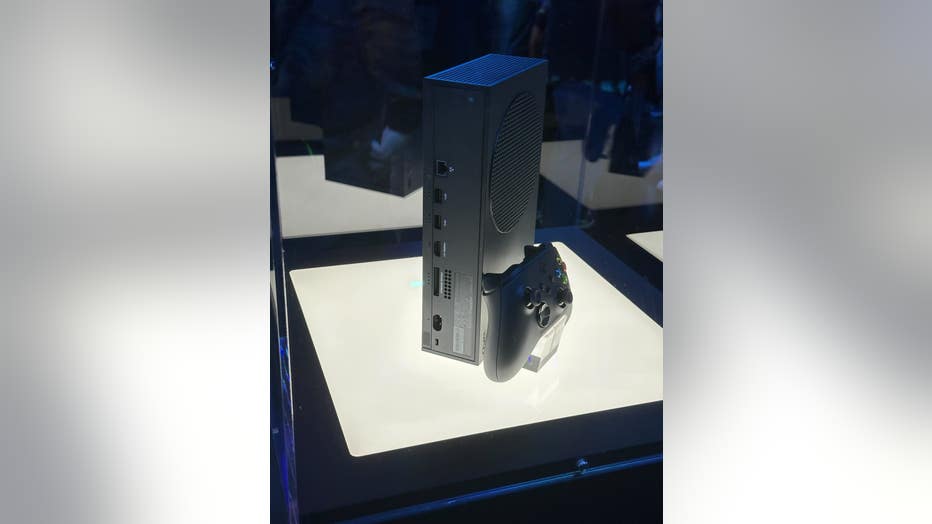 An Xbox Series S console displayed at Xbox Fanfest.
"We want to make gaming for everybody," Spencer said, adding that thereare some 400 million gamers with disabilities. Spencer said that playing through audio cues like Saylor, "is mind-blowing to me." Spector said Xbox even has a new racing game designed to make driving the cars easier for those who can't see them online.
Meanwhile, Samples said about his Xbox relationship with his girlfriend Moore, "I'll marry her if she beats Diablo 4 before me."
Aside from LA's Fanfest Sunday, there were similar events held at the same time worldwide, in Poland, Austria, Mexico and Brazil. At all five events, some 2,300 fans were invited from around the world representing a community of millions.