'I didn't realize': Woman mistakenly eats heart-shaped chip that could have won her 100K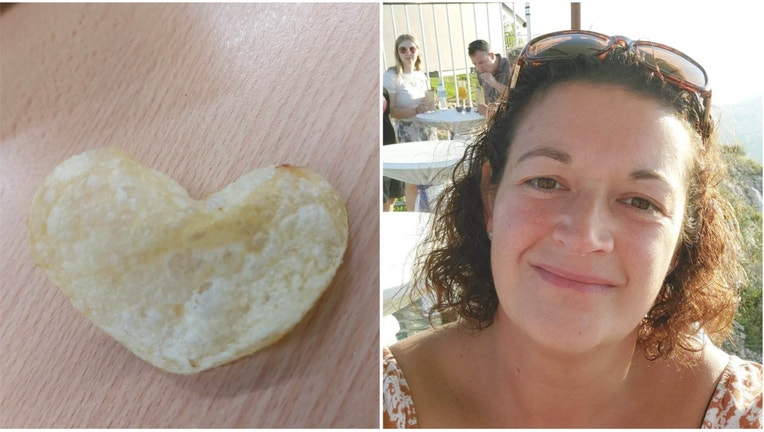 article
UNITED KINGDOM - A woman from England says she has eaten a heart-shaped chip that could have won her more than $100,000. 
Dawn Sagar, from Oswestry in Shropshire, told FOX Television Stations that she pulled the snack from a bag of Walkers but did not know the chip, known as a crisp across the pond, could be valuable. 
"At first I didn't realize that crisp would be worth money as I hadn't heard about the competition," Sagar shared. "I sent to my friends as I found it the day after Valentine's Day and thought it looked cute." 
Unaware of the contest, Sagar ate the chip after taking the photo to send to her friends. 
"It wasn't until they messaged me back saying not to eat it due to the competition that I knew anything about it and had already eaten the crisp," she continued, adding, "Unfortunately, now the crisp has been eaten, and I am not in the running to win the competition." 
Walkers is currently holding a contest to see who can find the best heart-shaped chip.
"We're giving away a whopping £100,000 to one lucky winner who finds the best heart shaped crisp in their Walkers packet of crisps," its website promotes. "Big hearts, small hearts, bubbly hearts, crispy hearts - we want to see them all!" The winning amount £100,000 converts to $120,330.00 U.S. dollars. 
RELATED: AMC to sell its movie theater popcorn at Walmart
The brand says their judges are looking for a chip that closely resembles a symmetrical heart shape. 
"My initial reaction was that it wasn't anything to worry about really, as I'd eaten the crisp and that was that," Sagar concluded. 
A Walkers spokesperson told BBC they were sorry to hear of Ms Sagar's "mishap" but said "all is not lost" as the competition was continuing.
This story was reported from Los Angeles.