Woman killed, several others injured after gunfire erupts at Beverly Crest mansion party
LOS ANGELES - A woman was killed and several others were injured when gunfire erupted early Tuesday morning at a large party taking place at a mansion in Beverly Crest where police had earlier responded to multiple calls of disturbing the peace.
Firefighters and paramedics responded to the 13200 block of Mulholland Drive about 12:45 a.m. and located three adults, two females and one male, down on the driveway outside the mansion. All three were transported to a local hospital, one in grave condition and two in critical condition, according to Nicholas Prange of the Los Angeles Fire Department.
RELATED: Police respond to large mansion party near Beverly Crest
The female listed in grave condition was later pronounced dead. Police said the woman was believed to be around the age of 35. Her identity has not been released.
The other two victims transported were in stable condition Tuesday morning.
Get breaking news alerts in the FOX 11 News app. Download for iOS or Android.
Authorities learned that another female victim was self-transported to the hospital and is in stable condition. A fifth victim, an adult male, was also self-transported to a local hospital where he was admitted and later released.
Police received at least five calls from residents who reported instances of disturbing the peace in the neighborhood beginning about 6:30 p.m. Monday, and when officers arrived they found a large party taking place at a three-story home with about 200 people attending, according to the Los Angeles Police Department.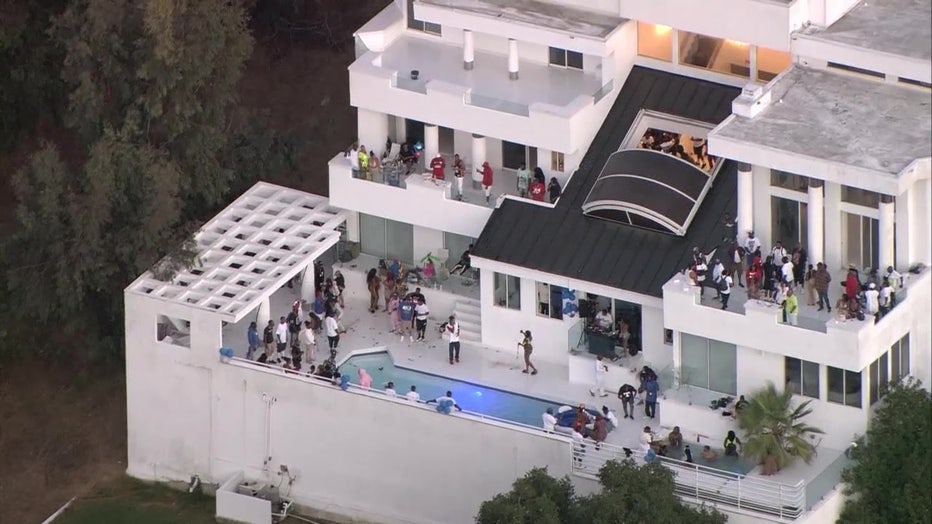 The party had a food truck and DJ.
The mansion was being used as a rental property. FOX 11 located a listing for the property on VRBO that showed the mansion renting for just under $10,000 per night. FOX 11 reached out to VRBO for comment and a spokesperson told us "this property is not listed on our site." The listing was removed from VRBO's website a short time later and the company maintains that the property was booked through a different site.
Officers enforced traffic and parking violations, but did not enforce the county's health order banning large gatherings, the LAPD said.
No arrests have been made. Authorities told FOX 11 that the shooting appeared to be gang-related. It is being investigated as a homicide.
The Los Angeles County Department of Public Health released this statement Tuesday afternoon:

"The Los Angeles County Department of Public Health has issued a legally binding health officer order that prohibits gatherings, including parties, during this pandemic in order to protect the health and lives of county residents.
Violation of or failure to comply with the Health Officer Order is a crime punishable by fine, imprisonment, or both and the Department of Public Health works with residents, businesses, city officials and law enforcement to be sure residents are aware of and adhere to the life-saving directives in the order.
We urge every resident in Los Angeles County to follow the health officer order and avoid organizing and attending gatherings that include people outside their own household.
The highest risk settings are large in-person gatherings where it is difficult for individuals to remain spaced at least 6 feet apart and where face coverings are not worn. The consequences of these large parties ripple throughout our entire community because the virus can quickly and easily spread.
We must all do our part to slow the spread of this virus so that we may continue on our recovery journey."
Anyone with information on the shooting was asked to call 213-382-9470.
CNS contributed to this report.