Weather Watch: Storm brings gusty winds, rain to Southland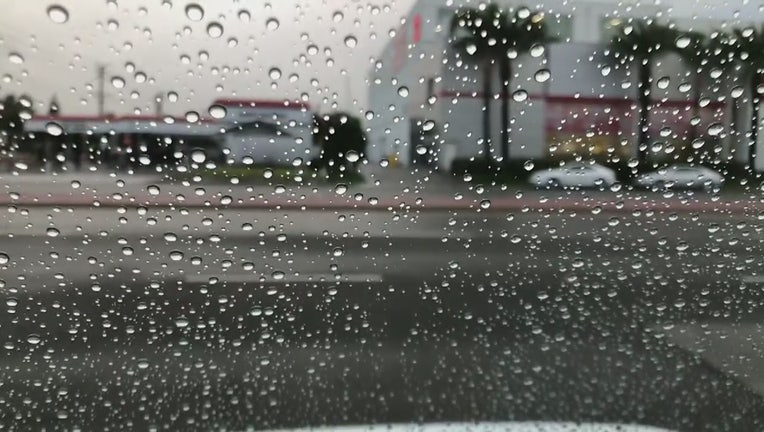 LOS ANGELES - A storm rolled into the Southland Wednesday, triggering widespread rainfall and strong winds and prompting warnings of flash flooding.
A flash flood watch issued by the National Weather Service will be in effect from 7 a.m. to 3 p.m. in the Getty, Saddleridge and Tick burn areas in L.A. County.
Receive severe storm alerts so you and your family can stay safe by downloading the FOX 11 Weather Authority App today. Click here for iOS. Click here for Google Play.
"Moderate to heavy rainfall is expected near recent burn areas from a cold and vigorous storm system," the weather service said in a statement."
Rainfall rates between 0.50 inch per hour and 1 inch per hour are possible, especially near thunderstorms. The recent burn areas in Los Angeles County will be especially at risk for flash flooding and mud and debris flows due to moderate to heavy rainfall. Road closures and property damage may occur due to mud and debris flows."
In Orange County, a flash flood watch will be in force from 6 this morning through this afternoon.
"Areas most at risk include low-lying intersections, areas with poor drainage, and the coastal mountain slopes, where the rainfall will be the greatest,'' warned the San Diego office of the NWS, which monitors conditions in Orange County. "Mudslides and debris flows are possible in and below recently burned areas."
The NWS forecast between three-quarters of an inch of rain and an inch-and-a-half in the region but between an inch-and-a-half and three inches in the eastern San Gabriels.
The snow level, meanwhile, will remain high -- at the 7,000-foot level.
Forecasters said a moist and unstable air mass will bring the potential for thunderstorms to coastal waters.
"Any thunderstorm that forms will be capable of producing locally gale-force winds and rough seas, dangerous lightning, heavy rainfall with reduced visibility, small hail, and waterspouts. If a thunderstorm develops, mariners should consider seeking safe shelter in a nearby harbor," urged an NWS statement.
In the San Gabriel Mountains in L.A. County, a wind advisory will be in effect until 3 p.m.
Forecasters said southeast winds of 20 to 35 mph with gusts of between 45 and 50 mph would buffet the San Gabriels.