Wagner leader Prigozhin says his forces have entered Russian city of Rostov facing no resistance
(ASSOCIATED PRESS) - The owner of the Wagner private military contractor made his most direct challenge to the Kremlin yet on Friday, calling for an armed rebellion aimed at ousting Russia's defense minister. The security services reacted immediately by opening a criminal investigation into Yevgeny Prigozhin and calling for his arrest.
In a sign of how seriously the Kremlin was taking the threat, security was heightened in Moscow and in Rostov-on-Don, which is home to the Russian military headquarters for the southern region and also oversees the fighting in Ukraine.
Prigozhin claimed Saturday that his forces had reached Rostov, saying they faced no resistance from young conscripts at checkpoints and adding that his forces "aren't fighting against children."
"But we will destroy anyone who stands in our way," he said. "We are moving forward and will go until the end."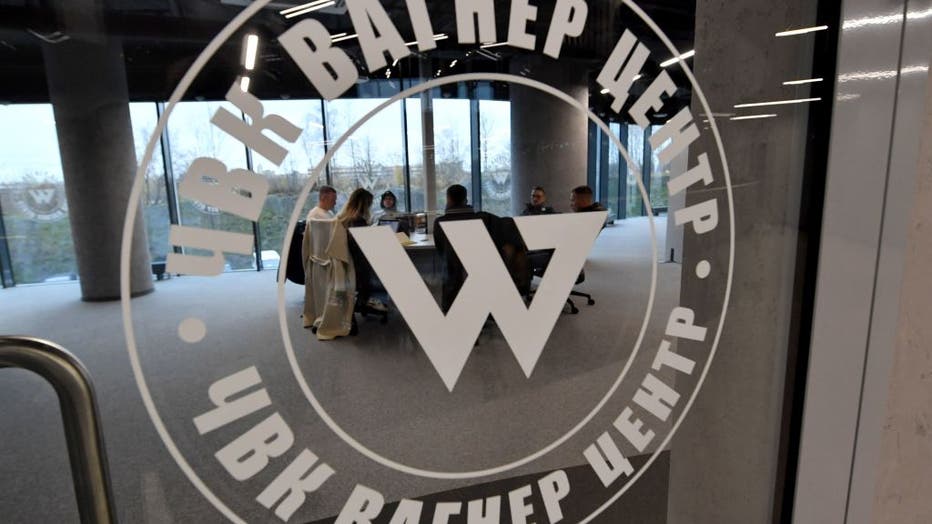 People sit at the desk in the office in the 'PMC Wagner Centre', associated with the founder of the Wagner private military group (PMC) Yevgeny Prigozhin, during the official opening of the office block on the National Unity Day, in Saint Petersburg, (Getty Images)
He claimed that the chief of the General Staff, Gen. Valery Gerasimov, scrambled warplanes to strike Wagner's convoys, which were driving alongside ordinary vehicles.
Prigozhin said Wagner field camps in Ukraine were struck by rockets, helicopter gunships and artillery fire on orders from Gerasimov following a meeting with Defense Minister Sergei Shoigu, at which they decided to destroy Wagner.
Prigozhin said his troops would punish Shoigu in an armed rebellion and urged the army not to offer resistance.
"This is not a military coup, but a march of justice," Prigozhin declared.
The National Anti-Terrorism Committee, which is part of the Federal Security Services, or FSB, said he would be investigated on charges of calling for an armed rebellion. The FSB urged Wagner's contract soldiers to arrest Prigozhin and refuse to follow his "criminal and treacherous orders." It called his statements a "stab in the back to Russian troops" and said they amounted to fomenting an armed conflict in Russia.
Russia's chief prosecutor said the criminal investigation was justified and an armed rebellion charge carries a penalty of up to 20 years imprisonment.
President Vladimir Putin has been informed about the situation and "all the necessary measures were being taken," Kremlin spokesman Dmitry Peskov said.
Wagner's forces have played a crucial role in Russia's war in Ukraine, succeeding in taking the city where the bloodiest and longest battles have taken place, Bakhmut. Prigozhin has frequently criticized Russia's military brass, accusing it of incompetence and of starving his troops of weapons and ammunition, but with his accusations and calls for armed rebellion Friday, he appeared to go a step too far.
The Russian Defense Ministry required all military contractors to sign contracts with it before July 1, but Prigozhin, whose feud with the Defense Ministry dates back years, refused to comply. In a statement issued late Friday, he said he was ready to find a compromise with the Defense Ministry, but "they have treacherously cheated us."
"Today they carried out a rocket strike on our rear camps, and a huge number of our comrades got killed," he said. The Defense Ministry denied attacking the Wagner camps.
Prigozhin claimed that Shoigu went to the Russian military headquarters in Rostov-on-Don personally to direct the strike and then "cowardly" fled.
"This scum will be stopped," he said of Shoigu.
"The evil embodied by the country's military leadership must be stopped," he shouted, urging the army not to offer any resistance to Wagner as it moves to "restore justice."
Security also was heightened in Rostov-on-Don, Tass reported. Its correspondent said military and law enforcement personnel were seen on the streets, with at least one armored personnel carrier and aerial patrols.
Col. Gen. Sergei Surovikin, the deputy commander of the Russian group of forces fighting in Ukraine, urged the Wagner forces to stop any move against the army, saying it would play into the hands of Russia's enemies, who are "waiting to see the exacerbation of our domestic political situation."
Another top military officer, Lt. Gen. Vladimir Alexeyev, denounced Prigozhin's move as "madness" and threatened to unleash a civil war in Russia.
"It's a stab in the back to the country and the president," he said. "It's impossible to imagine a stronger blow to the image of Russia and its armed forces. Such a provocation could only be staged by enemies of Russia."
The Russian Defense Ministry said in a statement that the Ukrainian military was concentrating troops to launch an attack around Bakhmut to take advantage of "Prigozhin's provocation." It said Russian artillery and warplanes were firing on Ukrainian forces as they prepared to start an offensive in the area.
In other developments in the Ukraine, war, Ukrainian President Volodymyr Zelenskyy called on other countries to heed warnings that Russia may be planning to attack an occupied nuclear power plant to cause a radiation disaster.
Members of his government briefed international representatives on the possible threat to the Zaporizhzhia Nuclear Power Plant, whose six reactors have been shut down for months. Zelenskyy said he expected other nations to "give appropriate signals and exert pressure" on Moscow.
The Kremlin's spokesman has denied the threat to the plant is coming from Russian forces.
The potential for a life-threatening release of radiation has been a concern since Russian troops invaded Ukraine last year and seized the plant, Europe's largest nuclear power station. The head of the U.N.'s atomic energy agency spent months trying to negotiate the establishment of a safety perimeter to protect the facility as nearby areas came under repeated shelling, but he has been unsuccessful.
The International Atomic Energy Agency noted Thursday that "the military situation has become increasingly tense" while a Ukrainian counteroffensive that got underway this month unfolds in Zaporizhzhia province, where the namesake plant is located, and in an adjacent part of Donetsk province.
Although the last of the plant's six reactors was shut down last fall to reduce the risk of a meltdown, experts have warned that a radiation release could still happen if the system that keeps the reactors' cores and spent nuclear fuel cool loses power or water.
During months of fighting, Russia and Ukraine have traded blame over which side was increasing the threat to the plant. On Friday, IAEA Director-General Rafael Mariano Grossi met with the head of Russian state nuclear corporation Rosatom in the Kaliningrad exclave of Russia to discuss the conditions at the plant. Rosatom director Alexey Likachev and other officials "emphasized that they now expect specific steps" from the U.N. agency to prevent Ukrainian attacks on the plant and its adjacent territory, said a statement from the Russian corporation, whose divisions build and operate nuclear power plants.
Earlier this week, Ukrainian officials accused Russia of mining the plant's cooling system, already under threat from a dam collapse earlier this week that drew down water in a reservoir that the power station uses.
Ukrainian Deputy Defense Minister Hanna Maliar said Friday that Russia has beefed up its defense forces in southern Ukraine in response to the early counteroffensive and intensified its efforts to take more ground in the east. Asked if the Ukrainian military's initial attacks set the stage for a larger assault, Maliar told Ukrainian television: "We are yet to see the main events, and the main blow. And indeed, a part of reserves will be used later."
Ukrainian forces so far have made only incremental gains in Zaporizhzhia province, one of four regions that Putin illegally annexed last year. Putin has pledged to defend the regions as Russian territory.
Zelenskyy has said that Ukraine is fighting to force Russian troops out of those regions, as well as the Crimean Peninsula, which Moscow illegally annexed in 2014 and is using as a staging and supply route in the 16-month-old war. If the counteroffensive breaks the Russian defenses in the south, Ukrainian forces could attempt to reach a pair of occupied port cities on the Sea of Azov and break Russia's land bridge to Crimea.