Valley residents tackle clean up, homeless issues along LA River
LOS ANGELES - It's early Saturday morning in Reseda and a group of volunteers gathers in a parking lot next to the gate of the Los Angeles River bike path wearing bright green vests and gloves, carrying cleaning tools and special kits containing food, water, and clothes. They are ready for an uphill battle all in an effort to make their neighborhood safe again for families to enjoy.
"I was here when it first opened. I brought my children, they were younger, and it was beautiful. We met a lot of our neighbors here. We thought it was the greatest thing that ever happened to our neighborhood, and to see it become blighted and downtrodden after three years of it opening was heartbreaking for many of us," said Evelyn Aleman, Lead for the community group L.A. River Walkers and Watchers.
The L.A. River Walkers and Watchers was created in 2015 when more than 30 neighbors from the west San Fernando Valley, including Reseda, Tarzana, Winnetka, and Woodland Hills, got together to voice their concerns regarding the challenges facing the L.A. River bike path.
"The crime was a real concern because it spilled onto our neighborhoods, it spilled in front of my home... the safety, the maintenance, and the sense of community are the three things that keep me coming back," Aleman said.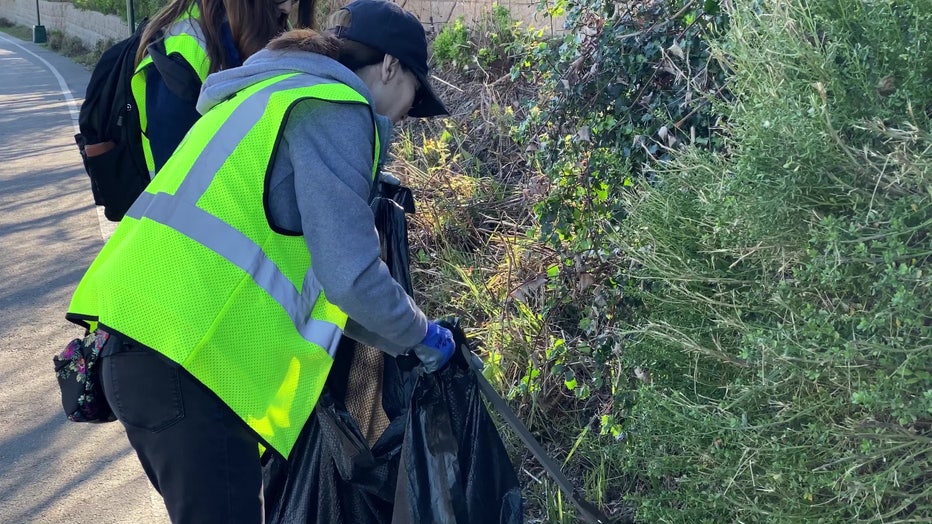 LA River Walkers and Watchers (Oscar Flores / FOX 11)
"Initially when I heard about the L.A. River Master Plan, I was super excited...until I actually went down to the river and saw what was going on, and then my neighbors, who their house literally butts up against what will be the river path, they showed me video of nightly jumpers, thieves, jumping over the fence right by their home. It was insane. And they could see the trash, fires, drug paraphernalia, chopped up bikes," said Alyssa Boyle who volunteers with the L.A. River Walkers and Watchers. "Houses are worth millions of dollars and you're right next to a trash dump."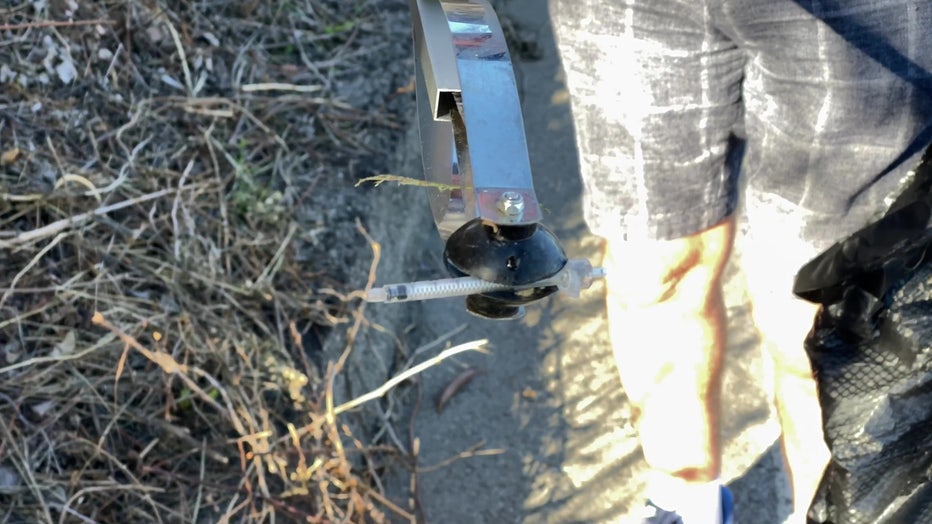 LA River Walkers and Watchers (Oscar Flores / FOX 11)
"Everybody, just get involved. If you hear about the city of L.A. saying 'hey, there's going to be a new project,' check it out for yourself. Do not just say 'oh that sounds great.' Anything that's improvements, see how things are maintained beforehand because how things are maintained before will be how they are maintained after or not maintained. In fact, this area here would not have been maintained at all if not for the River Walkers and Watchers," Boyle added.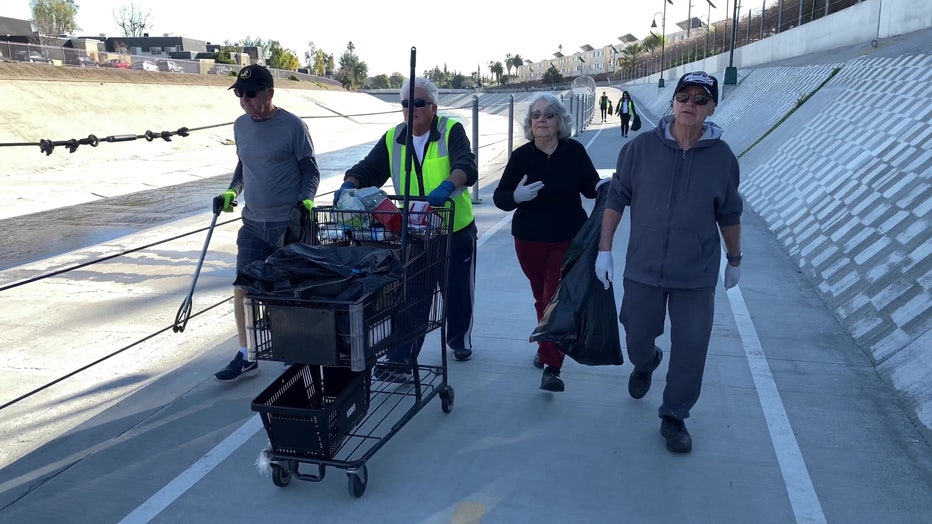 LA River Walkers and Watchers (Oscar Flores / FOX 11)
The team of volunteers meets on the last Saturday of each month and spends several hours cleaning up the path. But Aleman says the problem of trash, crime, drug use, and homeless in the area has gotten worse over the past weeks and months providing an ongoing challenge for the volunteers. Making matters worse is the bureaucratic red tape that comes from having several agencies in charge of different areas of the L.A. River.
"We have at least 12 different agencies that have what's called multi-jurisdictional oversight of the area, and they're in charge for everything, from the graffiti, the black tarp, to the brush, to the fences to the lamp posts, I could go on and on and on. So for the neighbors to try to resolve some of the challenges that we're seeing on the bike path, it's mind-blowing," said Aleman. "The mayor's office has reached out to us but I think they're seeing a lot of what we're seeing, which is, all of the agencies really not collaborating."
"Anytime we are dealing with bureaucracies the size of the State of California, the Army Corps of Engineers, the county and our city it will take time, especially as we are crafting a new plan to break through the alphabet soup of jurisdictions," said Jake Flynn, Communications Director for L.A. Councilmember Bob Blumenfield's Office. "The Councilman wants to make sure we get this done right so it can be replicated throughout the entire River and finally stop the multi-jurisdictional mess that has existed for decades."
"One big ask that we ask the city and the powers that be is, please do not expand the bike path until you have this together, until you can tell us that you have a plan long term in place to keep the bike path clean and safe, do not expand it onto other communities," said Aleman.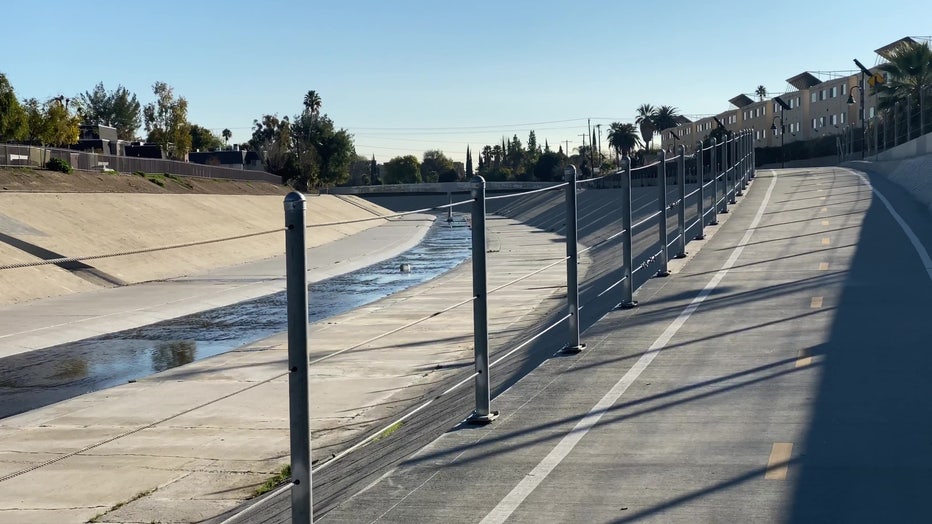 LA River Walkers and Watchers (Oscar Flores / FOX 11)
"We have been doing a lot to keep the paths safe, repairing lighting and fences, having LAHSA outreach workers go talk with people living on the river, and one key aspect is opening up and continuing a direct line of communication between Evelyn/River Walkers, our office and LAPD. When something happens we know immediately and LAPD can help respond if needed," Flynn added.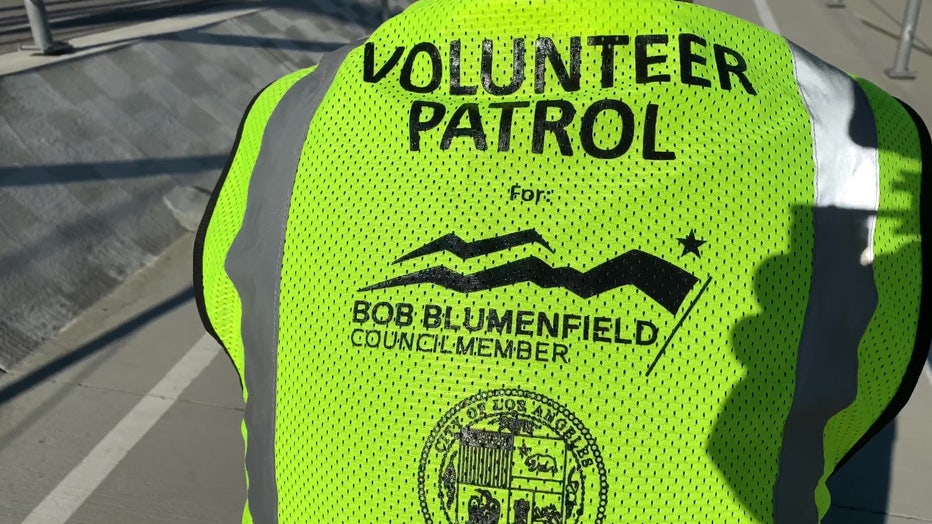 LA River Walkers and Watchers (Oscar Flores / FOX 11)
Councilmember Blumenfield has been a champion of the L.A. River Walkers and Watchers from the beginning empowering the group as much as possible. One of the new tools provided to the group has been these red containers where those using hypodermic needles can safely dispose of them rather than simply leaving them along the bike path, which can be dangerous to the families walking or riding on the path.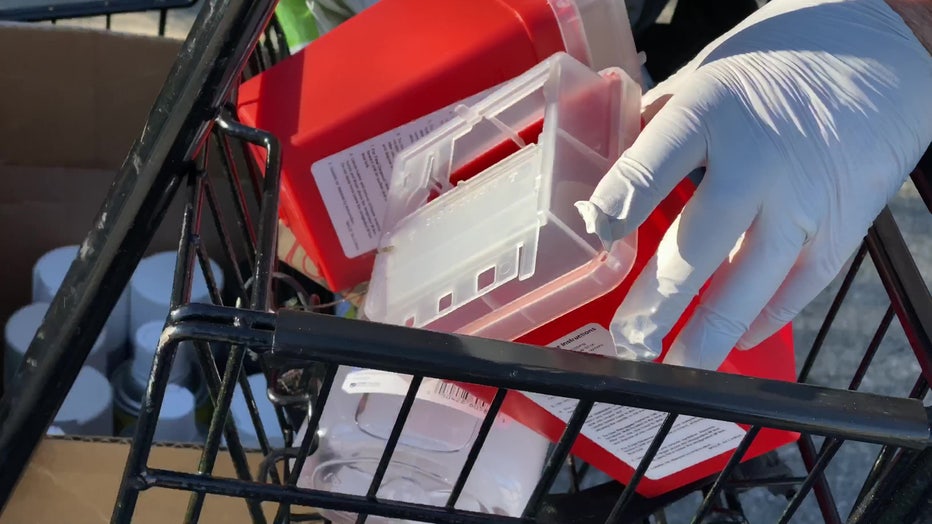 LA River Walkers and Watchers (Oscar Flores / FOX 11)
"Councilmember Bob Blumenfield wrote a motion which was passed unanimously last December by the City of Los Angeles to ask the Mountain Recreation Conservation Authority (MRCA) to be the sole agency, the one entity, in control of the area, again, making sure that it's safe and clean for the neighborhood to enjoy," Aleman said.
The MRCA is a local public agency dedicated to the protection and preservation of open spaces, including urban, mountain, and river parklands that are easily accessible to the public. The River Rangers, as Aleman calls them, are set to begin patrolling sometime in 2020.
"Right now the City Attorney is finalizing the MOU/MOA between the City and County and the City and State. Part of that process is clarifying what exactly the MRCA will be responsible for i.e. arresting/ticketing powers or how they will coordinate with local law enforcement. So final details are still being hammered out but the Councilman is eager to get this up and running as soon as possible," said Flynn.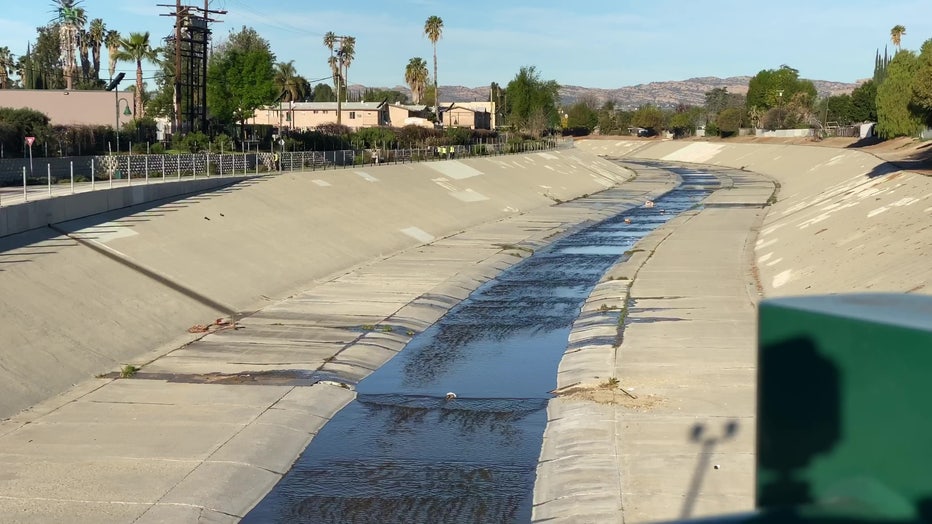 LA River Walkers and Watchers (Oscar Flores / FOX 11)
"This tiny little cul-de-sac with eight houses, that's where they wanted to open up, where the nightly jumpers, thieves, homeless, went over. It has been a battle," Boyle said. "So I met with my neighborhood council...we are trying to provide services for the homeless to help them get off the streets and also keep our neighborhood safe and clean and beautiful."
"At the end of the day they're our neighbors, and they keep getting tossed back and forth when they're removed, and we understand that they're still going to be in our community because most of them, if not all, are from our community so how do we work together with them to make sure that the area is safe and clean for everyone?" added Aleman.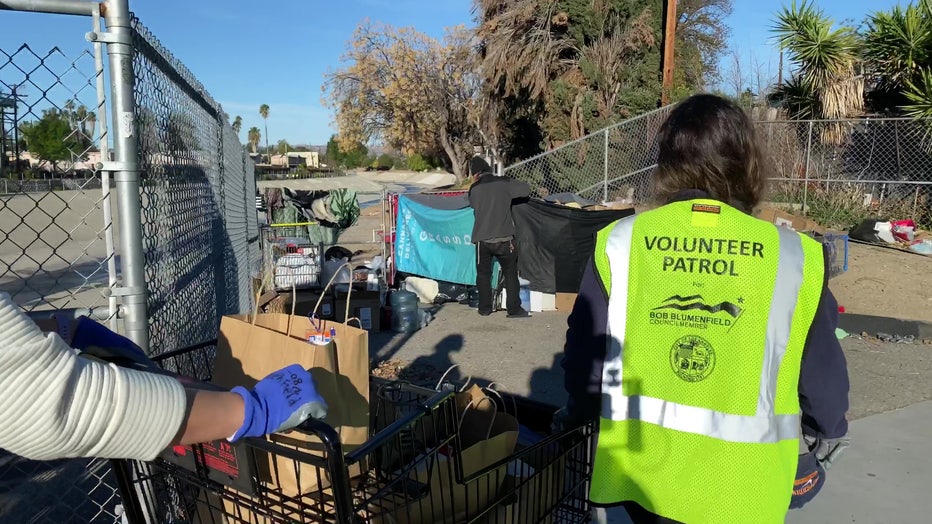 LA River Walkers and Watchers (Oscar Flores / FOX 11)
On this particular day, the L.A. River Walkers and Watchers inaugurated a homeless outreach team.
"More than 50 neighbors via Nextdoor stepped up to the plate and donated supplies and food and clothing and today we provided those packages to the homeless people here," said Aleman.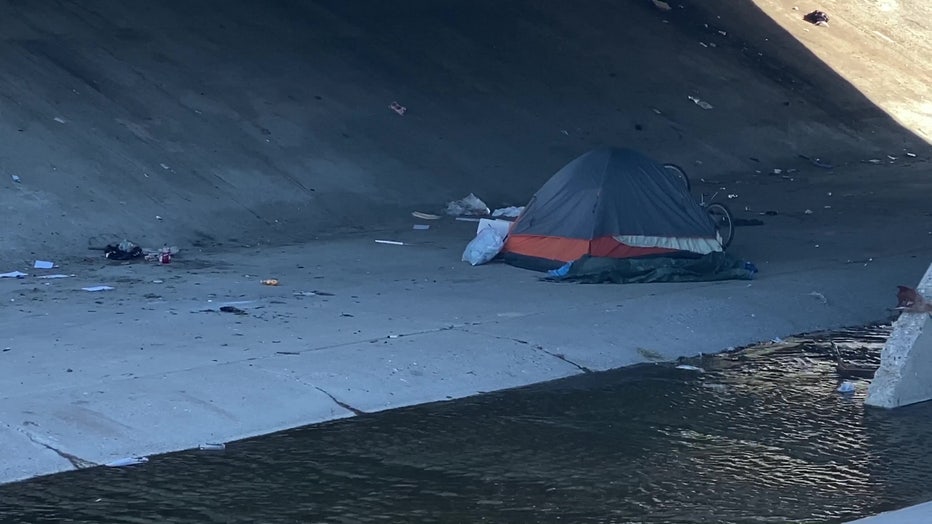 LA River Walkers and Watchers (Oscar Flores / FOX 11)
And while many residents may see the many problems facing the bike path along the L.A. River as a reason to stay away, Aleman says there is strength in numbers to forge a new pathway for a better future along the river.
"Keep using the bike path. The bike path was built for our enjoyment, for all of us to use, and you know... The more they use it, the more we send the message to everybody that this is a place of community and a place where we can all come with our families and our pets and just find peace," Aleman said. "If you see something out of place, report it to the city, if you see a broken lamp report it, if you see trash on the road pick it up, it's our bike path, it's our city, we're all responsible for it."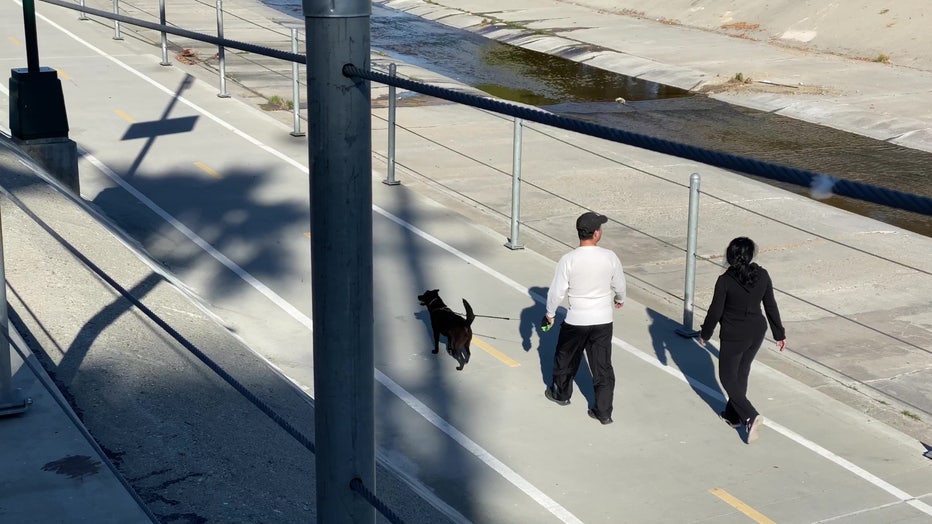 LA River Walkers and Watchers (Oscar Flores / FOX 11)
For more information about the L.A. River Walkers and Watchers, visit https://www.facebook.com/LARiverWW.