US Navy warship intercepts three missiles, several drones in Red Sea
A U.S. Navy warship on Thursday took out three missiles and several drones that had been fired from Yemen and were heading north, the Pentagon said.
Brig. Gen. Pat Ryder, Pentagon press secretary, told reporters Thursday that the USS Carney, a Navy destroyer in the northern Red Sea, intercepted three land attack cruise missiles and several drones that were launched by Houthi forces in Yemen. He said they were shot down over the water.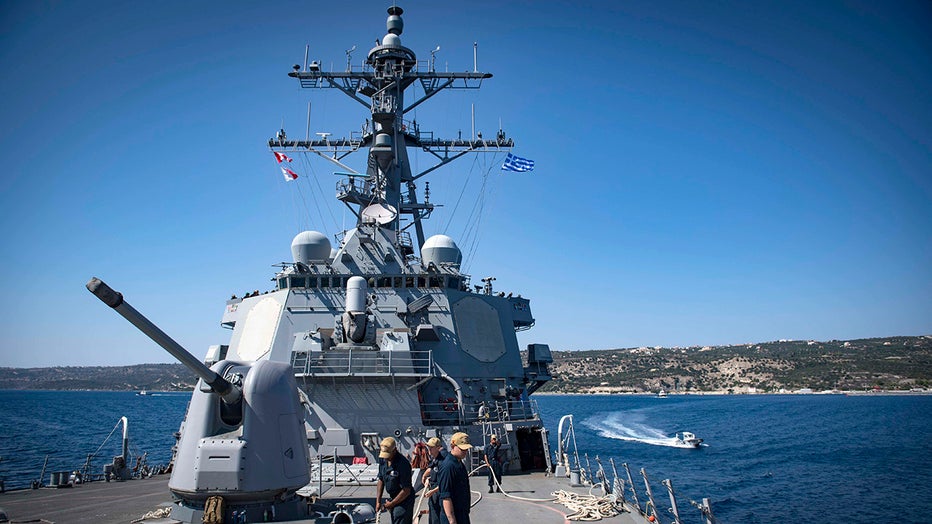 (U.S. Department of Defense)
"We cannot say for certain what these missiles and drones were targeting, but they were launched from Yemen heading north along the Red Sea, potentially towards targets in Israel," Ryder said in a Pentagon briefing. A U.S. official said they do not believe the missiles were aimed at the ship. That official spoke on condition of anonymity to discuss military operations that had not yet been announced.
READ MORE: State Department issues 'worldwide caution' advisory amid Israel-Hamas war
Ryder said the missiles were shot down because they "posed a potential threat" based on their flight profile, adding that the U.S. is prepared to do whatever is needed "to protect our partners and our interests in this important region." He said the U.S. is still assessing what the target was.
He said no U.S. forces or civilians on the ground were injured.
Iranian-backed Houthi rebels have expressed support for the Palestinians and threatened Israel. Last week, in Yemen's Sanaa, which is held by the Houthi rebels still at war with a Saudi-led coalition, demonstrators crowded the streets waving Yemeni and Palestinian flags. The rebels' slogan long has been, "God is the greatest; death to America; death to Israel; curse of the Jews; victory to Islam."
Last week, Abdel-Malek al-Houthi, the rebel group's leader, warned the United States against intervening in the ongoing conflict between Israel and Hamas, threatening that his forces would retaliate by firing drones and missiles.
READ MORE: Gaza waits for humanitarian aid, as Israel tells troops to 'be ready' for ground invasion
When approached Thursday, two Houthi officials declined to comment on the incident. One said he was unaware of the incident, while the second said he did not have the authority to speak about it.
The reports come hours before President Joe Biden will deliver a rare Oval Office address Thursday night as he prepares to ask for additional billions of dollars in military assistance for Israel and Ukraine, deepening American involvement in two very different, unpredictable and bloody foreign conflicts.
The speech will be an opportunity for Biden to argue that the United States has an obligation — and a national security interest — in both places. And it's a chance for him to publicly lobby lawmakers for the money.