Twitch streamer Kai Cenat to face charges after Union Square chaos
MANHATTAN - Popular Twitch streamer Kai Cenat will likely face at least two counts of inciting a riot and unlawful assembly after a massive crowd of thousands of people took over Union Square Park on Friday afternoon after a giveaway event thrown by Cenat turned violent, leaving several police officers injured and a number of people, including the influencer himself, in custody.
According to police, Kai Cenat, a Twitch streamer and YouTube creator with millions of followers had posted on his social media platforms about a video game console giveaway – a "pop-up" event that drew large crowds of people. 
As the post went viral, crowds began to gather in Union Square. By 4 p.m., the view from SkyFOX showed a massive throng of people running around the park, tearing down construction barriers, throwing objects, and setting off fire extinguishers.
Moments later, a black SUV was seen driving through the crowd with someone – possibly Cenat – standing up through the sunroof. The crowd began to follow the vehicle, which eventually sped away on East 17th Street. 
"Kai Cenat said pop out and that's what the city did," one fan explained from the scene afterwards. "That's how we show love!"
Livestreaming on Twitch from a vehicle as the event gathered steam, Cenat displayed gift cards he planned to give away. Noting the crowd and police presence, he urged, "Everybody who's out there, make sure y'all safe. ... We're not gonna do nothin' until it's safe." Eventually he and an entourage got out of the vehicle and hustled through an excited crowd, crossed a street and went into the park before the stream cut out.
"I love you guys to the fullest you guys are amazing," he later posted on his Instagram. "THE LOVE FROM HOME BASE IS REAL. Please be safe."
Initial estimates from police put the crowd at 3,000 to 5,000 people. Witnesses told FOX 5 NY that they heard what sounded like gunfire and several people were trampled in the ensuing stampede.
"Everybody started running and going crazy," one bystander recalled, explaining that he fell due to a bad knee. "Everybody started running over me. I couldn't help it…I was scared. Everyone started running."
At least three NYPD officers were injured, and 65 people were arrested in the aftermath of the melee.
"Our officers were attacked. We were in there, we were crushed, we were pushed. I had officers on the floor," Chief Jeffrey Maddrey said. "I was in the middle of the crowd. I was hit with multiple objects as well. I think I have a couple of injuries but I'll figure it out when I have time to think about it."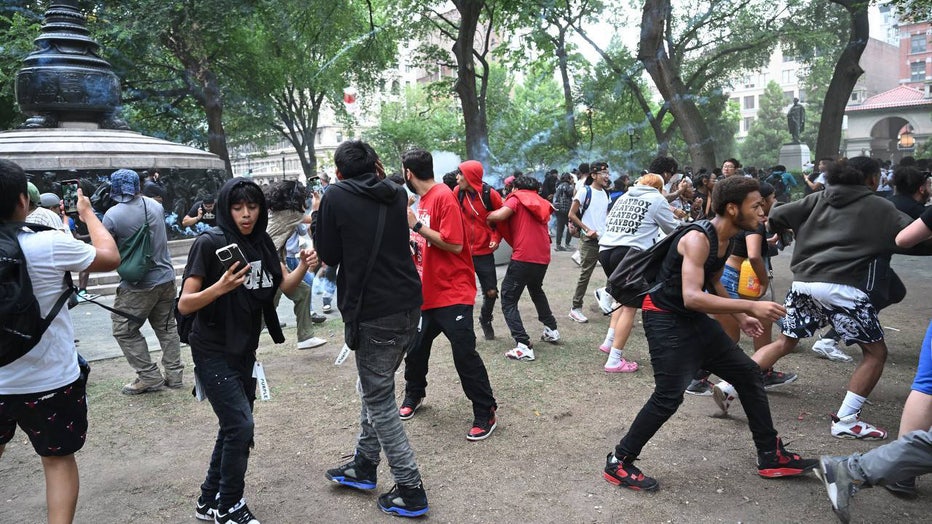 Attendees brawl during the gift distribution event held by phenomenon YouTube and Twitch broadcaster Cenat at the Union Square in Manhattan. (Photo by Fatih Aktas/Anadolu Agency via Getty Images)
Maddrey said a bus was called in to ferry detainees from the scene as police tried to get control of the situation. There were "many" arrests, he said, but a total number was not yet clear.
"We have encountered things like this before but never to this level of dangerousness where young people would not listen to our commands. They were fighting each other, they were hurting each other and they were turning their attacks on us," he continued. "We had to defend ourselves and we had to make arrests."
Among those detained was Cenat. The influencer was being held at one of the NYPD precincts and Maddrey said officers were "absolutely" considering filing charges against him.
"We have him," the chief offered. "We'll discuss with our legal department about inciting a riot and other charges."
By 5 p.m., the crowd had begun to disperse, but the area remained chaotic. An hour later, the NYPD was still advising people to stay away and several trains were bypassing the area.
Who is Kai Cenat?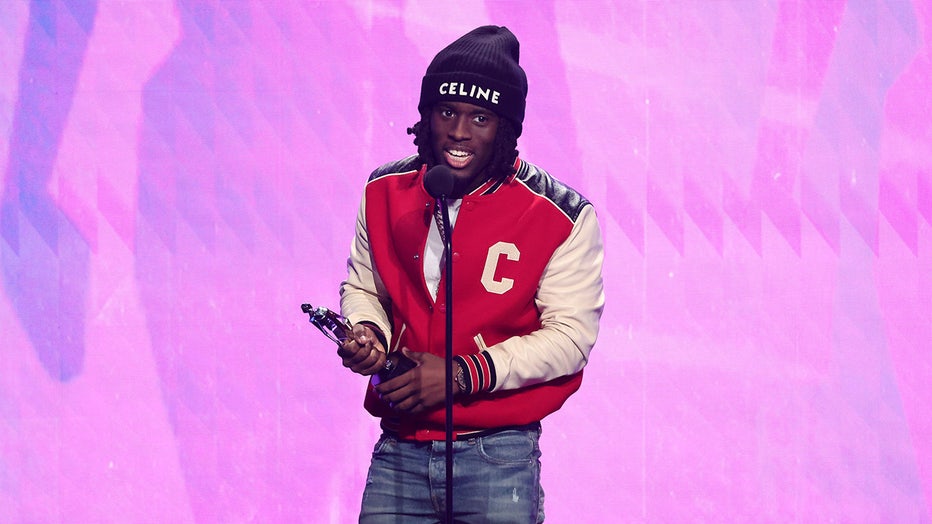 Kai Cenat accepts the Streamer of the Year award during the 2022 YouTube Streamy Awards at the Beverly Hilton on December 04, 2022 in Los Angeles, California. (Photo by Emma McIntyre/Getty Images for dick clark productions)
Cenat, 21, is a video creator with 6.5 million followers on the platform Twitch, where he regularly livestreams. He also boasts 4 million subscribers on YouTube, where he posts daily life and comedy vlogs ranging from "Fake Hibachi Chef Prank!" to his most recent video, "I Rented Us Girlfriends In Japan!"
His 299 YouTube videos have amassed more than 276 million views among them. In December, he was crowned streamer of the year at the 12th annual Streamy Awards. Messages sent to his publicist, management company and email address for business inquiries were not immediately returned.
The Associated Press contributed to this report.