Tustin man arrested in connection to building fire that displaced at least 60 residents
TUSTIN, Calif. - An estimated 60 residents were displaced after a massive five-alarm fire ignited at an apartment complex in Tustin early Wednesday morning, fire officials said. 
The Orange County Fire Authority says 120 firefighters and support staff responded to the large fire at the Chatham Village Apartments, located in the 15700 block of Williams Street near McFadden Avenue just after 3 a.m. 
It is believed the fire started on the first floor before quickly spreading to surrounding units on the second floor and the attic, OCFA Capt. Tony Bommarito said. 
On Wednesday evening, Tustin police announced the arrest of 59-year-old Patrick Andrew Ceniceros in connection with the fire. He was booked into Orange County Jail and faces arson charges.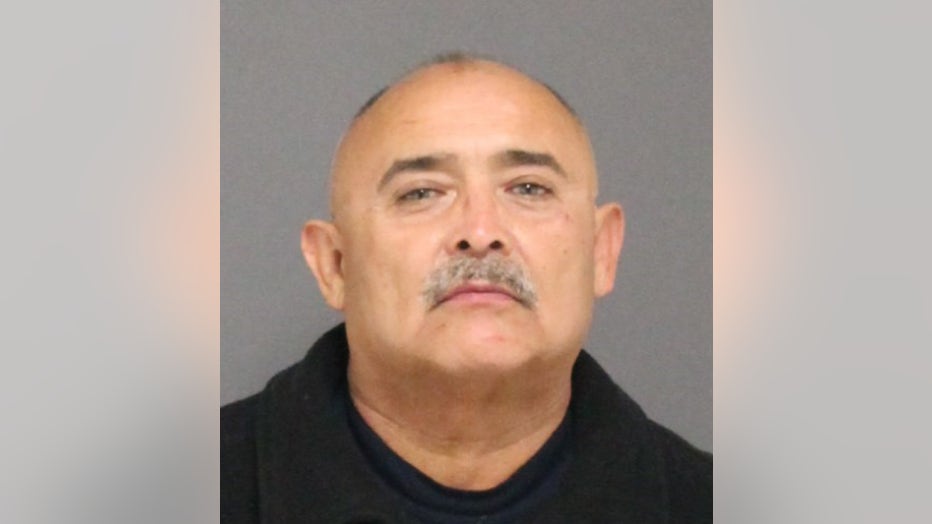 Patrick Andrew Ceniceros, 59, of Tustin, CA. (Tustin Police Department)
Firefighters began working offensively within the building. In less than 20 minutes, the roof collapsed and crews switched to a defensive attack, officials said. 
"That's how that fire traveled so quickly,'" Capt. Bommarito said. "We had a roof collapse in under 20 minutes, which is very quick for a building of this size."
A distraught resident told FOX 11 she is worried her two cats did not make it out alive.
Another resident said he did not hear any smoke alarm or alert and woke up by a neighbor who knocked on his door. 
One resident was initially listed as missing but was later located, according to fire officials. All residents have been accounted for as of late Wednesday afternoon. 
"Management has said that all residents are accounted for. However, OCFA still considers one person unaccounted for. Until we do a complete search of the building and our investigation is complete, we're going to leave it at one unaccounted for," Bommarito said. 
Bommarito said Red Cross officials were stationed nearby to assist the displaced residents. 
No firefighters were injured fighting the blaze. The cause of the fire is under investigation.