Treasury proposes to send $500B to Americans starting in April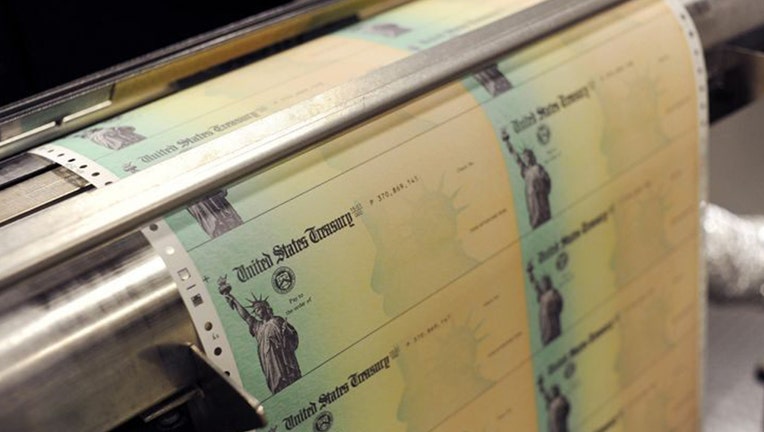 article
WASHINGTON - The Treasury Department wants to start issuing direct payments to Americans by early next month as the centerpiece of a $1 trillion plan to stabilize the economy as the coronavirus epidemic threatens a body slam to taxpayers and businesses.
In a memorandum issued Wednesday, Treasury is calling for two $250 billion cash infusions to individuals: A first set of checks issued starting April 6, with a second wave in mid-May. The amounts would depend on income and family size.
The Treasury plan, which requires approval by Congress, also recommends $50 billion to stabilize the airlines, $150 billion to issue loan guarantees to other struggling sectors, and $300 billion to for small businesses. The plan appears to anticipate that many of the loans would not be repaid.
The details are for the third coronavirus response bill that lawmakers hope to pass next week.
It comes as the Senate turned Wednesday to a House-passed coronavirus response bill.
RELATED: Coronavirus cases in Florida jump by nearly 100 overnight; now at 314
The Treasury outline provides a basis for lawmakers to work from in an unprecedented government response and is likely to be broadened to include additional emergency funding for federal agencies.
The price tag for the upcoming economic package alone promises to exceed Treasury's $1 trillion request, a rescue plan not seen since the Great Recession. Trump wants checks sent to the public within two weeks — a huge logistical task — and is urging Congress to pass the eye-popping stimulus package in a matter of days. A more realistic timeframe is next week.
| FOX 35 Complete Coverage of the Coronavirus |
As analysts warn the country is surely entering a recession, the government is grappling with an enormous political undertaking with echoes of the 2008 financial crisis.
Wednesday's legislation would speed the delivery of testing for the virus and provide paid sick leave to workers, but the focus in Washington has already moved to development of a far, far larger response bill that would inject hundreds of billions of dollars into the faltering economy, provide relief to shuttered businesses, and help keep airlines from going under.
RELATED: 3 field hospitals being deployed in Florida to help with coronavirus pandemic
At the Capitol on Wednesday, Senate Majority Leader Mitch McConnell prepared his colleagues for unprecedented steps to deal with the epidemic's body slam to the economy.
"I will not adjourn the Senate until we pass a far bolder package," McConnell said. "We aren't leaving until we deliver."
RELATED: Orlando malls adjust hours amid coronavirus pandemic
But first, McConnell said, the Senate will vote on a House-passed package of sick pay, emergency food and free testing, putting it back on track for Trump's signature — despite Republican objections over the potential impact on small businesses saddled with a new mandate to pay sick leave — subject to reimbursement from the government.
"We're going to vote to pass the House bill, but it's imperfections will just make our more comprehensive package more urgent," McConnell said.