Top Property: 40,000 sq. ft. Beverly Hills estate used in 'The Godfather' hits market for $135M
BEVERLY HILLS, Calif. - What do Hearst Castle, Francis Ford Coppola's "The Godfather," JFK and Whitney Houston have in common? The Beverly House right here in Beverly Hills. 
This estate, on more than three-and-a-half acres, was purchased by newspaper magnate William Randolph Hearst in 1947. Coppola used the 40,000 sq. ft. home for the infamous horse head scene in "The Godfather" and, in 1953, then-Senator John F. Kennedy and his new bride, Jacqueline Kennedy, honeymooned at the property.     
Compass' Tomer Fridman and Sally Forster Jones say the Mediterranean Revival style mansion was built in the 1920s and, today, is known as The Beverly House. It has nineteen bedrooms, twenty-nine bathrooms, and is filled with European elements brought over by Hearst.  
Every square inch is seeping in grandeur, including the ornate library, stately family room, and mirrored formal dining room. The manicured gated grounds, original to Hearst, include fountains, a grand pool, regal statues, and a tennis pavilion.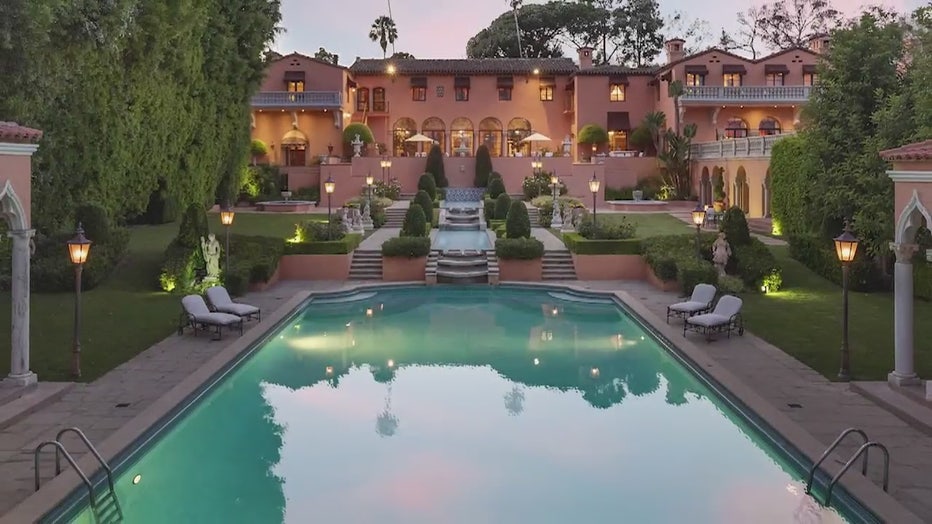 In the 1990s, the current owner added a nightclub, disco ball and all.  It pays homage to a certain Playboy.
"A lot of the fixtures and finishes were brought in from Hugh Hefner's nightclub, Touch," said Fridman. 
Speaking of the '90s, the Hearst home was Whitney Houston's in "The Bodyguard."
The asking price for all this room, history, and prime 90210 location: $135,000,000.