Madeline Kingsbury: Timeline of her disappearance and death investigation
WINONA, Minn. (FOX 9) - Madeline Jane Kingsbury, 26, went missing on March 31, her body was found off a remote Minnesota highway on June 7th. 
Adam Fravel, the father of Maddi's children, is believed to have been the last person to see her alive. After law enforcement found her remains, they arrested Adam, and he was charged with two counts of second-degree murder in connection to Maddi's death. 
Here's what we know about Maddi's disappearance so far and the timeline of the investigation. 
March 31: The day Maddi went missing
8 a.m. Maddi dropped off her two children at daycare with their father in her 2014 blue Chrysler Town and County. 
8:15 a.m. Maddi returned to her home on the 400 block of Kerry Drive in Winona. Her sister Megan Kingsbury told FOX 9 it was at this time she received the last text message from Maddi.
"[The text was] just laughing in response to a funny photo I had sent the night before from a trip she and I took to Rhode Island last summer. No one else heard from her after that," Megan Kingsbury said.
10 a.m. The children's father reportedly told police he left the home around 10 a.m. in a dark van. When he returned home later in the day he claimed Maddi was not there. 
10 a.m.- 1:30 p.m. Police said a van matching Maddi's was driven on County Road 12 and Highway 43 in Winona County and then southbound on Highway 43 through the eastern part of Fillmore County. Then the van traveled back toward Winona on Highway 43 and remained in the driveway of the home from 1:30 p.m. onward. Police did not say who was driving the van.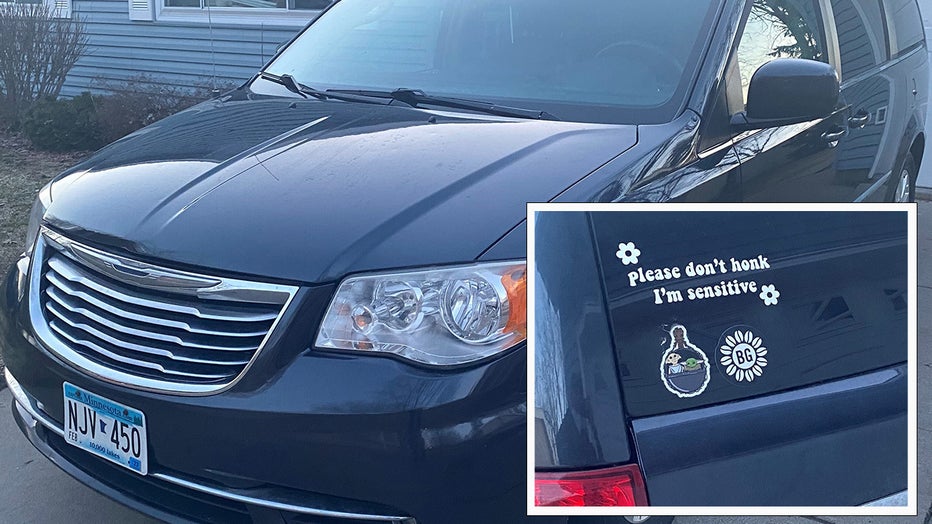 Pictured is Madeline Kingsbury's van. (Credit BCA) (Pictured is Madeline Kingsbury's van. (Credit BCA))
Undetermined time. Maddi failed to show up to work at Mayo Clinic in Rochester Friday morning and never picked up her two children from daycare that afternoon or made alternative arrangements for someone else too. Police said the children are safe.
Maddi's family tried to contact her throughout the day on Friday but had no luck, which they said was out of character for her not to respond. 
"We realized that night [Friday] that no one had heard from her all day, which is highly unusual — so that's when we started to have a growing concern," Megan Kingsbury told FOX 9. 
Undetermined time. Police searched Maddi's home and found her cell phone, wallet with ID, and jacket she was wearing earlier in the day. Police also searched the van but did not say if anything was found. 
April 1 
Saturday morning. The family officially reported Maddi missing on Saturday morning and organized a search with friends the same day. 
Saturday at 2:25 p.m. The Winona Police Department announced her case as a missing person investigation and asked for the public's help in finding her. 
April 2
Sunday at 8:29 p.m. the Minnesota Bureau of Criminal Apprehension issued an "endangered missing person" alert for Maddi and released her description as 5 feet, 4 inches tall, weighs 135 pounds and has brown hair and hazel eyes.
April 3
Monday at 5:03 p.m. The Winona Police Department provided its first press release on the case Monday.
"She was last seen at her home in Winona, MN. Kingsbury was supposed to show up for work that morning but didn't. In addition, numerous calls and messages from friends and family went unanswered. Kingsbury was supposed to pick up her children from daycare that afternoon but didn't show up or make other arrangements. All of this is extremely out of character for her," the press release read, in part. 
Investigators have been canvassing neighborhoods, searching areas, and attempting to collect any surveillance video that may point to where Maddi or van may have traveled. 
Police asked for residents in Winona and Fillmore Counties to check their properties and video cameras for any signs of the 2014 blue Chrysler Town and County passing through or stopping. They also requested residents along Highway 43 to check for any signs of disturbance or other suspicious activities between 8 a.m. on March 31 and 4 p.m. on April 1.
April 4 
Undetermined time. The Winona Police Department notified the Winona County Health and Human Services (WCHHS) on April 4 that Maddi's two children needed to be placed on a 72-hour hold since the mother's whereabouts are unknown and her disappearance may have been "Involuntary and suspicious." 
Authorities tried to pick up the children at Fravel's parent's house, where the children were staying. However, Fravel and his family allegedly did not cooperate with officials and refused to permit social workers to meet with the children, according to court records. 
At one point, Fravel took his 2-year-old son inside the house and locked the door. Social workers reported hearing Fravel "shouting expletives" while he was inside with his son, court records allege. 
Once authorities obtained the children, Fravel was "unwilling" to grab their belongings, and the children left home with only the clothes they were wearing, court records said. 
April 5 and April 6
Wednesday at 12:05 p.m. The Winona Police Department held a press conference with the BCA and family members. Police said Maddi's disappearance was "involuntary" and "suspicious." There's no evidence suggesting Maddi left home on foot or used another vehicle. 
Authorities went into minor detail about the search efforts thus far including searching by foot and vehicle, using aircraft for aerial search, and looking at nearby waterways in hopes of finding Maddi.
Police provided specific outlined areas in red for Winona, Wilson Township and Hillsdale Township residents to search their property wooded areas, outbuildings, vehicles, and trails for anything suspicious.
Thursday at 1:37 p.m. a massive two-day search was announced for Friday and Saturday. 
April 7
Friday at 9 a.m. volunteers arrived at Winona County-Goodview Fire Department and Fillmore County Rushford-Peterson School to be bused to designated search areas for four hours. Volunteers walked spread out in farm fields and along roads searching for any sign of Maddi. 
Noon. Three hours after the mass search began, authorities gave a press conference on the progress of the investigation but did not provide many details since it's an ongoing investigation.  
4 p.m. The second group of volunteers conducted their four-hour search. On Saturday, volunteers participated in searches again at 9 a.m. and 4 p.m.
April 7 
Undetermined time. Winona County officials filed a petition in court on April 6 stating the children were in need of protection services citing in part the behavior, condition, or environment could be dangerous or cause injury to the children, including "the exposure of the children to criminal activity in the children's home," the petition read in part. 
Undetermined time. An emergency protective care hearing was brought before a Winona County judge on April 7, but the judge would not issue a decision about the children until April 12. 
The children remained in the care of family members. 
April 8
Saturday at 3:19 p.m. police announced there would be no additional mass searches led by law enforcement due to the large amount of ground that was covered by the nearly 2,600 volunteers over the weekend and instead law enforcement would focus their efforts on targeted search areas.
"The search for Maddi is not ending and neither is the investigation into her disappearance. As we develop new leads and new search areas, teams of law enforcement officers will do targeted searches…. We are not giving up and we want to thank everyone for their continued support for Maddi and her family."
Volunteers searching for missing mother Maddi Kingsbury in Winona. 
April 12 
Wednesday at 2:18 p.m. The Winona Police Department released an updated statement Wednesday afternoon on the investigation into Maddi's disappearance saying they "remain extremely concerned for her safety." 
"We have had two goals since we learned Maddi was missing: bring her home and if warranted, hold accountable the person or persons responsible for her disappearance. Releasing certain information about the investigation would jeopardize our availability to achieve these goals. We understand just how much the community wants answers and we are asking everyone to be patient as the investigative process unfolds. We remain confident we will find Maddi and bring her home to her family," the statement reads in part. 
Since the large organized search with volunteers on April 8, law enforcement has continued targeted searches in Winona and Fillmore Counties. From Monday to Wednesday, over 100 law enforcement and public safety personnel searched areas of interest based on information from the investigation or tips. They've also executed several search warrants. 
Police said Maddi's van was taken to be processed for forensic evidence. Police did not say if anything has been found. 
The Kingsbury family and the children's father, Adam Fravel, also released statements on Wednesday about Maddi's disappearance. The statements can be found here. 
Related stories: Madeline Kingsbury: Court denies custody rights to father of missing woman's children
Undetermined time. A Winona County judge ordered for Maddi's 5-year-old daughter and 2-year-old son to remain in the care of social services. The children were taken by Winona County Health and Human Services (WCHHS) for a 72-hour hold on April 4 after learning Fravel did not have custodial rights to the children, according to court records.
A judge issued a decision on April 12 that the children would not be released into Fravel's care at this time but instead remain with WCHHS.
"The children shall remain in their current placement at this time as it is in their best interest," the order reads in part.
April 14
Undetermined time. Search and rescue crews, including K9s and dive teams, were out over the weekend to continue searching for Maddi.
The Buffalo County Wisconsin Sheriff's Office said in a Facebook post that Wisconsin law enforcement searched the town of Buffalo, across the Minnesota border near Winona. 
A search for Maddi was conducted in the area by 20 firefighters from the Tri-Community Fire Department and Fountain City Fire Department, along with deputies from the Buffalo County Sheriff's Office. The Pepin County Sheriff's Office drone team and Fish and Wildlife Officers also assisted in the search efforts to locate Maddi.
April 15 
Undetermined time. Search and rescue teams from Minnesota, Iowa and Wisconsin joined in the search over the weekend, including the Special Operations Aid and Rescue (SOAR) Team and Drive Rescue Team, according to the Winona County Emergency Management. 
"We encourage the public to continue checking your properties and being alert when out hiking, hunting, and fishing," Winona County Emergency Management said in a Facebook post. Those who have searched areas can report the areas searched via email to search@co.winona.mn.us. 
In addition to public safety partner searches, those behind the Finding Madeline Kingsbury Facebook page also organized volunteer searches over the weekend. 
April 17 
Monday at 6:34 p.m. The Winona Police Department said law enforcement officials are still carrying out daily searches. In the previous week, they have conducted searches from the air and water, in addition to searching on foot. To aid in the search, police are utilizing sonar technology, submersibles, and dog teams.
Police once again asked for property owners in Winona, Fillmore and Houston counties to check for anything suspicious or out of place as the changing weather may reveal new signs that weren't there before. 
 "The investigation is active and ongoing. We are not prepared to identify a suspect or person of interest at this time. We are continuing to follow several paths of inquiry as we work to determine what happened to Maddi, and if warranted, hold accountable the person or persons responsible for her disappearance," the Winona Police Department said in a statement. 
April 18
Undetermined time. The search for Maddi continues, but flooding has presented new challenges. Law enforcement warned volunteers participating in the search to stay away from floodwaters as it's too dangerous. Winona is under a river flood warning until further notice as the Mississippi River is expected to create moderate to major flooding. 
Even with the new challenges, Winona residents say they're always on the lookout for any signs of Maddi in hopes of bringing her home.
"Everyone is very upset and everyone has pulled together.  We're doing our best as a community to help do whatever we can," said Winona business owner Christine Windsor. 
A neighbor told FOX 9 he recalled seeing Maddi's minivan backed into the driveway the day she went missing, something he had never seen before. Law enforcement has since placed cameras in the driveway of the home to keep a watch over the property.
April 23
Undetermined time. The community continues to search for Maddi through coordinated search efforts organized by Facebook pages like Finding Madeline Kingsbury, which Winona County Emergency Management said is the only Facebook page law enforcement works with.
The page said over 60 volunteers participated in a search on Sunday in wooded areas.
"We were able to cover way more ground than expected because of all the amazing humans who showed up. We appreciate each and every one of you," the Facebook post stated.
The group coordinates with law enforcement and Minnesota United to determine which areas will be searched.
April 26
Wednesday at 5:55 p.m. Winona Police Department made new requests for property owners in the ongoing search for Maddi. 
Property owners in Winona and Fillmore counties were asked to report old wells from before 1925, old homesteads, windmills, or sinkholes, as this information is not available in records and could lead to new searches. Those with information are encouraged to contact search@co.winona.mn.us. 
Law enforcement is also partnering with Maddi's family to request that all property owners in Winona, Fillmore, and Houston counties place a blue checkmark in an easily visible place if they consent to have their property searched. 
After the property has been searched, volunteers or the homeowner will place a blue ribbon around the mailbox indicating to others the property has already been checked. 
The search efforts remain ongoing, and the latest group searches are planned for Saturday. The Facebook page Finding Madeline Kingsbury scheduled a search at the Whispering Hills Girl Scout Camp in Houston, Minnesota. To register and learn more about the search, click here. 
April 29
Undetermined time. Over 100 volunteers participated in the search at Whispering Hills Girl Scout Camp and surrounding properties in Houston, Minnesota on Saturday.
"We were able to expand our search beyond our initial target areas and cover so much ground," said Finding Madeline Kingsbury Facebook page in a post on Sunday. "Thank you for sticking through the rain and wind, especially at the end with that downpour. Mother nature left us with a spectacular rainbow after we wrapped up for the day."
Volunteers search for missing Madeline Kingsbury in Houston, Minnesota on April 29. (Credit KTTC)

As the search continues for Maddi, the Kingsbury and Naber families scheduled a "shining a light for Madeline" community prayer service at Veterans Memorial Park near Lake Winona beginning at 7:30 p.m. on Friday, May 5. It's requested participants download the candle app on cell phones instead of using candles. To learn more about the event, click here.
May 5 
Friday at 7:30 p.m. A vigil was held in Winona as family and friends continued to search for answers on what happened to Maddi. 
About 200 people attended the vigil at First Congressional Church to hear from Maddi's friends and family. They wore blue ribbons in her honor and lit candles on their phones to help be the light that brings Maddi home. 
"Although we don't know Maddi's whereabouts, we are still grieving the time we are missing with her. Even on the brightest days, it still feels dark and gloomy without her here. I wake up from nightmares and realize they are not as terrifying as the nightmare I am currently living through," said Maddi's friend Katie Kolka during the roughly hour-long prayer service.
To read more about what Maddi's family said during the vigil, click here. 
To watch the entire service visit the First Congregational Church of Winona's Facebook page here. 
May 11
Undetermined time. Search efforts to find Maddi continued this week as law enforcement searched waterways close to Winona. 
Public safety boats were searching the Mississippi River on Thursday and kayak teams were on the Root River Wednesday in search of Maddi. There are also shoreline searches planned for this upcoming weekend, FOX 9's Mary McGuire tweeted.  
A Minnesota BCA spokesperson says there are continuing "daily targeted" law enforcement searches at multiple locations for Maddi.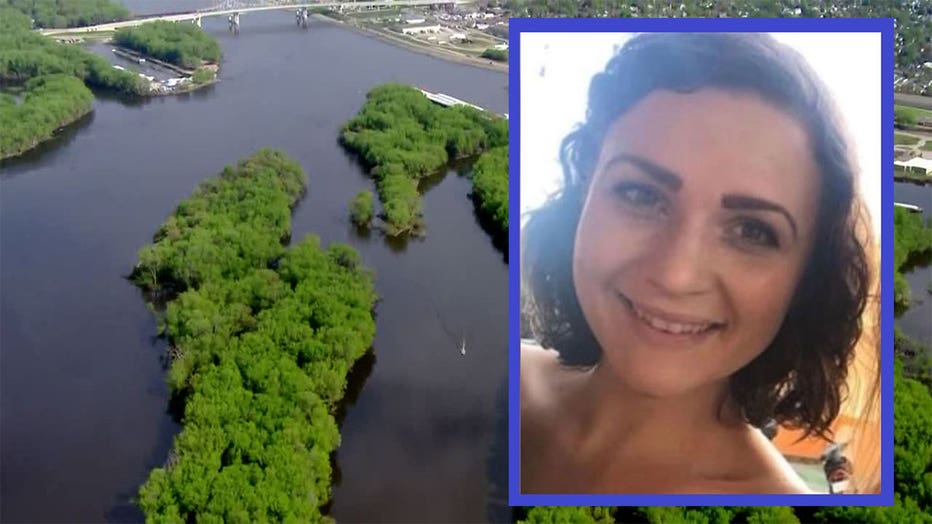 Crews searched the Mississippi River near Winona on Thursday for missing Winona mother Madeline Kingsbury.
May 22 
Undetermined time. While the search for Maddi continues, BCA spokesperson Bonney Bowman confirmed with FOX 9 on Monday the county has brought in Phillip Prokopowicz, the former chief deputy attorney in Dakota County, to assist in the case.  
"The Winona County Attorney's Office has brought on Mr. Prokopowicz in a consulting capacity, as they often do for cases that are potentially complex," said the BCA. 
Authorities previously said they are not prepared to identify a suspect or person of interest in her disappearance. 
May 24
Undetermined time. Family members are asking the public's help to light up towns in hopes of bringing her home ahead of her 27th birthday.  
The family is encouraging people to "Light The Way Home for Madeline" by placing blue light bulbs in and around their homes ahead of her birthday on June 1. A fundraiser on GoFundMe says it will use the money to "turn as much of the area Maddi called home blue to keep building momentum and bring Madeline home."
The community is asked to light the town blue in honor of Maddi ahead of her 27th birthday on June 1. (Courtesy of Finding Madeline Kingsbury Facebook)
May 27 
Saturday at 10 a.m. Group searches are being organized to look along the Mississippi shorelines in both Minnesota and Wisconsin. The search will not be a water search as law enforcement and other volunteer groups have been actively searching the river, according to the Finding Madeline Kingsbury Facebook page.
With guidance from authorities, volunteers with Minnesota United searched Latch Island in Winona on Saturday, which had been flooded. The group helps families across the state whose loved ones have gone missing.
"Just don't stop looking. Never stop looking. Always be aware, especially with the weather getting warmer, if you're out fishing, boating, walking, hiking, doing whatever. Just be aware. Keep it in the back of your mind," said Petra Eastling, a volunteer with Minnesota United. 
Friends and loved ones participated in the search and said they are not giving up on finding the missing mother of two. 
"Although it's emotionally overwhelming, it's good to be back and searching somewhere that's going to be effective," said Michaela Rieple, Kingsbury's friend. 
Volunteers conducting shoreline searches for missing Winona mother Madeline Kingsbury on Saturday. May 27. (Courtesy of KTTC) 
June 1 
Undetermined time. Today is Madeline Kingsbury's 27th birthday, and her family and friends are hoping those who may know something about her disappearance will be inspired to say something. 
In a TikTok video, Megan Kingsbury addresses her missing sister, noting she's been missing for two months. 
"Unfortunately I don't have any updates as far as her being found. We haven't been told any new information," she said in the video posted on Wednesday, May 31.
Several Minnesota law enforcement agencies have been showing their support by changing their profile pictures on Facebook to a blue candle reading "For Madeline". Winona County Emergency Management requested anyone with any information about the case to report it to law enforcement. 
"If you have any information, even if you think it is small or trivial, say something," the post read in part. "We will continue working every day until Madeline is home." 
As the search for Maddi continues, the Facebook dedicated to finding the missing Winona mother says volunteers will be conducting a search along the Mississippi River shorelines in Minnesota and Wisconsin on Saturday, June 3. 
June 5 
Undetermined time. Adam Fravel, the father of Maddi's two children, was scheduled to go to trial this week over custody of his children. However, the trial has been canceled after Fravel filed a new petition in court on Monday for sole custody of the children. 
After Maddi went missing, the children were placed into a 72-hour hold by the county that Fravel attempted to prevent, court documents allege. Since that time, the children have been in the care of Maddi's parents.
Fravel, who didn't have custody of the children even before Maddi's disappearance, has been questioned by police in the disappearance but is not facing any charges or formal accusations related to the missing person case. Fravel also insists he had no involvement in Maddi's disappearance.
As the case moves ahead in family court, the children will remain in the custody of Maddi's parents. 
June 7
Wednesday at 1:30 p.m. A Fillmore County deputy was on a remote stretch of Highway 43, just north of Mabel, Minnesota, near the border of Iowa, investigating a tip related to electronic evidence. The deputy checked a wooded area next to the gravel road and found Maddi's body in some brush. 
Winona police said the body was found using "information generated during the Madeline Kingsbury investigation." Law enforcement positively identified the body on Thursday, June 8.
The general area had previously been searched by law enforcement and volunteers, but Maddi's body was concealed in such a way that her body was not visible from the road, police said. 
5:20 p.m. Adam Fravel, the father of Maddi's two children, was arrested without incident at a residence in Mabel, Minnesota. He was booked into Winona County jail on probable cause of intentional second-degree murder in relation to Maddi's death. Police previously said Fravel was the last person to see Maddi alive. 
Maddi's body was not found on property belonging to the Fravel family but was within several minutes of it, police said.
"We have said that we will hold anyone involved in Madeleine's disappearance accountable, and we are here to tell you that we will hold steadfast on that commitment," Winona Police Chief Tom William said during a press conference Thursday. "We are asking everyone to respect the family's privacy and allow them the time to grieve and mourn the loss of Maddi." 
June 8 
Thursday at 9 a.m. Winona police announced a press conference for 1 p.m. to discuss the recent developments in the case at the Winona City Hall. 
Fravel has not been officially charged as of Thursday morning. 
9:30 a.m. In a TikTok video, Megan Kingsbury addresses the drastic update in the case, noting the family is waiting on more information for what comes next.
"It's a long time coming and it's a relief but the whole situation is just so sick," Megan said about Fravel being arrested on suspicion of murder. 
"When everything first started it was a whirlwind, it was a [expletive] storm, and then it kind of died down because they weren't able to find anything and they weren't able to arrest anybody. We were just kind of waiting for a call [about Maddi], and now that it's happened, it's a whole new [expletive] storm," she added. 
Maddi's father, David Kingsbury, told FOX 9 that the body found alongside Highway 43 is his daughter. 
"We're relieved that Madeline has been found after months of intensive searching and grateful for the extraordinary efforts by law enforcement, other first responders, and volunteers," David wrote in part. "We're certain that the correct person has been arrested, will be charged, and convicted of his crimes."
To see the full statement, click here. 
1 p.m. Winona law enforcement held a press conference and positively identified that the body found Wednesday was Maddi. Police would not comment on her preliminary cause of death and are waiting for an autopsy report from the Southern Minnesota Regional Medical Examiner's Office. The full press conference is available in the player below. 
June 9
Friday at 11 a.m. Adam Fravel was charged with two counts of second-degree murder in the death of Maddi. He made his first court appearance via Zoom and the judge set his bail at $1 million with conditions and $2 million without conditions. 
The charges gave new information about the investigation and how Maddi died. The medical examiner determined the manner and cause of death as homicide and homicidal violence. The medical examiner noted there was a knotted towel around Maddi's head and neck, according to court records. 
The charging documents Include information Fravel told investigators during interviews and a timeline for the van matching Maddi's seen driving the day she disappeared.
In one interview, Fravel allegedly admitted to being "infatuated" with the Gabby Petito case and told Maddi if she "did not listen up, that she would end up like Gabby Petito," charges read. 
Friends and family also voiced concerns to the police about Maddi and Fravel's relationship including allegations of domestic abuse. 
To read the more in-depth reporting about the charges, click here.  
June 10 
Saturday at 3 p.m. Members of the Winona community held a silent auction with the proceeds going to Maddi's two children, ages 5 and 2. Hundreds of people turned out for the benefit which raised $35,000 for the children.
"Again we can not thank everyone enough for the support and generosity you have shown these last two months," the Finding Madeline Kingsbury Facebook page wrote. "Unfortunately the fight is not over. Now we must fight to find Justice for Maddi."
Donations are still being accepted on GoFundMe, which has raised over $24,000, and on Venmo at BenefitFundMaddiKingsbury.
June 12
Undetermined time. Maddi's parents filed a motion in court Monday to prohibit Fravel from having contact with their children after being charged with murder. 
Fravel was in a custody battle for his children and appeared in court just two days before he was arrested. Under the current order, Fravel is allowed to have supervised visits with his children, but the Kingsbury's are trying to reverse the order in case he posts the $1 million bail. 
"[Fravel] is suspected to be the one who ripped these children's mother away, forcing them to live a life without her presence. It is absolutely not appropriate nor in the children's best interests for Mr. Fravel to have any access to them, even supervised," the Kingsbury's attorney wrote in part.
The children remain in Winona County's custody but are currently living with Maddi's parents. 
June 25
Sunday at 1 p.m. Family, friends and the community gathered at Winona State University for a memorial service to remember Maddi. The service included reading poetry, praying and singing.
"The path to healing will be long and twisted; the destination seemingly out of reach," Maddi's sister Megan told the crowd. "Madeline is no longer alone. She's no longer suffering. Madeline's spirit will live on in her children, her family, friends and the community here in Winona that she loved so much. We will forever remain loud of Madeline." 
June 30
Friday at 2:44 p.m. Prosecutors filed a motion to seek an aggravated sentencing against Adam Fravel if he is found guilty in the death of Maddi. 
Fravel is facing two charges of second-degree murder, which each carries a maximum sentence of 40 years in prison. However, if a judge agrees there is an aggravating factor in the case, and Fravel is found guilty he could be sentenced longer than the guidelines recommend. 
Prosecutors state in their notice the aggravating factor includes that Fravel allegedly concealed Maddi's body, which was found in an isolated area off the road, wrapped in a sheet and covered by wooden debris. Her remains were not located for 69 days, leaving her family not knowing whether she was dead or alive, and by the time Maddi's remains were found, the family was "deprived of saying goodbye in a timely manner."  
July 31 
Undetermined time. Search warrants unsealed Monday in the case revealed the text messages Adam Fravel sent in the hours after Maddi went missing.
The search warrants, which sought access to social media accounts belonging to both Maddi and Fravel, along with emails, phone, and GPS data, included two series of text messages sent by Fravel. The first set includes the last messages Fravel sent to Maddi, which may have been sent after she was already dead. The second set includes an exchange between Fravel and a friend after Maddi's family reported her missing.
The warrants document also alleged abuse by Fravel that Maddi had reported to friends and family, allegedly warning others that if something terrible happened to her, Fravel would be the one responsible. 
To learn more about what the search warrant unveiled read the story here.  
October 2
Undetermined time. A grand jury indicted Adam Fravel on two counts of first-degree murder on Monday. 
A grand jury returned the indictment for first-degree murder — past pattern of domestic abuse; first-degree murder — premeditation; and two counts of second-degree murder. 
Fravel was previously charged with two counts of second-degree murder. A first-degree murder conviction carries a mandatory life sentence in Minnesota.
"Our family realizes that this is a long and arduous process. The pursuit of justice for Madeline is worth every ounce of strength and effort we can muster.  Not just for her alone, but also for every person suffering from domestic violence and abuse.  You have not heard the last from her. Her voice will remain LOUD," Maddi Kingsbury's father David Kingsbury told FOX 9 in part. 
Where does the investigation go from here? 
Adam Fravel remains in custody at the Winona County Jail and has been officially charged with two counts each of first-degree murder and second-degree murder. He is scheduled to return to court on Oct. 3 for a first appearance hearing on the new charges. He returns to court again on Oct. 13 for an omnibus hearing. 
Authorities said they will continue to investigate the evidence previously collected. A trial date has not yet been set.
Anyone with information about the case can reach Crime Stoppers at 1-800-222-TIPS or go online and submit an anonymous tip here. 
This timeline will be updated as more information becomes available.