Thousands participate in 35th annual LA Marathon
LOS ANGELES - Tens of thousands of runners gathered Sunday morning for the 35th annual Los Angeles Marathon.
The marathon started at Dodgers Stadium and ended along Ocean Avenue in Santa Monica.
Runners trained for months and this year, some were also thinking about the coronavirus as cases in Los Angeles County continue to rise. 
"I'm just not gonna high five or shake too many peoples hands. I think in the spirit of things, it's good that people are still coming together," said Philip Miller, a runner from Sherman Oaks. 
Related: Eithiopian man, Kenyan woman win L.A. Marathon
Some spectators were also concerned about the virus, but wanted to cheer on the runners. Kevin Ward said he has been reading articles about the virus. 
"[According to the research], people over 60 and also people in an immunocompromised state need to think about being in a crowd," he said 
Other spectators adjusted their normal routines for the race due to the coronavirus. 
"We were gonna give out pretzels. In fact, we have 5,000 pretzels to give out to runners but given the circumstances, we thought probably not the best idea," said Jennifer, one of the fans who was there to support a family member. 
Race organizers said they took steps to "try to prevent the spread of coronavirus during Sunday's Los Angeles Marathon." The organizers deferred entrants from countries deemed to have a high risk of exposure to the disease.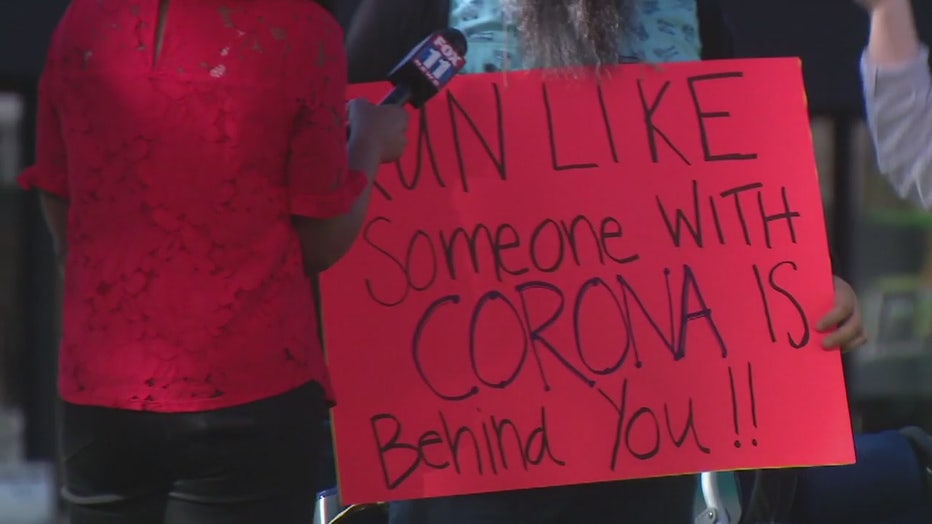 "I understand the precautions that you have to take for it, but it's got to be hard for all the people who put the time and training in," said Daniel Brinkenhoff, an athlete who has participated in several marathons. 
Brinkenhoff said it is difficult for runners to protect themselves from coronavirus.
"There's a lot of people at the start line too so everyone is close together and they back you into these stalls with thousands of people," he said. 
Health officials said the risk to exposure at the marathon is "low" at this time.