The Forum in Inglewood to serve as vote center for 2020 election, Clippers announce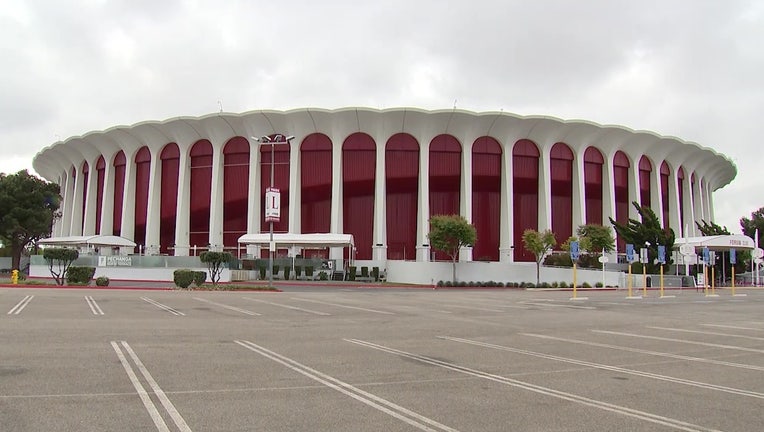 LOS ANGELES - The Forum in Inglewood will serve as a vote center for November's election, the Los Angeles Clippers and Los Angeles County Registrar-Recorder/County Clerk Dean Logan announced Friday afternoon.
"You have undoubtedly heard the voices of our players, coaches and staff, passionately and powerfully urging Americans to register and exercise their right to vote," said Gillian Zucker, Clippers President of Business Operations. "We are dedicated to the same cause: fighting voter suppression and empowering all citizens to determine meaningful progress, for this generation and generations to come. Inglewood is the home of the Forum and will soon be the home of the L.A. Clippers. Now, it will also be a home for local voters, to come together and help shape a brighter future."
Get breaking news alerts in the FOX 11 News app. Download for iOS or Android.
The Clippers' home court is currently at Staples Center in downtown Los Angeles, but the team owns the Forum and is building a new arena nearby.
"Hosting a vote center at the Forum ensures Inglewood and the surrounding communities have a safe and positive in-person voting experience at one of L.A.'s historic landmarks," Logan said in a statement. He said the arena will open for voting and ballot drop-off on Oct. 24, staying open through the Nov. 3 election.
RELATED: NBA to form social justice coalition as playoffs resume following walk-off protests
The Vote Center at the Forum will follow all CDC and Public Health guidelines and best practices.
The Clippers also plan to establish a website at www.lavoterswin.com aimed at encouraging voter participation and providing residents with information about voter registration, issues on the ballot and how to vote.
CNS contributed to this report.