Tearjerking video: Utah couple reunites with lost dog after days-long search
CLINTON, Utah - In a heartwarming turn of events, a Utah couple was finally reunited with their beloved four-legged family member after an emotionally charged days-long search. 
Cienna Macfarlane said her dog Clutch was sent to a training facility on Thursday, May 25, but "got loose" when he was taken out into a field. She and her husband Isaac began searching, but by Sunday felt they "had exhausted all options" and feared someone might have picked him up.
But Sunday evening, Macfarlane said they received a call from someone who'd seen Clutch, and they headed out to search. On Monday, she spoke with a pet trapper who gave the couple some advice, which they followed and found Clutch Monday evening.
Cienna Macfarlane shared the heartwarming reunion on TikTok, which displayed the joy and relief the couple felt.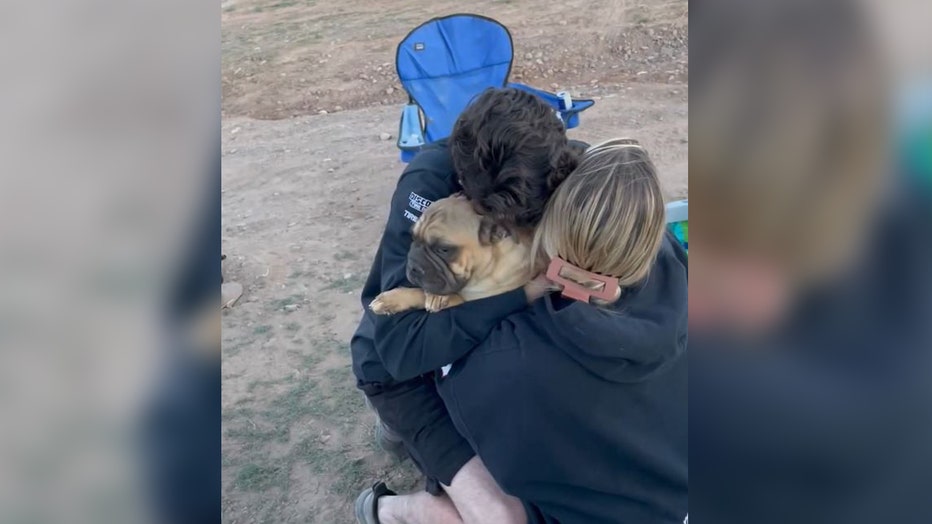 The couple were reunited with their dog after several days. (Credit: Cienna D Macfarlane via Storyful)
 "Yesterday was the best day of our lives," Macfarlane wrote in the video caption. "After four excruciatingly painful days, we got our baby boy back! He was so scared until he realized who we were."
RELATED: Tearjerking video: Chimpanzee reunited with newborn baby after nearly 2-day separation
She said Clutch lost a couple of pounds and had a few cactus spines in his legs, but otherwise, appeared to be okay. 
"Thank you, everyone, for helping us get him home!," she continued. "We are whole and happy again." 
This story was reported from Los Angeles. Storyful contributed.