Teacher tells student "stop writing in cursive!"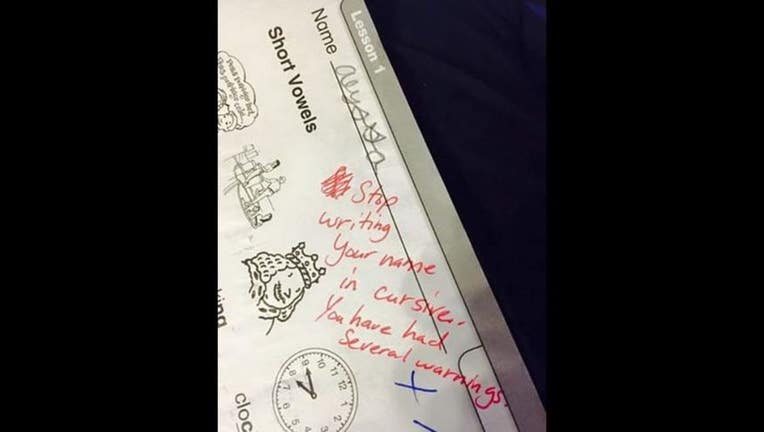 article
FOX 26 - 7-year-old Alyssa is the daughter of a military veteran, and was taught to write in cursive at a young age. However, when she wrote her name in cursive while in school, she received a harsh and surprising warning from her teacher.
Share this everywhere... Alyssa is 7!!! Not only is her mother a military veteran but, she took the time to teach her...
The note says, "Stop writing your name in cursive. You have had several warnings."
Brenda Hatcher posted the photo to Facebook on September 16 telling users to "share this everywhere!" The post has now been shared over 400,000 times.
Many users came to Alyssa's defense saying, " What is the issue with writing in cursive? This is ridiculous." Along with, " Absolutely ridiculous!! All of my children will definitely be fluent in cursive!!"
Hatcher then added that Alyssa doesn't write all of her school work in cursive, just her name.
" The thing is is that she doesn't write everything in cursive. That's her own personal signature," Hatcher said.
Hatcher has reached out to the school, and is currently waiting on a response.