Suspected DUI driver arrested after vehicle shears fire hydrant in Canoga Park, floods store; 9 injured
CANOGA PARK, Calif. - A 29-year-old woman was arrested on suspicion of DUI after a vehicle sheared a fire hydrant in a chain-reaction crash, causing a shoe store to flood, toppled power lines, and left nine people injured in Canoga Park, police said. 
The two-vehicle crash occurred on the 20900 block of West Sherman Way near the intersection of De Soto Ave at 8:52 p.m. Sunday. The intersection is adjacent to a WSS shoe store, which was significantly damaged in the crash. 
The collision sent a geyser into the air and to the roof of the shoe store. The weight of the water was so significant, it topped power lines and caused a partial roof collapse. Water from inside the store was pushed into the street, LAPD said.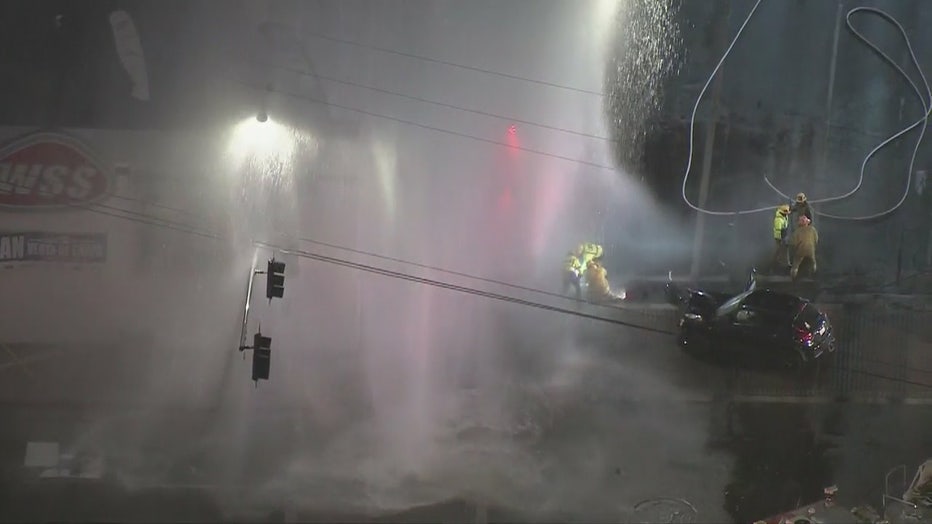 Nine people were injured, including two children, the Los Angeles Police Department said. One person reportedly suffered a broken leg. 
A woman driving a red Kia was arrested at the scene after she took a field sobriety test.
The name of the suspect was not released. However, she faces several charges, according to LAPD Sgt. Jodie McGee. 
All patients were transported to local hospitals. 
The shoe store was red-tagged and deemed unsafe to enter, LAPD said. 
This is a developing story. Please check back for updates.