'They moved the goalposts on us': Sunset Strip restaurant owners sue LA County, West Hollywood to stay open
LOS ANGELES - The owners of The Classic Cat restaurant in West Hollywood are taking Los Angeles County and the city to court in hopes of keeping the business open.
Donn Berdahl, a partner for the Classic Cat, said the team wanted to revamp and modernize the historic space and was set to launch in March of 2020.

"We're trying to bring back this iconic thing, capture the 60s vibe with a modern twist. We ran into an extremely unfortunate situation. We were scheduled to open in March of 2020 so that's obviously a little twist of fate against us," he said.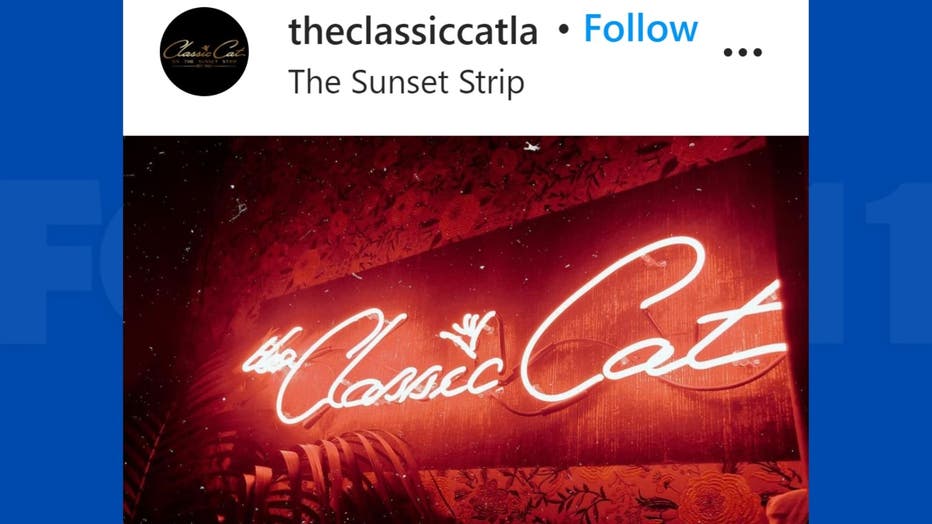 However, when the restaurant did open, Berdahl said they made sure they had COVID-19 restrictions in place to comply with LA County guidelines.

"We've done so many things to meet the COVID requirements along the way. We're not ignorant. I'm not ignorant again to the fact that there's a pandemic going on. It sure has been frustrating because we have gone above and beyond and it's not a sob story. It's just a story. We've had to bend in so many ways, and we've done every single thing they've asked," he said.
Berdahl said the venue has a retractable roof, and owners opened up part of the front wall and added Plexiglas dividers along with operating at less than 25% capacity.

"We said, 'OK, we're going to spread these [tables] way out [8 feet apart]. We're going to put this Plexiglas in.' We reduced our ability to earn income and revenue just to be overly cautious about what we were doing. I don't want to fight with the City of West Hollywood, I just want to operate and provide people a really awesome place to go. I'm not looking to dodge the system and scoot the rules," he said.

However, health inspectors issued a notice to the restaurant to shut them down on Friday, March 5. Berdahl said it will push him to "bankruptcy."

"We owe back rent. I know there's a moratorium, but that's going to become due because that's how the world works. I'm not looking for any enormous amounts of sympathy, but this is my life savings, frankly. It's a lot of money to me. I don't know what a lot of money is to other people but I saved all my life to do something like this," he said.

Berdahl said the restaurant's permit from 2015 classified the space as an outdoor dining patio, but it is now not being considered as one by county and city officials.

"I'm so bewildered. We're licensed. Our business is an outdoor dining establishment. What more can I do to satisfy the city of West Hollywood? What more can I do to satisfy the County of Los Angeles? The state?" he said.

Berdahl said the restaurant has 30 employees who will all be unemployed if they are forced to shut down.

"It's going to ruin us and devastate us financially and we will have to close and it just won't work. We have to pay bills," he said.

He said he feels targeted by the health inspectors.

"I don't know if they harassed us, but they certainly have stopped by an inordinate amount of times in the whole last year even when we were doing construction. They've moved the goalposts on us a few times," he said.

Berdahl said the team used their "last reserved funds" to hire attorneys including Brian Neach, an attorney for Pachecho & Neach.

"It's just this classic example of government taking rights in little ways but not taking any responsibility in any way without thinking how it's harming people, real people and that's what we're trying to fight here. It's constantly moving the goalposts and it's like Russian dolls. You open one and then there's another one underneath, and another one underneath and it's endless and it's impossible for them to comply because there's no clear rule for compliance," said Neach.
Neach filed a complaint with the Los Angeles Superior Court.

The Director of Communications for the City of West Hollywood issued the following statement:

"On March 16, 2020, the West Hollywood City Council approved a declaration of local emergency to ensure the availability of mutual aid and to safeguard community health and safety in responding to the novel coronavirus/COVID-19. While the City of West Hollywood cannot comment on any specific legal actions, the City is in the jurisdiction of the Los Angeles County Department of Public Health and the City actively enforces the LA County Health Officer Order and related protocols. All businesses within the City of West Hollywood have a duty and responsibility to comply for the safety of their guests and employees."
LA County officials declined to weigh in specifically on the lawsuit but issued the following statement, in part:
"From the onset of the pandemic, Los Angeles County has been intensely committed to protecting the health and safety of its residents and it has been responding in real time to a deadly virus that has tragically claimed the lives of 21,000 people just in Los Angeles County and sickened more than a million others."
Get your top stories delivered daily! Sign up for FOX 11's Fast 5 newsletter. And, get breaking news alerts in the FOX 11 News app. Download for iOS or Android.