Star Wars' Princess Leia white gown up for auction: 'Only Princess Leia costume to exist from film'
The legendary flowy white gown that Carrie Fisher wore during the final scene of "Star Wars Episode IV: A New Hope" in 1977 is up for auction, with a starting bid of $500,000.
It's the only known Princess Leia costume from the original film in existence, the auction house Propstore said in its listing. 
While starting at $500,000, the dress is expected to fetch between $1 million and $2 million. 
Fisher wore the flowing white gown and silver-leather belt in the film's final scene in the throne room as she bestowed Luke Skywalker and Han Solo their medals of honor.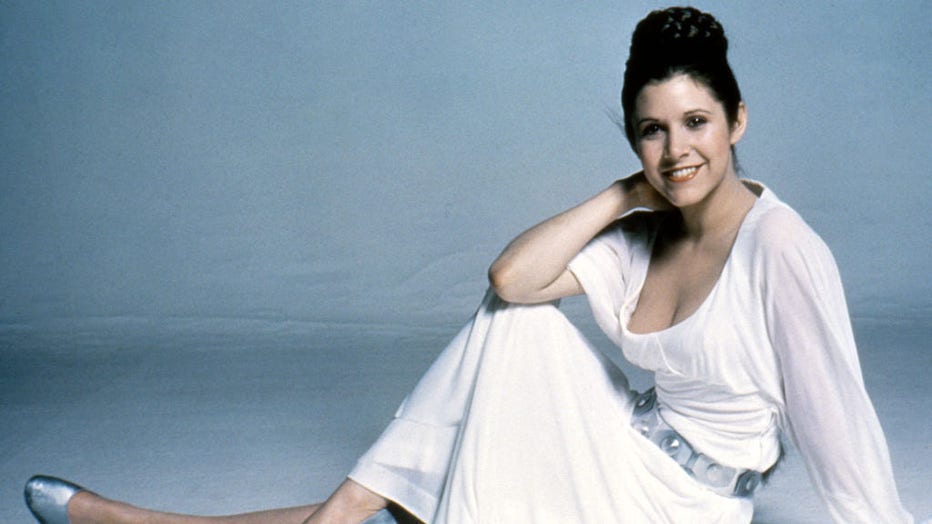 American actress Carrie Fisher on the set of Star Wars: Episode IV (Photo by Sunset Boulevard/Corbis via Getty Images)
According to Prophouse, George Lucas wrote in the final scene of the film's original screenplay that "Luke, Threepio, Han and Chewbacca enter the huge ruins of the main temple. Hundreds of troops are lined up in neat rows. Banners are flying and at the far end stands a vision in white, the beautiful young Senator Leia. Leia is dressed in a long, white dress and is staggeringly beautiful."
Costume designer John Mollo created the gown for Fisher's legendary character Princess Leia, sharing that the ceremonial gown was created to reflect "the purity and beauty of Leia's character." 
The regal costume is symbolic of the "princess' royal lineage and commanding presence", Prophouse said.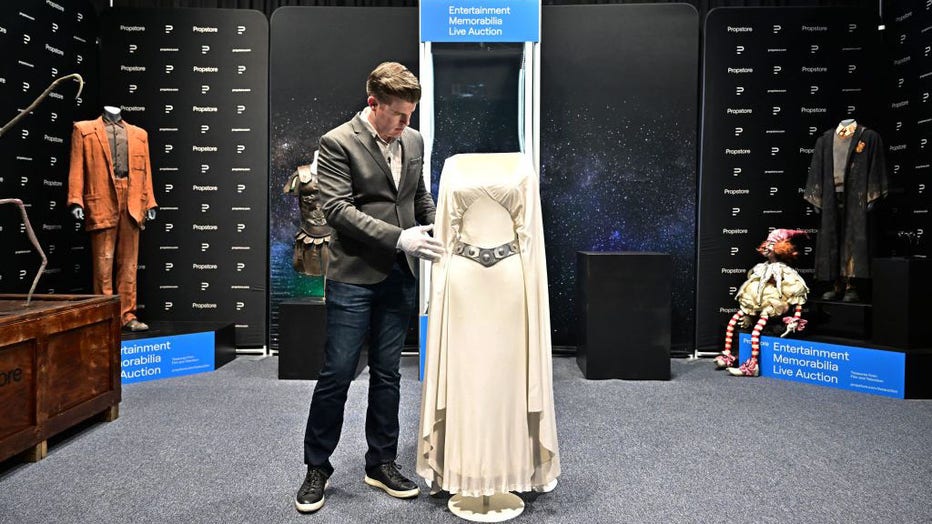 Brandon ALinger, Chief Operating Officer at Propstore, wears white gloves to handle the Princess Leia dress worn by actress Carrie Fisher in the 1977 film "Star Wars" for display on May 16, 2023 at Propstore in Valencia, California. The Propstore's l
The garment was recently discovered after being tucked away in a London attic for years. After its discovery, it underwent "a meticulous, museum-caliber restoration conducted by professional textile conservators in London," Propstore said.
Along with Princess Leia's gown, 1,400 Hollywood costumes, props and movie paraphernalia will be available in Los Angeles, California, next week during the Prophouse auction. 
The live auction will be held June 28-30 at the Petersen Automotive Museum. 
Among the many other items up for sale are Batman's motorcycle from the 2008 film "The Dark Knight," a shield used by Brad Pitt in "Troy" and a "mud-splattered" cloak and glasses worn by Daniel Radcliffe in "Harry Potter and the Chamber of Secrets."