Santa Monica restaurant manager allegedly caught on video buying stolen TV from looters
SANTA MONICA, Calif. - A Santa Monica restaurant manager was caught on video allegedly cutting a deal with looters to buy a freshly stolen television during the mass looting of the city on May 31st.
Amanda Barrie lives at an apartment building near 9th and Broadway, and was shooting video of looters in the area when she noticed a group of looters trying to load a stolen TV into their getaway vehicle approached by a man who appeared to be negotiating with them.
"As this is unfolding I'm realizing to myself oh my God, this is the manager of the restaurant," Barrie said.
Barrie identified the man as the manager of Pono Burger, a restaurant at the bottom of her apartment building.
Her video appears to show the manager and the looters negotiating a price for the sale of the TV.
"$300, right now!" one of the looters can be heard yelling to the manager.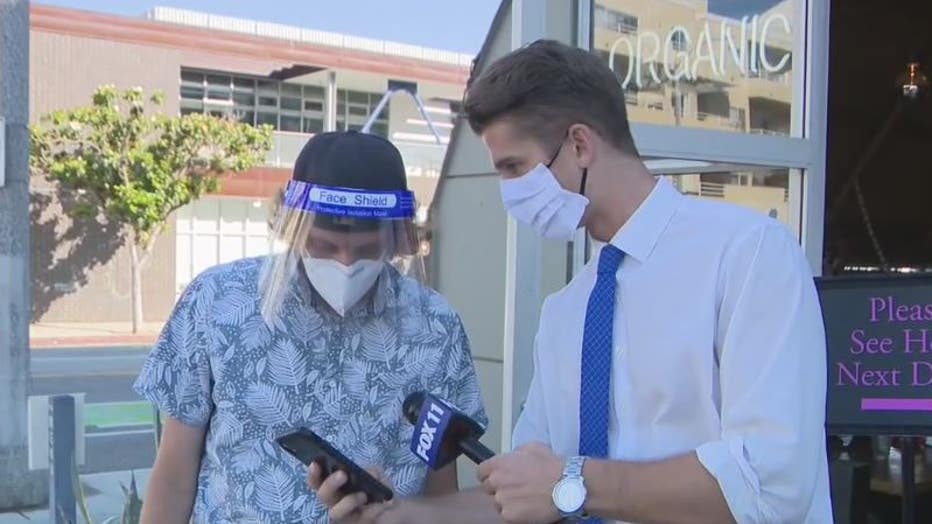 The manager agrees, and as the looters walk the TV over to him, he pulls out a wad of cash, and hands it to one of the females.
"I got him on video, that's the manager of Pono Burger," Barrie can be heard stating in the video.
"It was just gross, it's the only word I can think of," Barrie said. "How could you actually be a participant in something like this and encourage it?".
FOX 11 tracked that manager down Thursday evening, to see what he had to say for himself.
He admitted he was there, and it is him in the video, but he denied buying a TV, or exchanging any cash, despite what the video shows.
Barrie says she knows what she saw, and that the video speaks for itself.
"This is just a small example of somebody who really betrayed the community," she said. "all those businesses are being looted right in front of his face as he's watching and it's just shocking he's an active participant in one way or the other, I mean it's wrong."
Anyone who knowingly purchases a stolen product can be charged with receiving stolen property, which can escalate to a felony if the value of the product is over $950.
Barrie told FOX 11 she plans to report the incident to the police, and submit the video to them.