Umbrella-wielding Georgia woman fights off vulture who broke into home
ROSWELL, Ga. - A newly engaged Georgia couple thought they were spending a peaceful weekend at home without the kids. But an intruder quickly changed those plans.
Vernalisa Rougeux and her fiancé Jake Totri came back to their Roswell home to find a vulture in their living room.
The couple told FOX Weather they had just finished cleaning the house and stepped out for a quick bite. They said they left their napping dog, Georgia, behind and left the doggie door open in case she needed to go outside.
When they made it back home just 15 minutes later, Totri discovered an unwanted roommate let himself in and crashed on the couch. He ran back outside in a panic.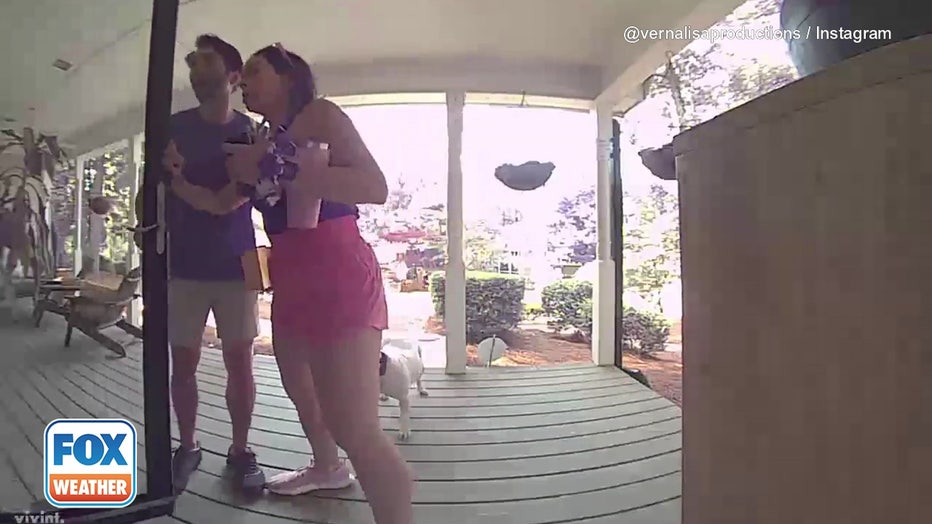 (Credit: Vernalisa Productions)
TOTRI: Whoa! Okay! Holy – There's a vulture in the house!
ROUGEUX: A what?
TOTRI: A vulture.
ROUGEUX: You're a liar.
TOTRI: I swear to God.
ROUGEUX: Liar!
"Vultures eat dead things," Rougeux told FOX Weather. "So, I assumed that my dog had died and that the vulture was eating my dog."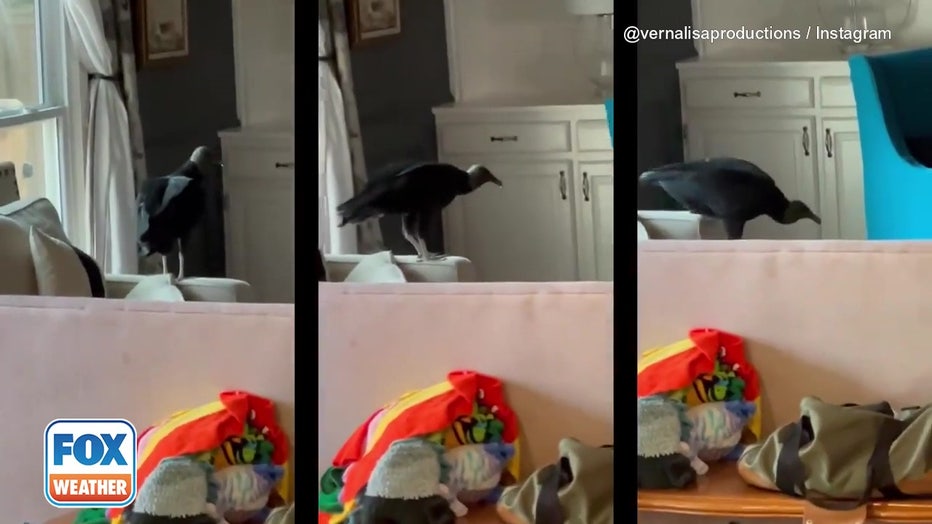 (Credit: Vernalisa Productions)
That's when Totri whipped out his phone and recorded a video of the bold bird making itself at home.
Rougeux decided to take matters into her own hands. Arming herself with two umbrellas, she devised a plan.
Surveillance video and Totri's cell phone footage cut to the back of their house where Rougeux could be heard yelling from inside.
Suddenly, the vulture emerged from a backdoor. Totri filmed the bird flying away before panning back to his fiancée who was rooted in a warrior stance, still gripping the umbrella.
(Credit: Vernalisa Productions)
Rougeux later told FOX that she knew she had to be "bigger than the bird to scare it away." She said she opened and closed the umbrella repeatedly to try and scare it toward the door.
"This thing was huge," Rougeux said. "I mean, the video doesn't do it justice. It was huge."
The two believed their dog, Georgia, slept through the break-in and had just woken up when they came home yelling.
"The way she came trotting out, there was no way she knew that thing was in there," Rougeux laughed.
Is it common to see vultures in Georgia?
There are two types of vultures that can be found naturally around Georgia: Turkey and Black.
Zoo Atlanta has additionally information on King and Luppet-faced vultures. The Zoo says all of these species can be seen year-round except for cold days and rainy days, when they prefer to stay inside.
Related:
"If nothing else, this could be a PSA service like, 'Close your doggie door,'" she said.
Vultures play an important role in the ecosystem, feeding on mostly already dead animals, according to Georgia wildlife officials. They are also extremely adaptable and thrive in proximity to people.
FOX Weather Digital Content Producer Chris Oberholtz contributed to this article.